My Settings helps you adjust the details of your account and manage your preferences.
Access My Settings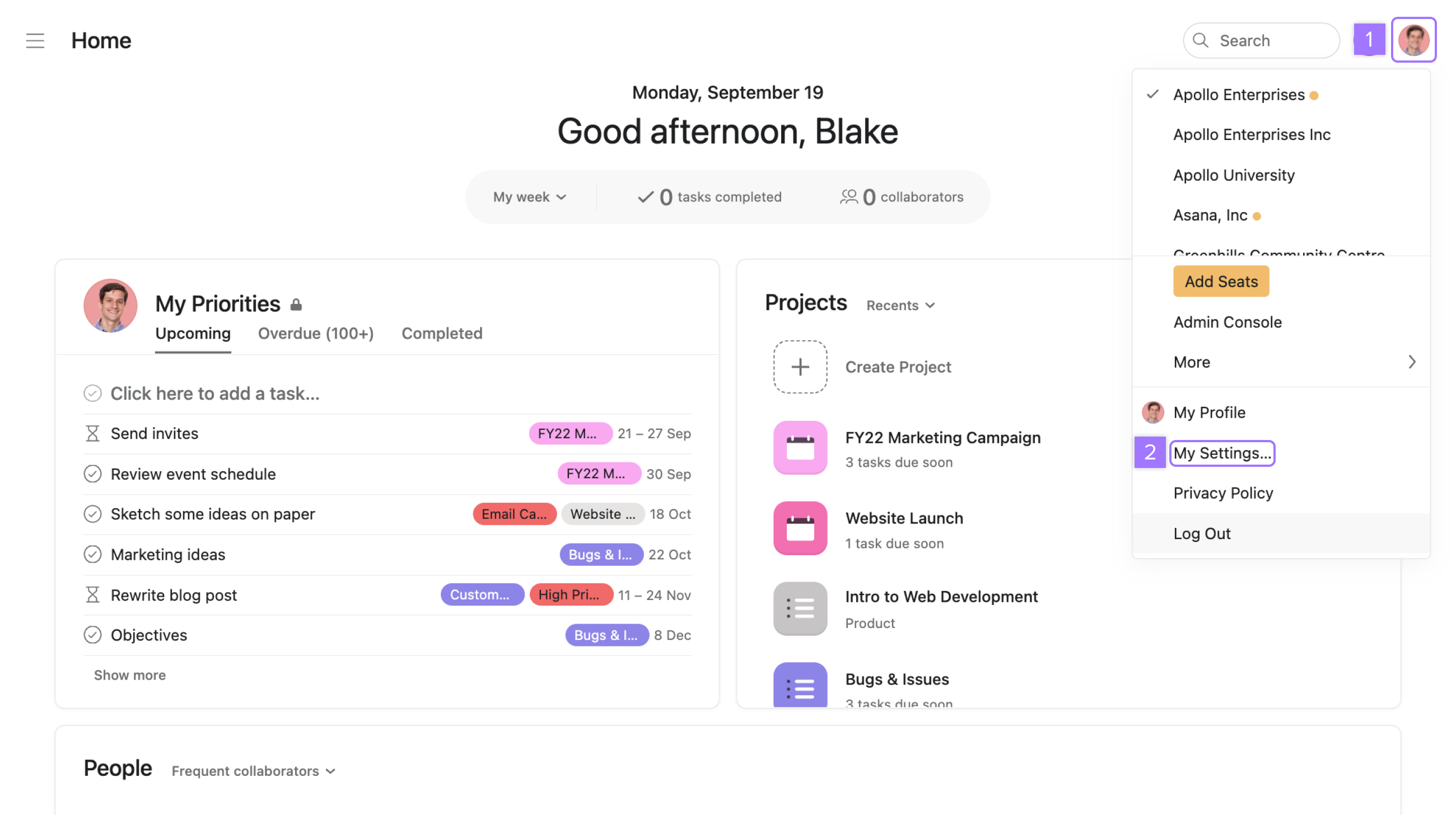 To access My Settings:
From the top bar, click on your profile photo
Select My Settings from the drop-down menu
In the My Settings menu, you will find 7 tabs, each with different options:
Profile - change your profile details or set yourself as away with the vacation indicator
Notifications - schedule your Do not disturb, access Email notifications to assign your preferred email and Browser notifications for updates and @mentions
Email Forwarding - change which of your email addresses can create tasks in your various workspaces and organizations
Account - change your password or deactivate your account
Display - change the background image or add task row numbers to your Asana account's interface
Apps - manage your integrations and create Personal Access Tokens
Hacks - enable and disable experimental features in Asana
Profile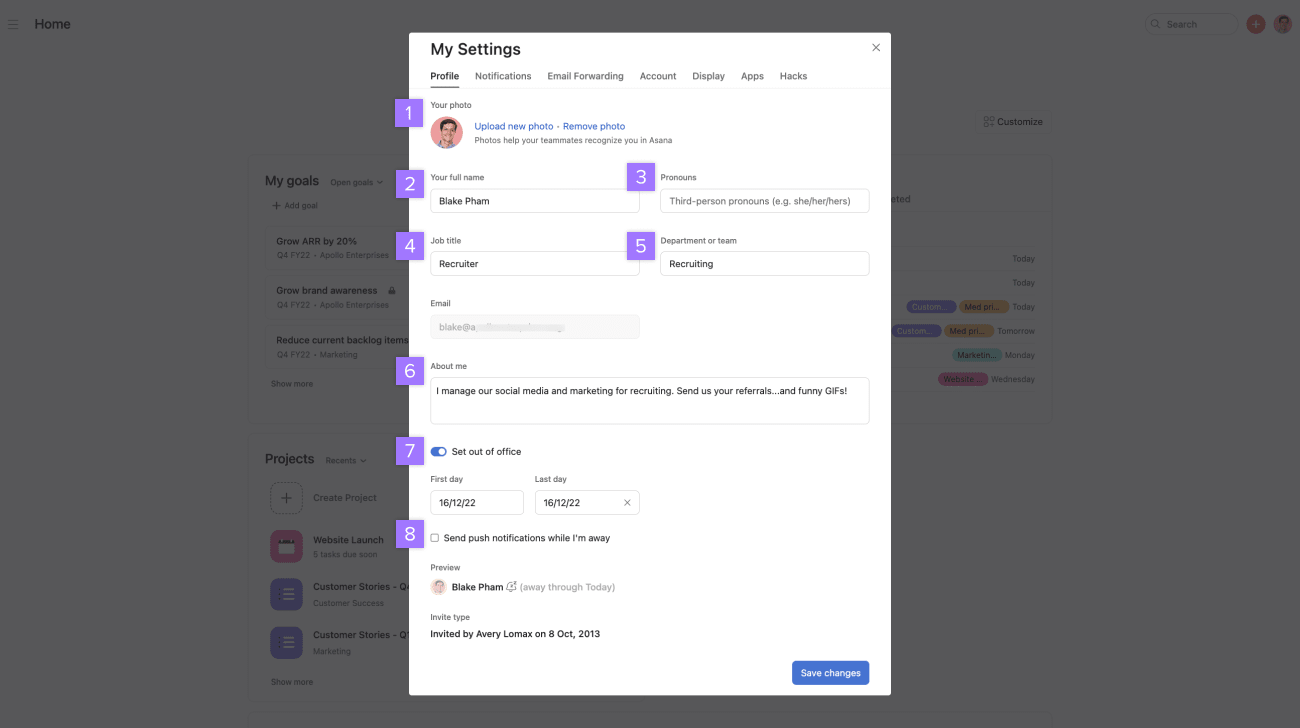 From the Profile tab, you can:
Change your profile photo
Change your profile name
Add your preferred pronouns
Add your job title
Add your department or team
Add a brief description about yourself in the About me field
Set yourself as out of office
Choose to enable push notifications while you're away
Profile name and photo
A profile name and photo helps your team identify who you are. Your profile name and photo will appear:
We accept the following file types under 5MB:
It's best if the image is square and at least 128x128px, but not necessary.
If you do not upload a photo, we will use your initials as a placeholder.
About me
Add a quick summary of who you are or what you do in the About me section of your profile.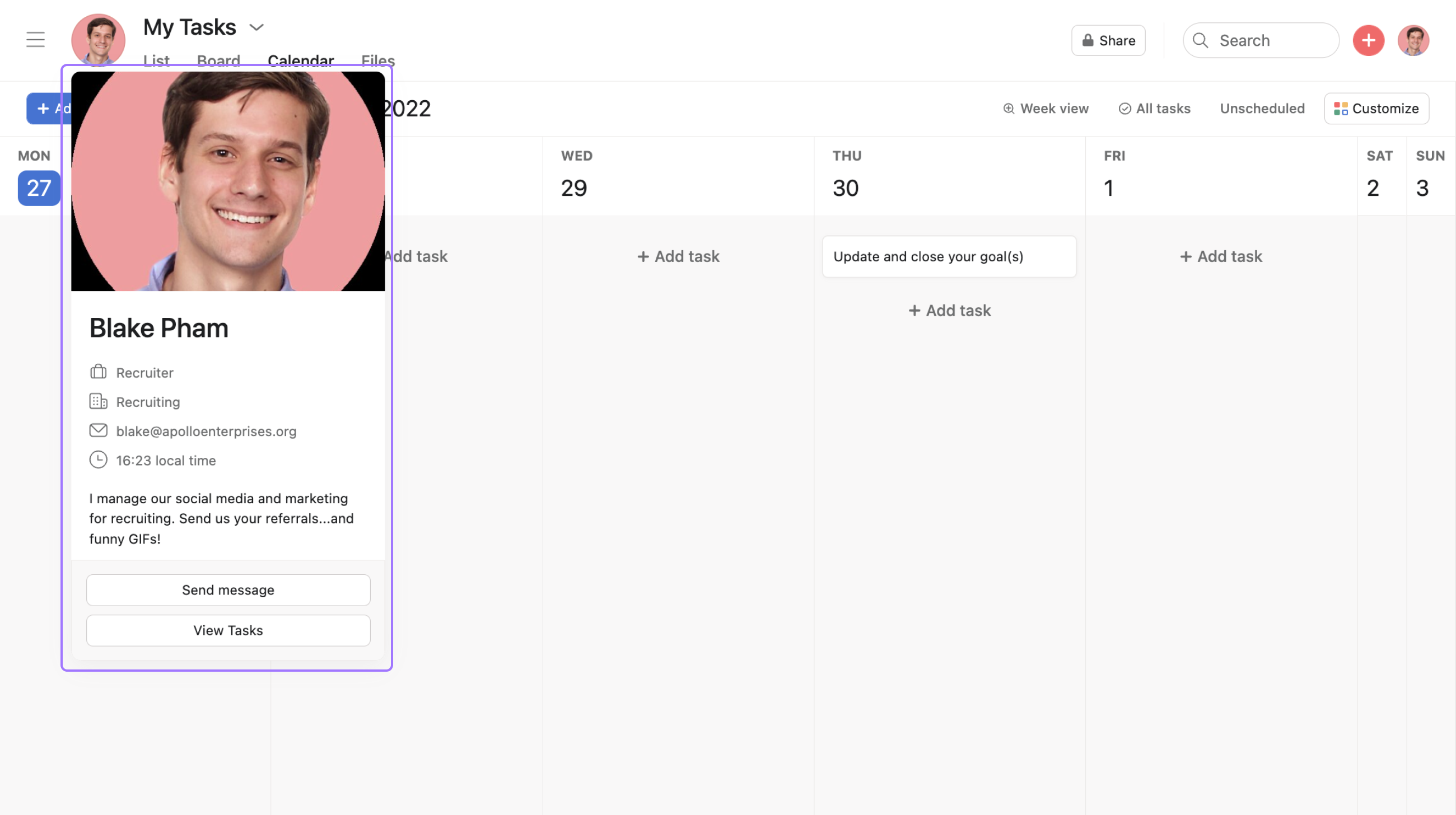 The information from your About me section of your profile can be seen whenever you hover over your profile photo.
Out of office
When you're not going to be working or available to collaborate with your teammates, use the out of office indicator to let them know.
This is an account-wide setting, so you will appear as away in all of the organizations and workspaces you belong to.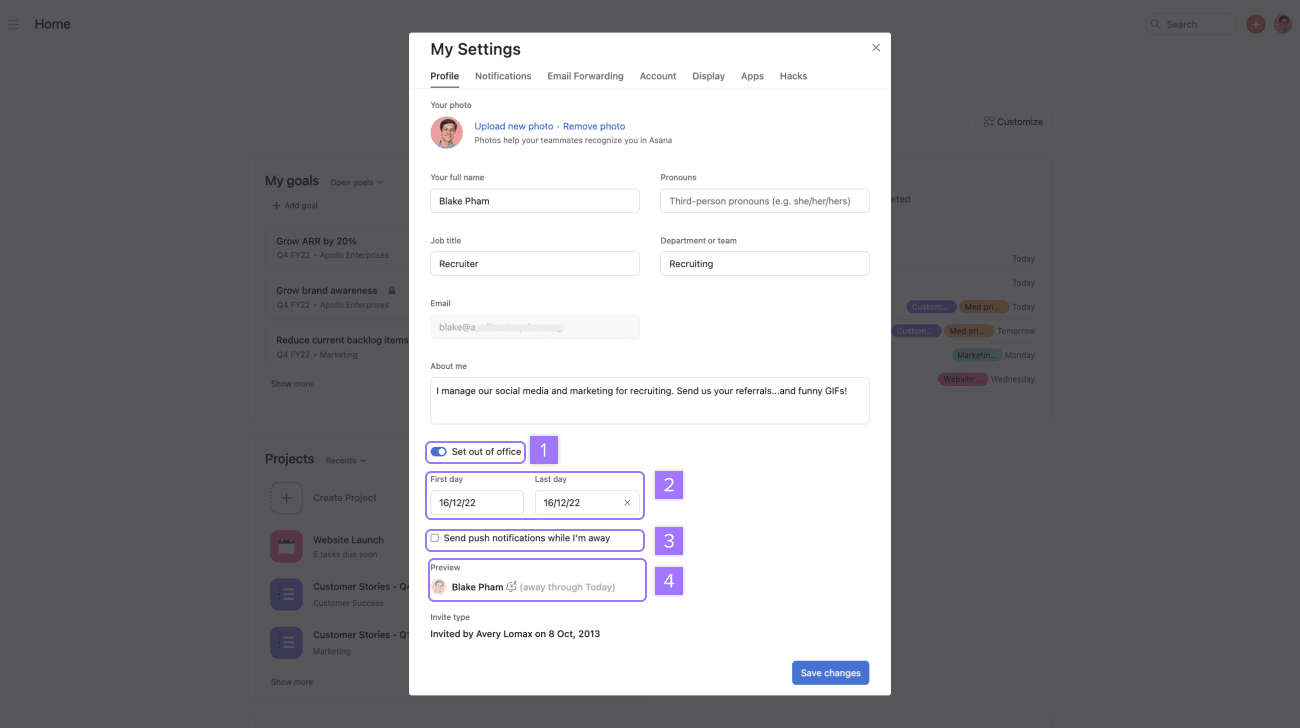 From your Profile tab:
Activate Out of office
Enter the first and last day you'll be away
Tick to enable push notifications whilst you're away
Preview your changes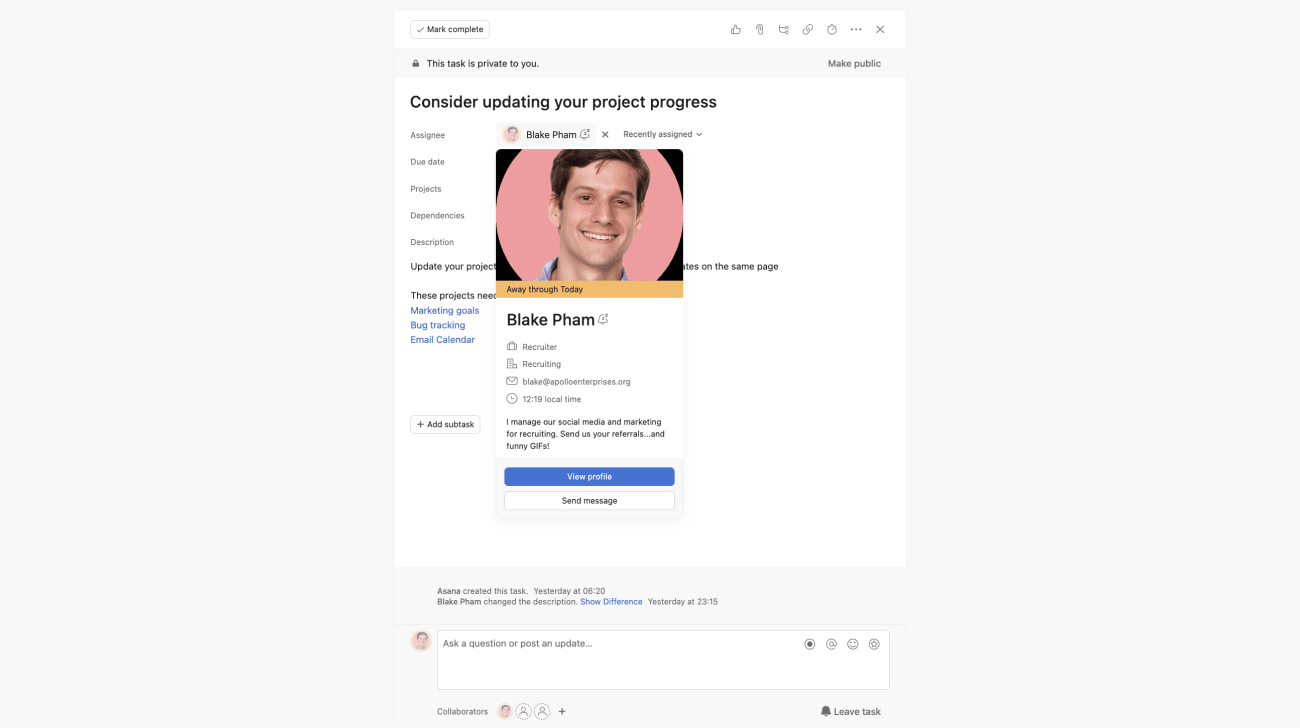 Once you've set your status as out of office, your profile photo will appear dimmed and your out of office status will appear whenever anyone hovers over your profile photo.
"Away through today" means that person is out today and will back tomorrow. "Away through Monday" means that they will be back on Tuesday.
Notifications
From the Notifications tab you can access:
Email notifications to input your preferred email for notifications on activity updates and summaries (with an option to turn on/off/pause notifications)

Browser notifications for @mentions and task updates

Project notifications to set notification defaults for projects you're member of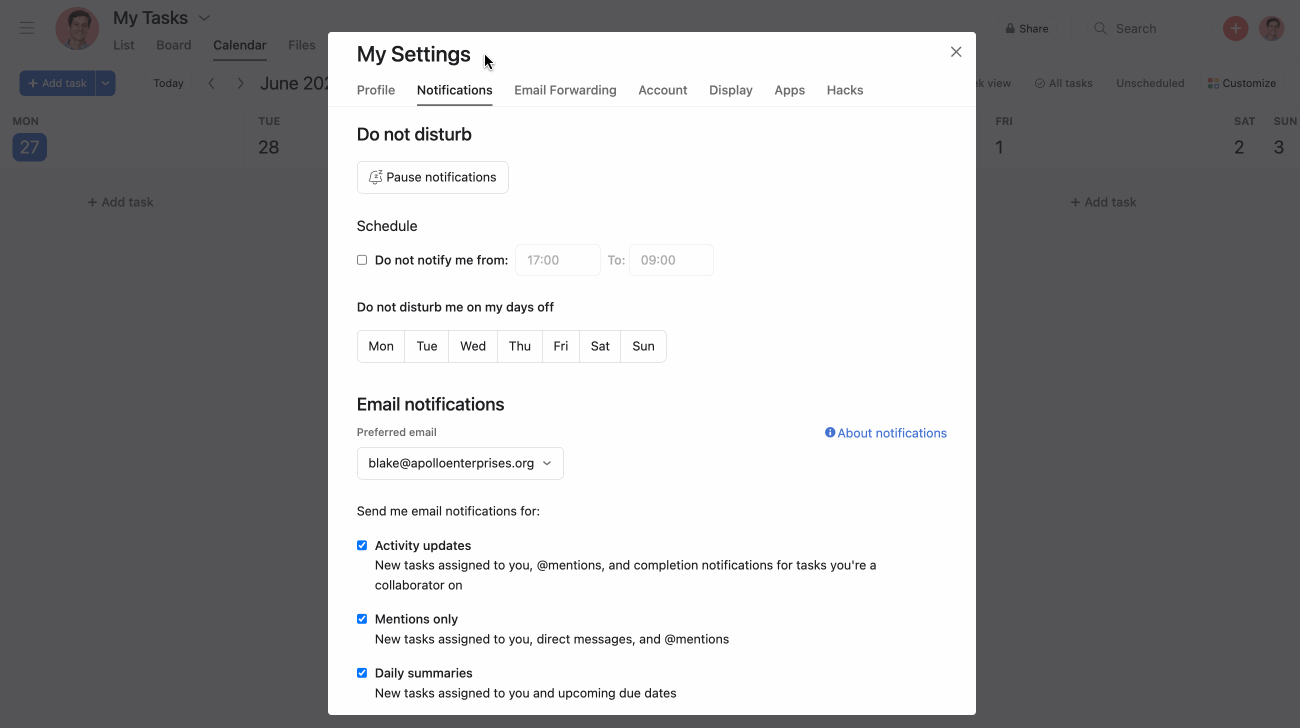 From the Notifications tab, you can:
Change the destination email address for where your notifications are sent to in each of your workspaces and organizations
Change the type of notifications you receive for each of your workspaces and organizations
Will notifications be in your Asana Inbox or your email inbox?
You will receive an email if you have opted for email notifications.
Asana notifications are a super-set of email notifications and for many stories we send to both your Asana inbox and your email inbox.
Collaborate on tasks and messages to start receiving inbox notifications. Inbox notifications generate automatically as you complete and take action on your tasks.
Your Asana inbox displays updates on all projects you're a member of and tasks that you collaborate on or are assigned within a given workspace or organization.
To stay informed on activity in Asana, you can receive email notifications or use Asana inbox.
There are four types of email notifications: Daily summaries, Activity updates, Mentions only, and Weekly reports (only available to teams and orgs on the Asana Business tier)
It's no secret—Asana offers free 30 day trials. Start yours today. Try for free
If you'd like to learn more about how Asana email notifications work, please refer to the guide article here.
To change your email address, first add a new one, then remove your old one.
How to add and remove emails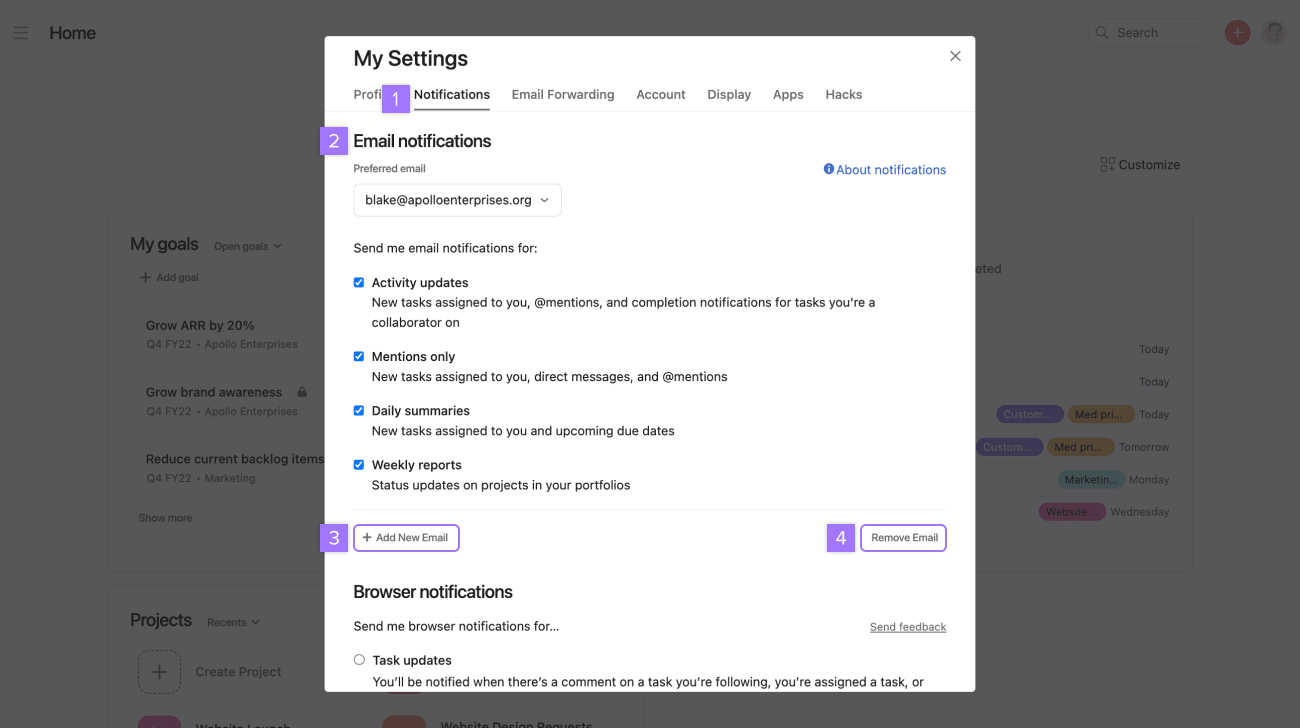 From My Settings:
Navigate to the Notifications tab
Scroll down to Email notifications
Click Add new email
Or click Remove email


Add an email address
When adding an additional email address to your Asana account, note that adding an email address that is already associated with a different Asana account will result in both accounts being merged. This is an irreversible change.
You can add multiple email addresses to your Asana account. With multiple email addresses associated with your account you can:
Have additional options for emailing tasks into Asana
Have additional options for receiving email notifications
Log into your account using any of your email addresses
Get invitations from other people to join their workspace or organization using any of your email addresses
When you add a second email address to your Asana account, you will be asked to verify your identity by re-authenticating your Asana account. This means that you will have to re-login with the existing email address in order to add a new one.
If you use the Login with Google feature, you will instead be required to verify your Google account. A pop up window will appear to log into Google, enter the credentials for the email address currently associated to your Asana account to initiate the process.
Contact our Support team if you have any issues when adding a new email address to your account.
Remove an email address
You can only remove an email address if you already have more than one email address associated with your account, if you no longer use that email address or if it belongs to someone else.
From the Notifications, under Email notifications scroll down and click Remove Email.
Leaving an Organization will remove your corporate email address associated with it from your account.
Browser notifications
Get project updates and direct mentions notifications from Asana in your browser, even if you don't have an Asana tab open.
Browser notifications are supported on Google Chrome, Mozilla Firefox and Microsoft Edge.
How to enable browser notifications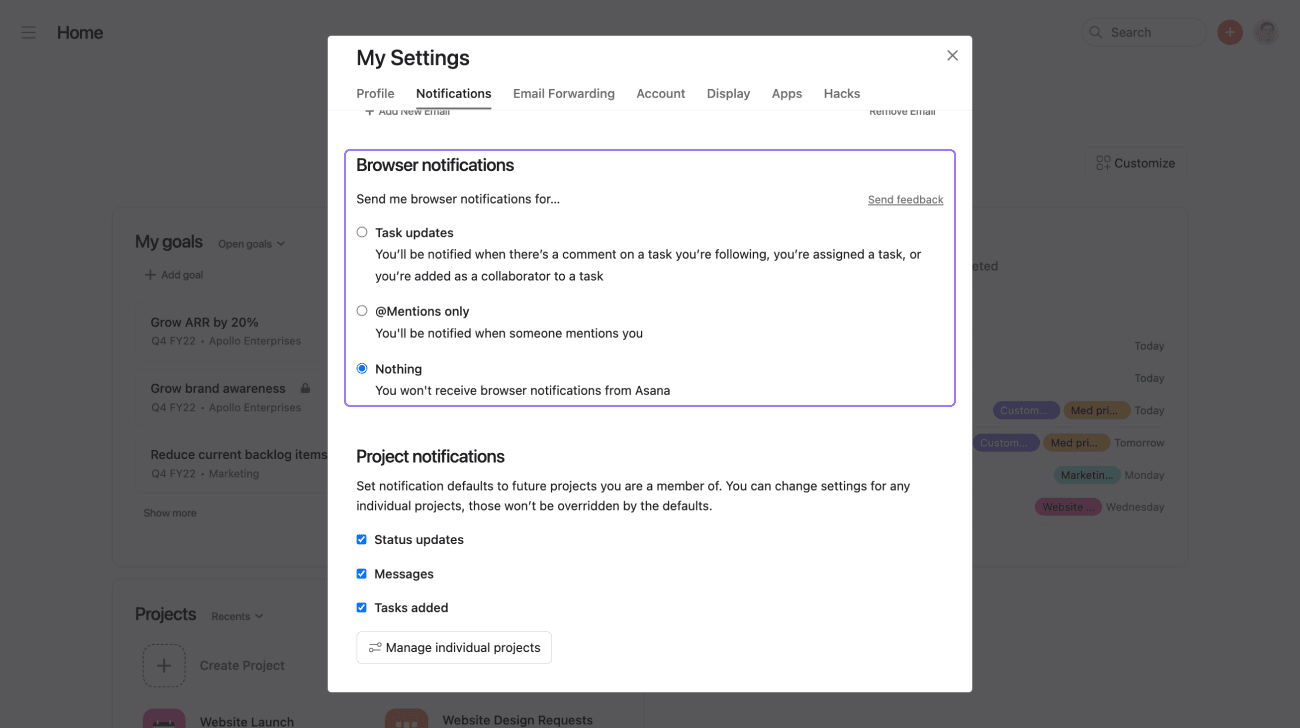 To enable browser notifications for Asana click on My Settings from your profile photo and head to the Notifications tab.
The option to not receive any notifications will be selected by default. You will have two more options to activate the notifications you prefer.
Click on Task updates to be notified when there is a comment on a task that you're following, when you have been assigned a task or when you have been added as a collaborator to a task.
Click @Mentions only to be notified when another member of your workspace or organization @mentions you in a task, comment or message.
Once you have selected the type of notifications you prefer to get, you will have to allow them on the pop up notice that will be displayed on your browser.
Browser notifications will appear when someone on your team assigns you a task, comments on a task you're following, or adds you as a collaborator.
Project notifications
Set default notifications for future projects.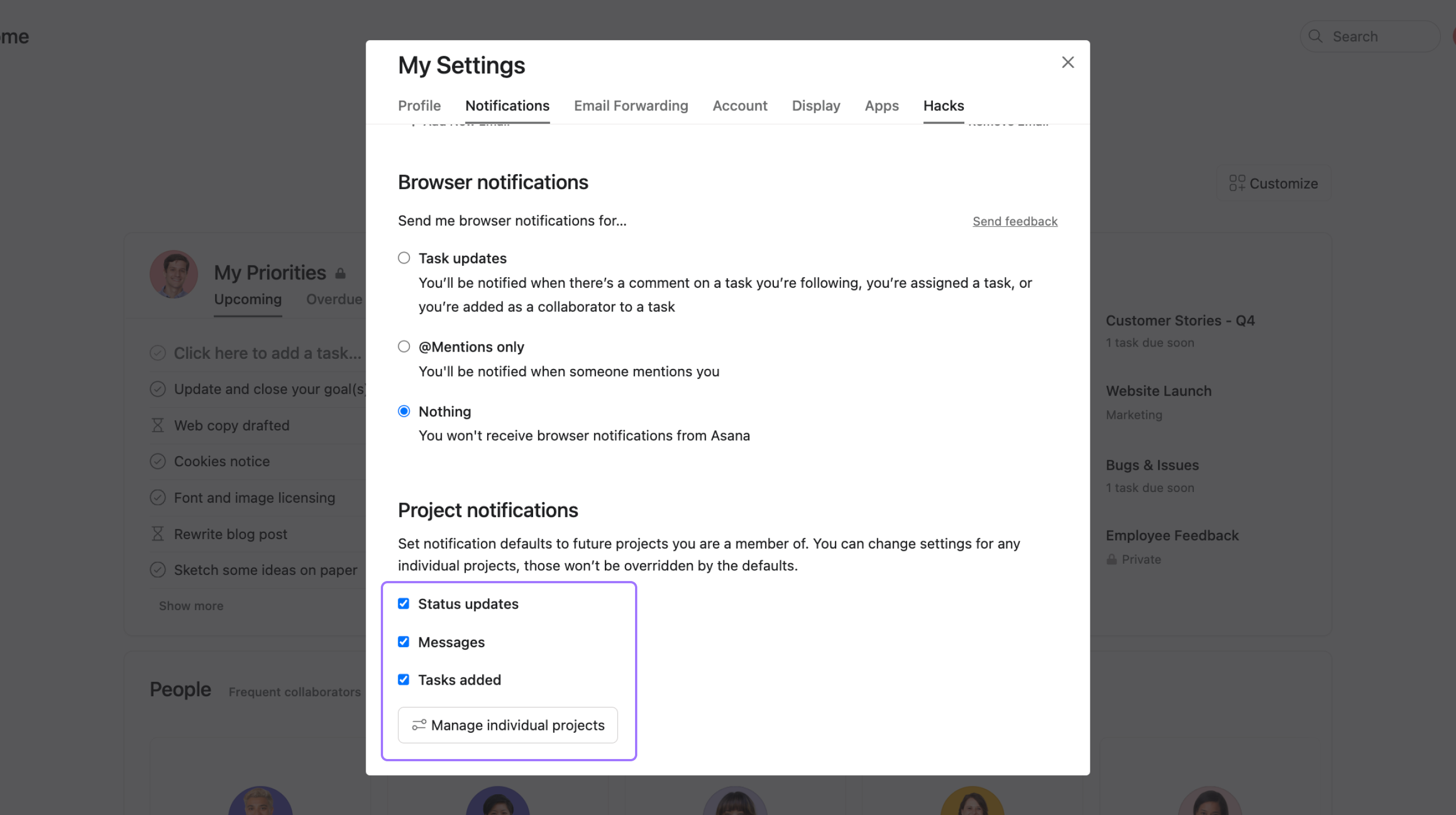 From the Notifications tab, you can activate project notifications for:
Status Updates
Messages
Tasks added
You can also manage notifications for projects individually by clicking on Manage individual projects
Notification stories
Stories are generated when users take actions in Asana.
Currently we show browser notifications for the following types of notification stories:
Task assigned
Comment added to a task
Added collaborator or @mention
A story is a sequence of events, - e.g Tom commented at 1:10pm, Tom assigned to Mary at 1:15pm, Mary added a due date at 1:20pm. Stories are a history of the actions taken.
The option to allow notifications for Asana might be different depending on the browser you are using, but there will be a notice asking something similar to "Do you want to allow app.asana.com to display notifications?" and a button to allow and another one to deny.
How to disable browser notifications
You can disable notifications from Asana by selecting the Nothing option from your browser settings.
Learn how to disable notifications on Google Chrome from their support page.
Learn how to disable notifications on Mozilla Firefox from their support page.
Learn how to disable notifications on Microsoft Edge from their support page. Search for the Change website permissions tip.
Do Not Disturb
The Do Not Disturb feature enables you to pause push and browser notifications, to allow you to focus on the work that matters most.
How to enable Do not disturb
To enable Do Not Disturb, click on your profile photo and click on My Settings.... From there, click on the Notifications tab and click on the Pause notifications button.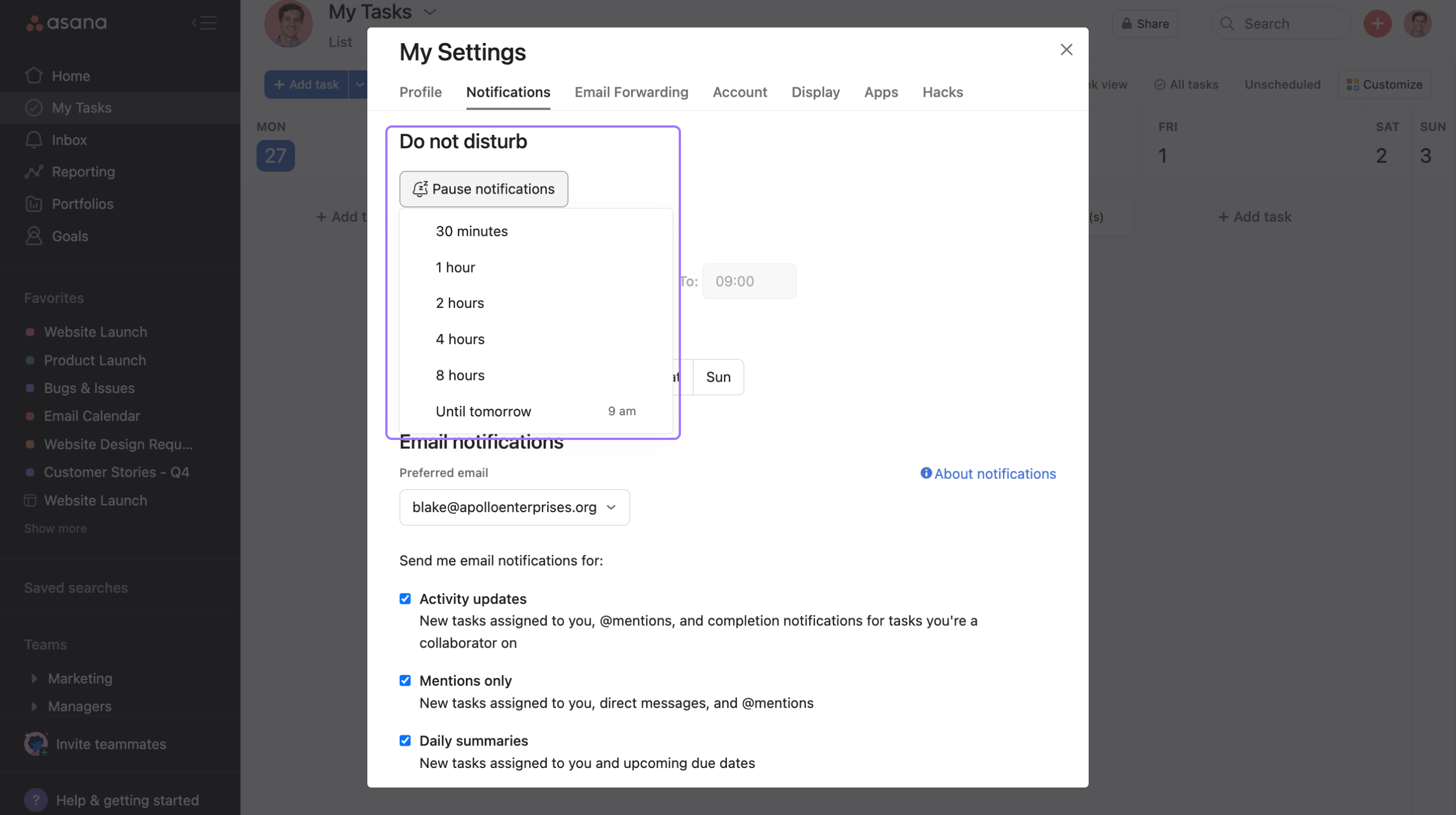 When enabled, Do Not Disturb will suppress the orange dot notification for Inbox on Web and Mobile, and will temporarily disable browser notifications if you have them enabled. The black dot notification on your web browser will also be suppressed.
How to enable Do not disturb on mobile
Do Not Disturb is available through your Account settings on IOS and Android.
From your Account Settings, tap on Do Not Disturb. From here, you can pause notifications, set a do not disturb schedule, and enter your days off.
Email forwarding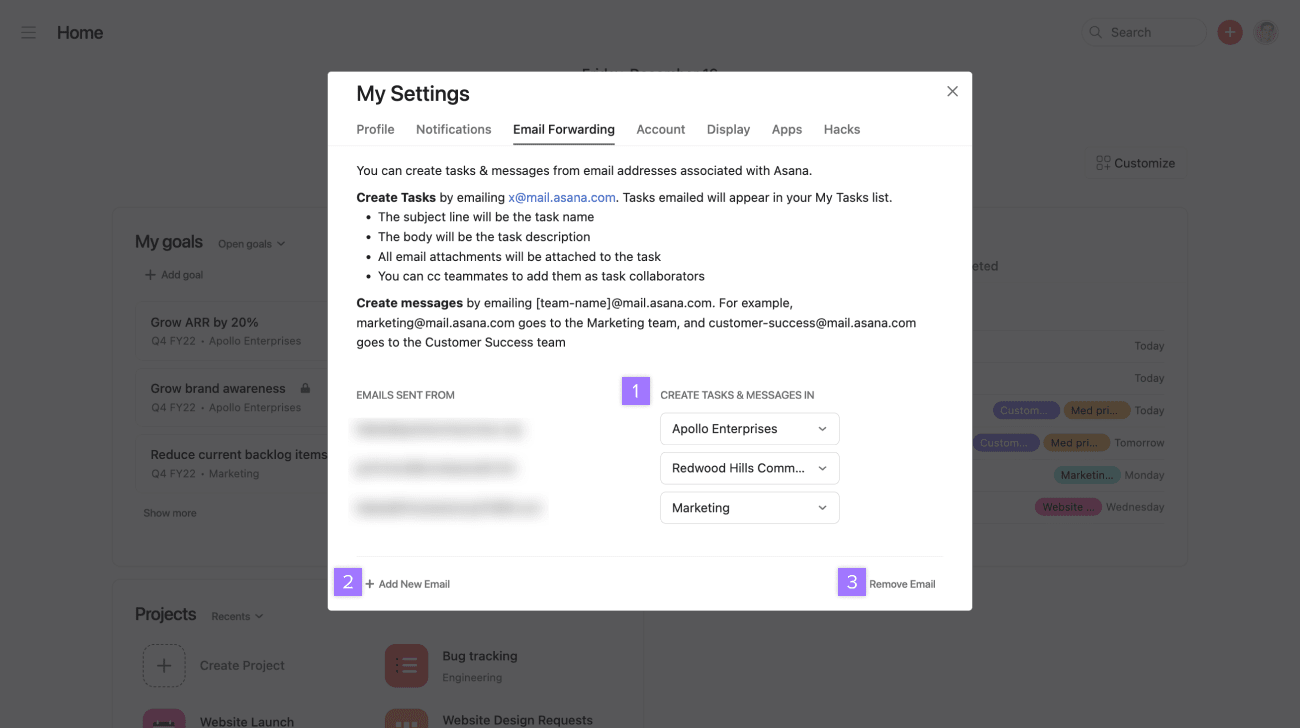 From the Email forwarding tab, you can:
Select the workspaces or organizations where you would like to create tasks and conversations from emails
Add an email address to your account
Remove an email address from your account
Learn more about this feature in the create tasks by email guide article.
Account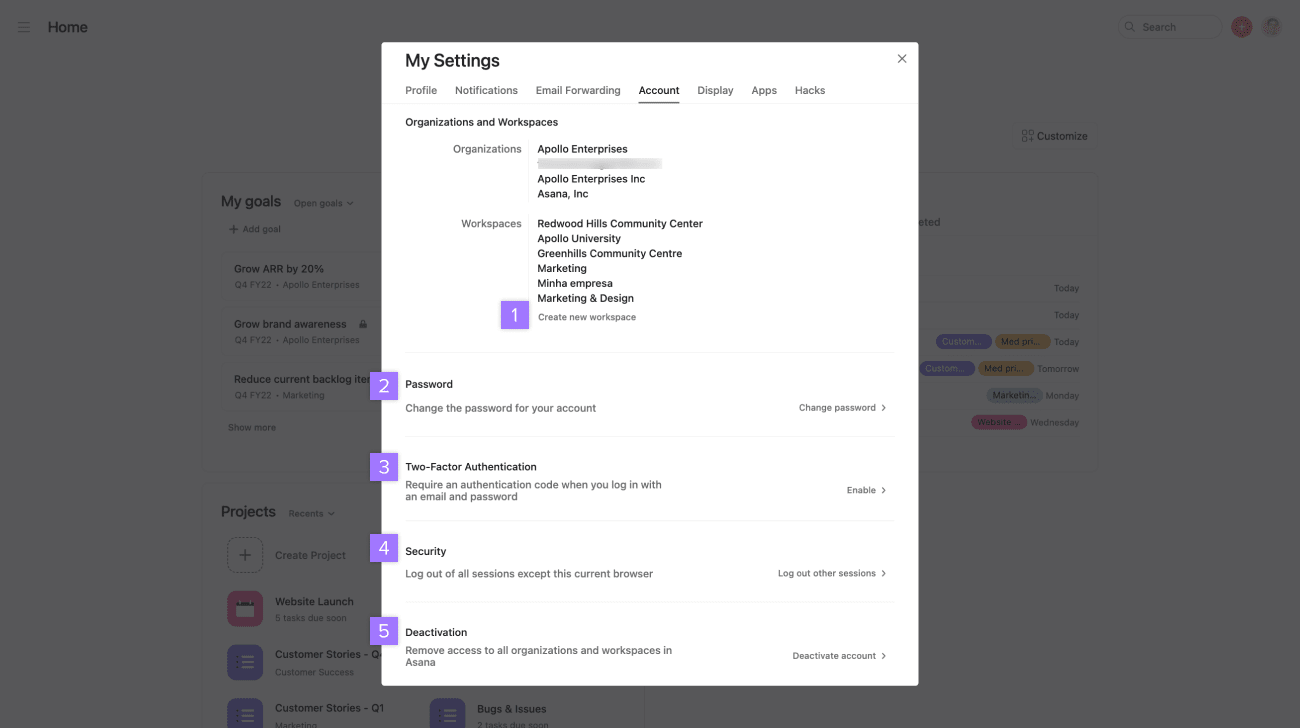 From the Account tab, you can:
Create a new workspace
Change the password for your account
Enable Two-factor Authentication
Log out of other sessions
Deactivate your account
If you are using Google SSO to login, you will not see an option to change your password. Instead, you'll have to log out of your account and request a password reset link.
Change your password
To change your password:
Click on your profile photo and select My Settings
Navigate to the Account tab and select Change your password
Enter your current password
Enter your new password
Confirm your new password
Save your password
Or click Cancel
Members of a Premium or Enterprise organization with SAML or Google SSO enabled will not see an option to change their password.
If you don't remember your password, an alternate option would be to request a password reset link sent to your email address from the login page. You will need to log out of your account to get back to the login page.
Account deactivation
NB: Only deactivate your individual Asana account if you no longer wish to use Asana.Deactivating an account is permanent and cannot be undone. You can deactivate your account via the Account tab of My Settings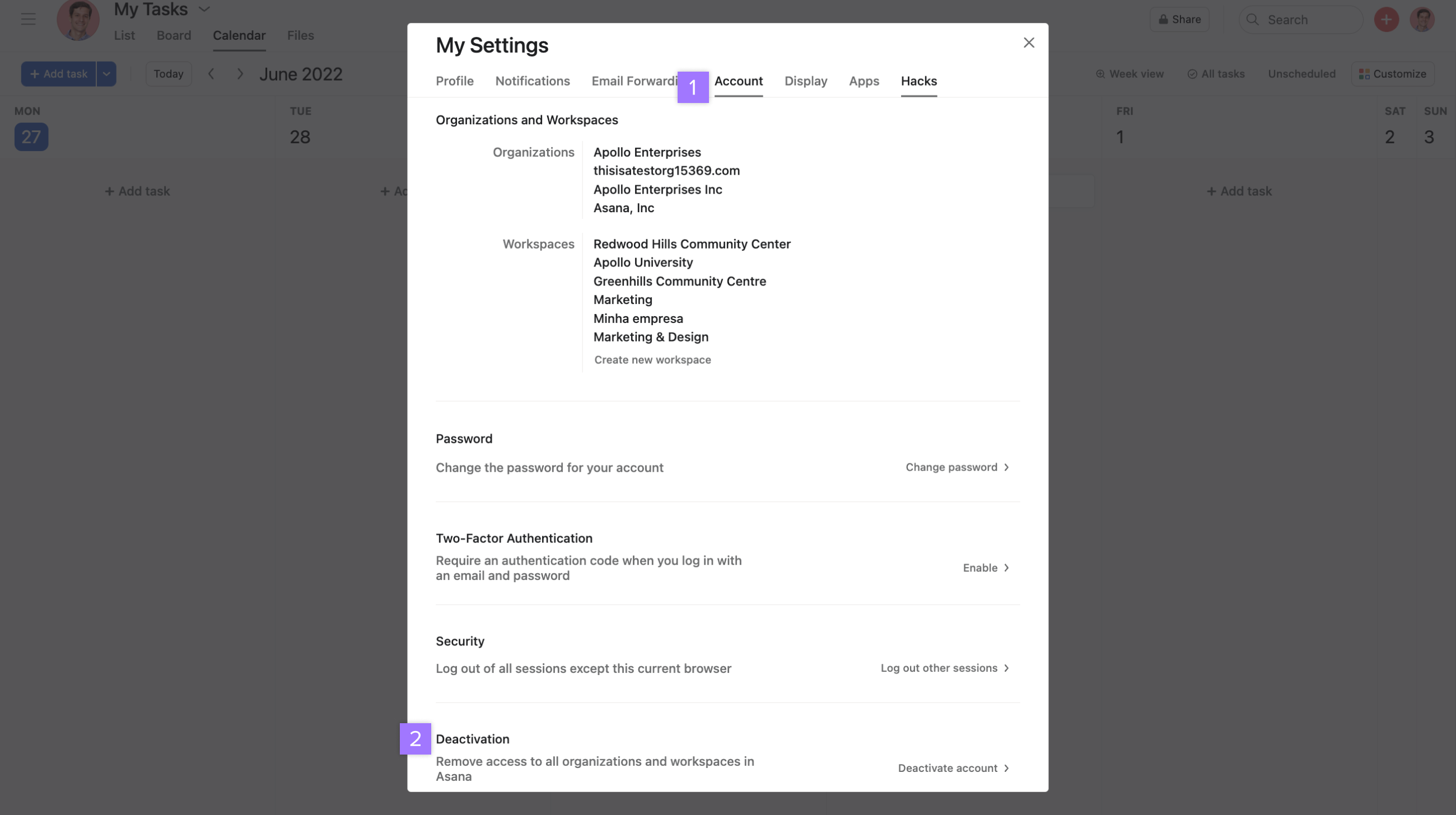 To deactivate your account:
Navigate to the Account tab of My Settings
Click Deactivate Account
Once you deactivate your account, you will no longer have access to any data in the account. If you would like to use Asana in the future, you will need to sign up for a new account.
Deactivation only deactivates your individual Asana account. The organizations and workspaces you belong to are shared spaces and will continue to exist.
Display
Display allows you to change the background in your Asana account's interface and add numbered rows for your task lists.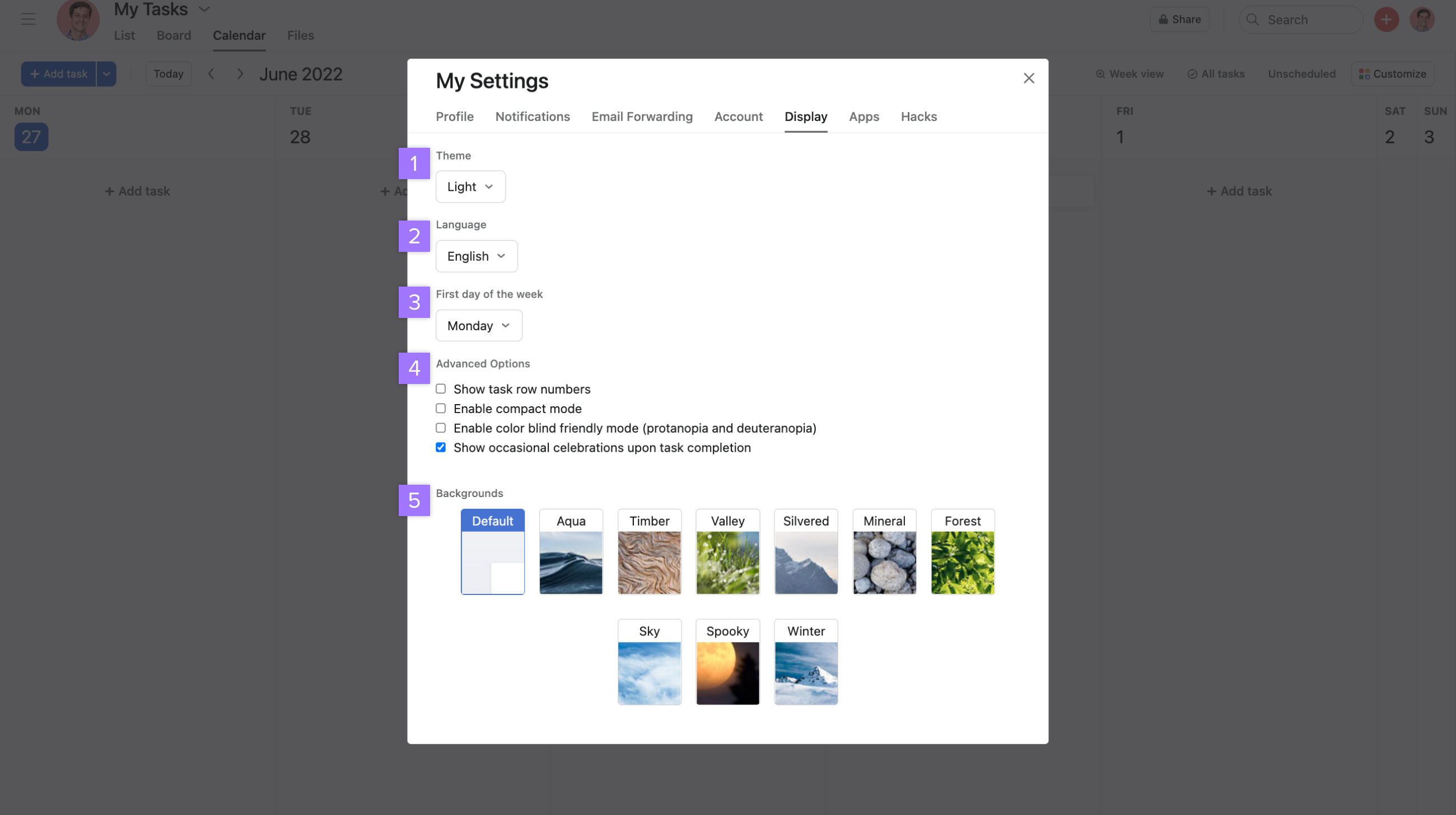 From the Display tab, you can:
Choose a theme - light, dark, or sync with system settings
Set your profile language - select which language you'd like to use Asana in. Currently English, German, Spanish, French, Bahasa Indonesia, Italian, Japanese, Korean, Dutch, Polish, Portuguese, Russian, Swedish, and Traditional Chinese.
Change the first day of the week - adjust your calendar view so either Saturday, Sunday or Monday is the first day of the week
Select advanced options
Show task row numbers - add numbered rows to your tasks in the main pane
Enable compact mode - reduces the line breaks between tasks in the main pane
Enable color blind friendly mode
Show occasional celebrations upon task completion - a mythical creature will appear at random when you complete a task
Change the background image in the Asana app
Display settings are personal to you and will not affect what your teammate sees when they log in to Asana.
Apps
The Apps tab allows you to manage the integrations you've authorized to access your account.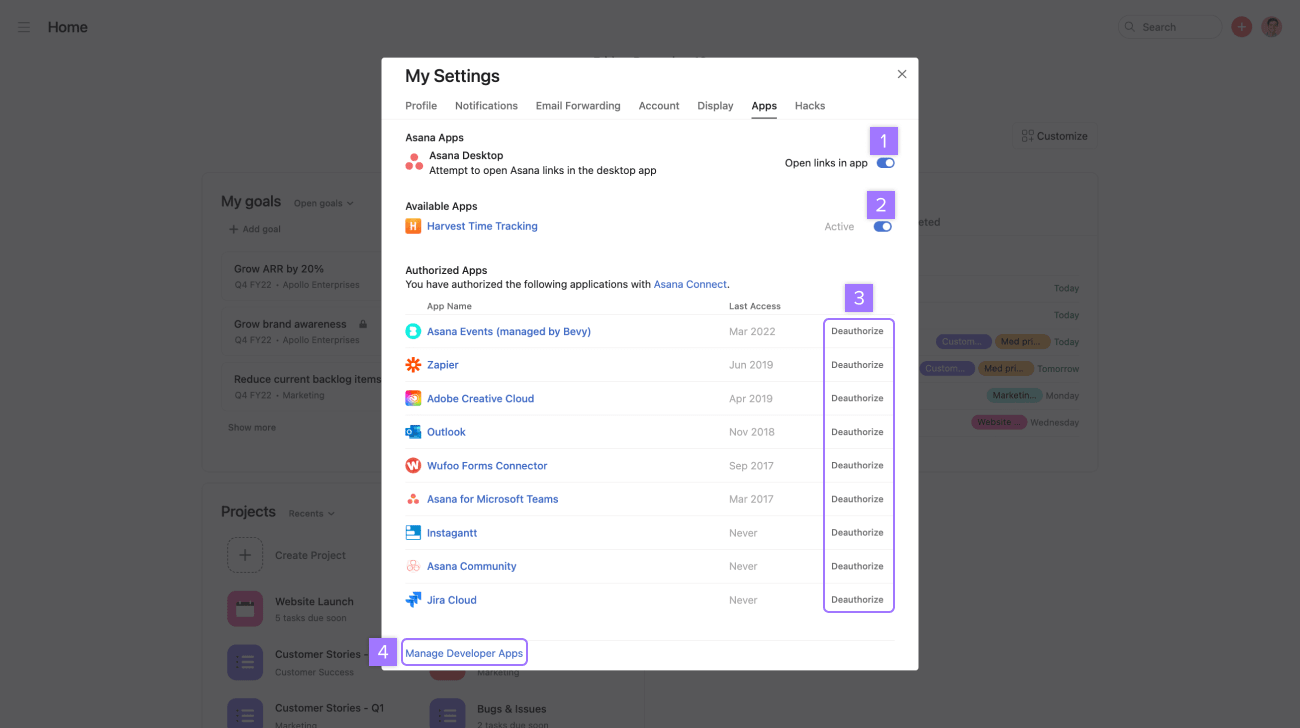 From the Apps tab, you can:
Activate opening links in the Asana desktop app
View and deauthorize any integrations you're currently using
Activate any available integrations
Access the Developer App Management page
From the Developer App Management page, you can create a new personal access token or register a new application.
Learn more about our API in our Developer's Guide.
Hacks
Hacks allow you to try out experimental features that may or may not stick around.

Go to the Hacks tab of My Settings to enable or disable any Hack. Click on the Reload to Apply Changes button to save your changes.
You can send us feedback by clicking on the Send feedback links found in the Hacks tab.