Answers to frequently asked billing-related questions can be found here.
Workspaces and organizations
Am I in a workspace or an organization?
If it's a work email domain, you are in an organization. If it's your personal email domain, you are in a workspace.
From your Asana account, you can create or join as many organizations or workspaces as you need.
Organization vs. Workspace
Organizations are based on having a dedicated company or business email domain. Anyone who signs up to Asana with your company's email domain will automatically join your company's organization as a member.
For example, if you're using Asana at your work, Acme Co., you would create an acmeco.com organization. Be sure to add your work email to your Asana account.
Use a workspace if you are using Asana for personal goals and tasks, or for work if your company does not have a unique email domain. Workspaces act like singular teams.
Can I use both?
You can create separate user accounts for work and personal use.
1. One account for work using a work email address
2. A second account for personal use with a personal email address
You cannot add both personal and work email addresses to the same account as outlined in our Asana account email policy article.
The table below outlines the differences between workspaces, teams, and organizations.
Workspace
Team
Organization
Can be created with a personal email address
Must be created using a company/work email address
Acts as one team for personal or smaller team use
Acts as one team within an organization
Houses multiple teams
Cannot create new teams
Can create multiple teams
Anyone can be added as a member or a limited access member
Membership is defined by team permission settings

Organization membership

is defined by the company email domain. All others will join your organization as guests
How do I convert my workspace into an organization?
If you haven't already done so, add your company email address to your account.
With a company email address in your account, you can convert one of your workspaces into an organization.
If you do not see the option to convert to an organization, contact our Support team for help.
Your workspace will become the first team in your organization. If your workspace has been upgraded, your team will also be upgraded. You can move your subscription to the organization level from your Billing tab.
Who owns my workspace or organization?
Workspaces and organizations are shared spaces that can be managed by all members. In the free version of Asana, ownership of a workspace or organization is collective and managed by all members with access.
Who owns the workspace or organization in a paid account?
In a paid workspace or organization, members still collectively manage all projects and tasks, but billing is managed by the billing owner, and organization membership is managed through the admin console.
Who can see my workspaces or organizations?
Only the members of a given workspace or organization can see it in the sidebar.
If you are a member of a workspace called "Travel" that you made for yourself and also a member of your company's organization, acmeco.com, no one in acmeco.com will see that you are a member of Travel unless they are also a member of Travel.
Conversely, you cannot see the other workspaces and organizations other people are members of.
How do I change the name of an organization?
Only super admins and admins in paid organizations have the option to change the organization name.
If you are in a free organization, your organization name will be the same as the email domain for your work email. For example, if your company is called "Acme Co" and your work email address is "acme.co," then the Asana organization for your company will be named "acme.co."
How do I deactivate an organization?
Organizations are shared. People can create private tasks and projects inside organizations that you may not know about. Therefore, there is no "delete all" button.
Instead, you can do the following:
Organizations are how companies exist in Asana. If you do all of the above and leave the organization empty, someone new signing up for Asana with their company email address will be auto-joined to the organization you left.
If you would instead like us to make a brand new organization for the company email domain when someone new joins, contact us and we'll remove the company email address from our system and free up the domain.
Deleting an organization in favor of a workspace is not advisable - we will eventually only offer organizations. Also, deleting an organization to "start fresh" is unnecessary since you can simply delete the projects and tasks from the organization.
Accounts
How do I start fresh with a personal account instead of a business account?
When you sign up for Asana, you create an individual account for yourself that is associated with your name, your email address(es), and your photo (if you upload one). There is no option to choose a business or personal account at any setup stage - they are all the same.
If you plan to use Asana for work, start with an organization. If it's for personal use, consider a workspace.
How to switch from organization to workspace?
There's no problem if you've started with an organization and now want a workspace account. Do not deactivate your account; simply leave the organization and create a workspace.
Deactivating your account will not deactivate the organization, but you will no longer have access to its content.
You cannot leave an organization unless you add a non-organization affiliated email address to your account.
From your Asana account, you can create, join, or leave multiple organizations and workspaces. You can navigate between them from your workspace and organization settings by clicking your Profile icon on the top bar
My company is changing email domains. What do I need to do in Asana?
The first step is to add your new email address to your Asana account.
How to update your organization's domain
When you have a new email address, access the admin console and navigate to the Settings tab to click on Associated email domains. From here, you can submit a form, and our Support team will make the necessary changes. Please ensure you have verified your new email address before submitting the form. You can find more detailed information on adding, removing and changing email domains here.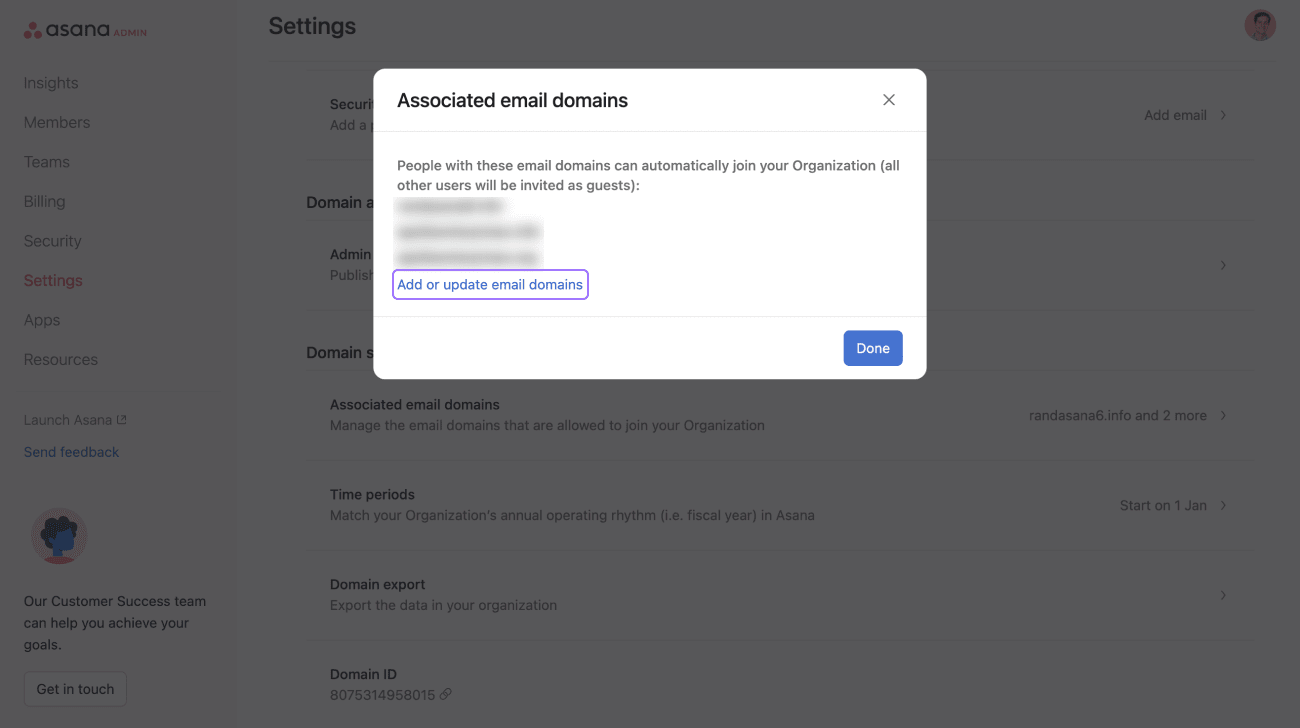 You can convert your workspace to an organization easily.
Can free organizations change email domains?
Free organizations can also request to change email domains through the admin console.
A domain switch is available to all tiers.
Why was my email address removed from my Asana account?
In free organizations, all members have the ability to deprovision other members from the organization.
In paid organizations, super admins have the ability to deprovision members from the organization to remove their access.
If you need to regain access to the organization again please contact an organization member or the super admin.
How do I reactivate a deactivated user?
Restore a deactivated member by finding their name in your member's tab in the admin console. Click the three dot icon and select Restore.
If you have further questions, please reach out to our Support team.
I already have an account; why am I stuck on the account creation screen?
When someone invites you to join their team using another email address than the one already added to your Asana account, you'll see a new creation screen and may be prompted to create new teams. To solve this, log in to your existing account using a different browser or incognito window and add the new email address. This will allow you to access the team you've been invited to using your own account.
Alternatively, click Continue underneath the teams creation menu, and continue into your new account. You can then merge this account with your existing one. After you merge your accounts, you will be able to log in to one account with either email address and access all the organizations and workspaces you are a part of.
If you usually use Google SSO to log in or are having issues, contact our Support team for further steps.
How do I deactivate my account?
You can deactivate your account via the Account tab in My settings
Once you deactivate your account, you will no longer have access to any data in the account. If you would like to use Asana in the future, you will need to sign up for a new account.
Deactivating your account will only deactivate your individual account. It will not deactivate any of the workspaces or organizations you belong to. If you wish to also deactivate the workspaces or organizations you're a member of, you must remove all projects, tasks and members before you can leave the space yourself. If you have any issues, please contact our Support team.
Tasks and subtasks
How do I disable the "Consider updating your project's status" tasks?
If you are the project owner, the system will assign you a task to update your project's status. In the task description, you should find a link to the corresponding projects you are the owner of.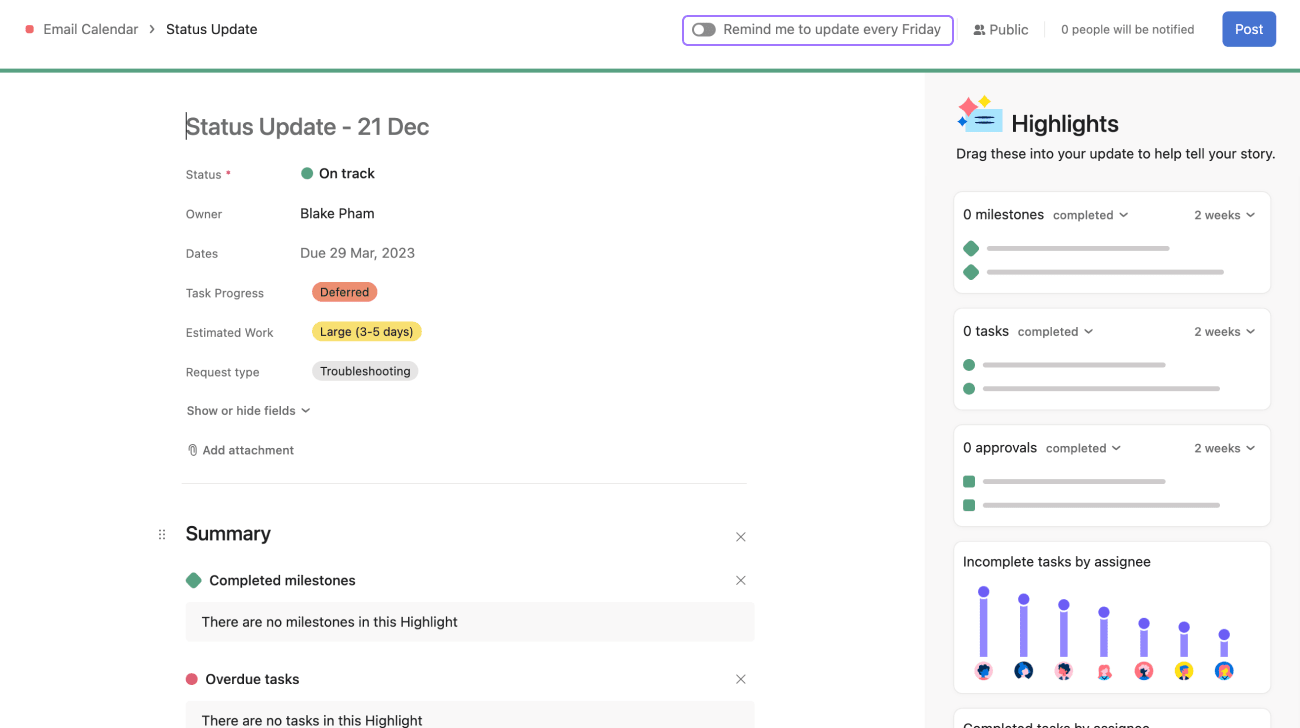 Open the project, navigate to the Status Update page, and turn on or off the Remind me to update every Friday toggle.
What happens to someone's tasks if they leave the company?
In free organizations and workspaces
Tasks and projects that the former employee held as private will no longer be viewable. Tasks that were public or were associated with a shared project will remain accessible but may become unassigned.
In a paid organization
A private project will be created for the admin containing both public and private tasks previously assigned to the former employee.
Can we still see their comments ?
Comments the former employee made on tasks will still be visible on both tiers, but their profile photo will be gone, and their name will not be clickable.
Deprovisioned employees will no longer see your company's workspace or organization at the top bar of their Asana account and will no longer have access to its projects and tasks.
Why aren't my subtasks appearing in the calendar?
Subtasks do not inherit the projects, tags, nor the assignee of their parent tasks.
Subtasks act as independent tasks to their parent task.
Subtasks need to have a due date and be added to the project manually to appear on your project calendar.
Guests
How do I work with clients in my organization?
You can invite clients to your organization as guests.
Organization membership is defined by your company's email domain (michael@yourco.com is a part of the yourco.com organization). Those who do not have an email address @ your company's email domain may be invited to your organization as an organization guest.
What exactly can guests of an organization see?
There are limited permissions.
Guests have limited access within the workspace or organization they're invited to and can only see what is explicitly shared with them.
Why am I appearing as a private user?
If two people are seeing each other as a "private user", they are both guests.
Guests have limited access within the workspace or organization they're invited to and can only see what is explicitly shared with them.
Can guests see each other's names?
For guests to see one another's names, they must be members of at least one project together. Just add both guests as members to the same project, and they will then be able to see each other's names.
I removed someone, but they still appear in the typeahead when I assign a task. Why?
Organizations can consist of multiple teams. When you removed this person, you removed them from a team in your free organization but did not select to remove them from the organization at that time.
Therefore, they do not appear in any teams, but they still exist in the organization and appear in the typeahead when you're assigning tasks. To remove them, you'll need to invite them back to a team for the express purpose of deprovisioning them, as shown and explained in this Help Center article.
Those who have been removed from a workspace or organization will receive an email notification.
What do I do when I leave my company?
Add a non-company-affiliated email address to your account so that you do not lose access to Asana.

Reassign your tasks to people who should take over your work. Use multi-select to reassign your tasks in bulk.

If you are the billing owner for a paid organization, team, or workspace, reassign that responsibility.

If you are the admin for a paid organization, make sure there are other admins.

Consider deleting your private tasks or making them public.

Leave your company's organization or workspace. For the former, it is likely a super admin will deprovision you.
Accidental deletions
I cannot find a project, help!
If you have the project's ID, it is no problem.
If not, consider reaching out to the person who deleted the project as they should have received an email containing the project's ID along with instructions to recover it automatically. Please ask them to contact us and provide the project's ID.
If you happened to delete it, please send us the following:
The name of the workspace or organization where the project lived
The URL of any task that was in the project (you can likely find this in an old email notification for the task).
How do I recover a task or a subtask?
Try to find the task in search - maybe it's still active or perhaps it has been moved to your deleted items.

If it's definitely deleted, check deleted tasks or ask the person who accidentally deleted it to check.
Contact us if you have no success in restoring the task or project.
Project/task/tag deletion
You received a notification for, or an invitation to, an item that was later deleted.
Access and permissions
What does the "It looks like you don't have access" error mean?
If you encounter a It looks like you don't have access error, it could be one or more of the following scenarios:
Incorrect email
It's possible you may have multiple accounts. Your teammate might have invited you using a different email address than the one you signed up with.
To solve:
Log out
Log in again, this time using the same email address at which you received the invitation or notification
Changes in permissions
You received a notification for a task or an invitation which was later marked as private.
To solve:
You'll need to ask someone who has access to add you back, if appropriate.
Out-of-date bookmarks
You bookmarked a specific task or project URL and that item no longer exists.
If you want a bookmark in your browser to help you navigate to Asana daily, use https://app.asana.com, rather than specific task or project URLs.
Canceled invitations
Someone invited you to a project by accident and then canceled the invite.
To solve:
Ask the person who invited you if they want to resend the invite, or you can simply ignore it.
User deprovisioning
When a user is deactivated through an identity provider like Okta, what happens to their tasks?
A project is auto-generated for the tasks that were assigned to the deactivated user. Super admins become members of this auto-generated project and have access to the deactivated user's tasks.
Who becomes the project owner?
One of the organization's super admins will become the project owner. The project owner will be notified about the project's creation via a task in Asana.
A new setting in the admin console allows the super admin of an organization to define which super admin becomes the owner of the project carrying a deprovisioned user's previously assigned tasks after they have been deprovisioned via SCIM or the API.
Who is notified when that project is created?
The super admin who has been chosen as project owner will be assigned a task to review the project once it is generated.
What happens to projects, portfolios, and dashboards that are owned by deactivated users when there are no other members present?
Deactivation does not currently transfer data ownership for projects, portfolios or dashboards.
Navigating Asana
Where can I find archived projects?
From your sidebar, click on your team to view the overview page. In the Projects section, click on Filter to show all archived projects within your team.
Where can I find goals, portfolios, and/or reporting?
These can be found in the sidebar under the Insights section. You may need to scroll down to see this section.
If you want easier access to these features, drag-and-drop the section to the top of your sidebar.
You can also star individual goals, portfolios, and reports to pin them in the Starred section.
Where can I find my deleted tasks?
Click on your avatar on the top right corner of the app, which will open a dropdown menu. Expand the More menu option, and look for View my deleted tasks & messages.
The Projects section in my sidebar keeps changing - how do I stop this?
Your projects may be set to recent projects. You may change this setting to top projects.
You can also star projects to curate a list of work. These projects will appear in the Starred section.
How do I add or remove projects to the Projects section in my sidebar?
You cannot manually add or remove projects to this section as it is displaying either your top or recent projects.
To manually add projects to your sidebar, you can add them to your Starred section.
Where can I find my saved searches?
The default saved searches have been removed from the sidebar. However, clicking the search bar will show you three saved searches: Tasks I've created, Tasks I've assigned to others, and Recently completed tasks.
You may also see saved searches in the starred section if you have any searches that you've previously favorited.
You can also create more by searching for what you want, then starring the search page.
What does the (pad)lock symbol mean?
The lock symbol indicates a private project or portfolio.
Other FAQs
How do other companies use Asana?
Suggestions of how teams can use Asana to suit their workflows can be found in our Examples articles and the Asana Community Forum.
Is Asana available in languages other than English?
Asana is currently available in English, Traditional Chinese, Russian, Dutch, Polish, Italian, Swedish, Korean, French, German, Portuguese, Spanish, and Japanese. Switch language from the Display tab of My settings.
How do I change the calendar view so Monday is the first day of the week?
If you would like to adjust your calendar view so Monday is the first day of the week, access My settings, navigate to the Display tab and then select Monday in the drop-down.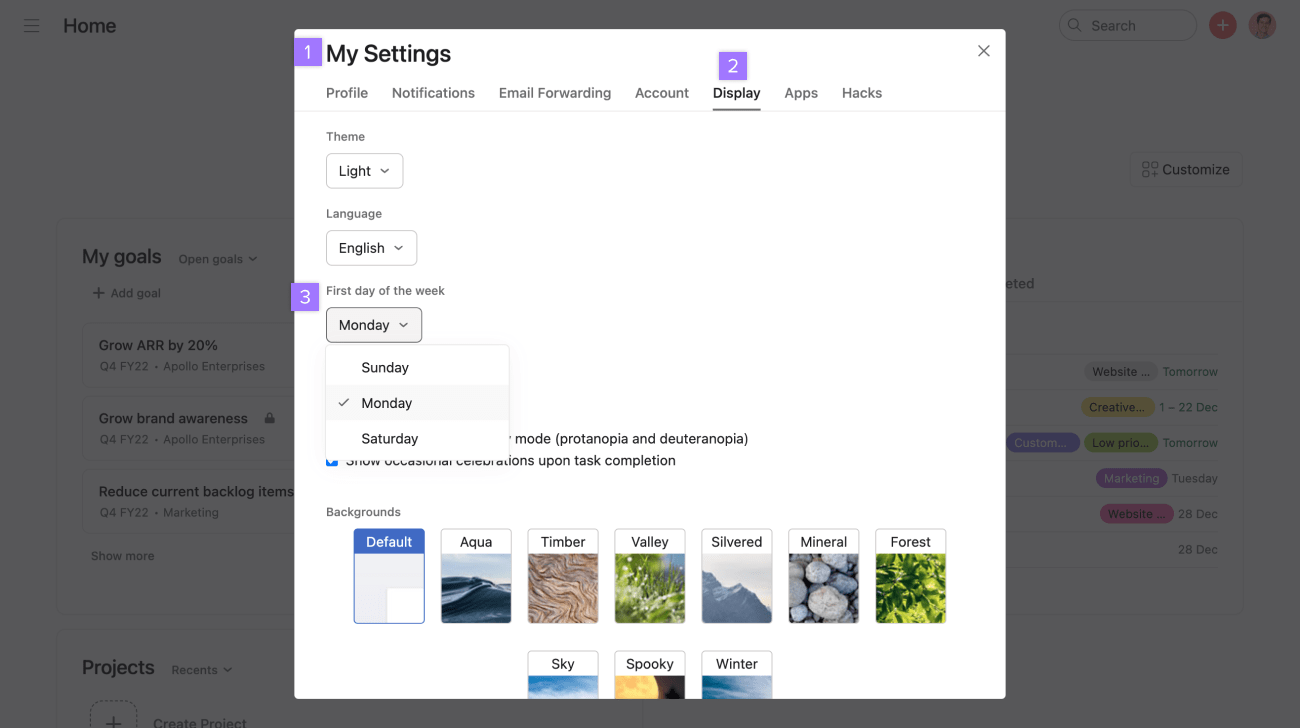 Where can I add text links in Asana?
You can add a link to a task description through the Insert link button and in task comment through the rich text button.
How can I change my Time Zone in Asana?
Asana's clock is determined by your computer's time zone setting. If you go on vacation or travel abroad and your computer time zone changes, your timezone in Asana will also change.
What about email reminders?
It is currently not possible to change the time settings for emails. As it stands, they are based on the PST time zone (Pacific Standard Time). This is 8 hours behind Coordinated Universal Time (UTC).
What's your GDPR policy at Asana?
Under the General Data Protection Regulation act organizations that collect, maintain, use, or otherwise process EU residents' personal data (regardless of the organization's location) must implement certain privacy and security safeguards for that data. Asana has established a comprehensive GDPR compliance program. Read about the significant steps Asana has taken to align its practices with GDPR.
Find answers to even more questions in the Asana Community Forum.
Visit the Community