Are you tired of never-ending to-do lists? Are you feeling lost and ineffective watching your priorities get pushed to the side? Gain control of your workload with My Tasks and learn to effectively track and prioritize your work to increase productivity and get things done.
What is a task?
Everything in Asana starts with a task. Tasks are actionable to-dos and the most important building blocks of Asana. A task can be anything from a discussion topic for a meeting, to assigning actionable work for yourself or others. To learn more about tasks take a look at our help center article on understanding tasks.
What is My tasks?
My tasks is a list of all the tasks assigned to you in a given organization or workspace. It is your personal, customizable to-do list and helps you to prioritize and visualize your day's work by showing all the tasks assigned to you and when they're due. Returning to your my tasks throughout the day helps keep you on track, check off the tasks you've completed and see any new work that's come in, allowing you to prioritize in real time.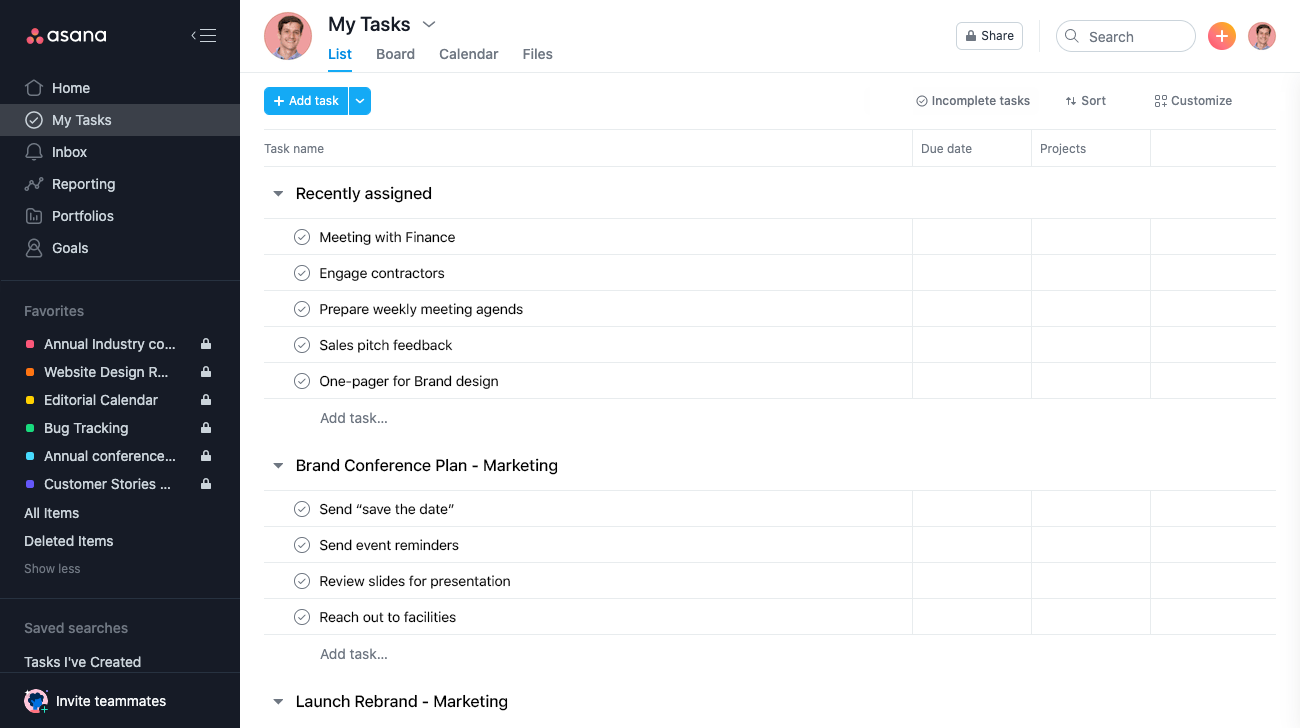 Any task created in your my tasks will be private to only you. You can keep it private, or add it to any relevant projects.
Tips to manage and prioritize your tasks
Capture everything: It's better to add tasks and then mark them as complete rather than forgetting what you wanted to do in the first place. Whether it's a passing thought or a question for someone, just add it to my tasks.
Leverage lists: Organize your my tasks into sections to help you focus. You can create one section for high priorities or tasks that are due soon, another for project ideas as well as personal tasks and meeting topics. Categorizing your my tasks will help you leverage the relevant section at the correct time and help you focus better. Ready, set action: Make your tasks actionable by using verbs first for quick insights into what needs to be done i.e "Plan weekly newsletter" or "Design summer creative".
All about priorities: Make sure you get the right work done on time. Whether you order your list by priority or use a custom tag to highlight critical work, ensure you have visibility on your must-do's, and not just on your to-do's so nothing is missed.
Deadlines: Setting yourself up for success means more than just knowing what to do, you also need to know when to do it by. Set deadlines or due dates for your tasks to know when they need to be completed.
Break it down: Divide big tasks into smaller, manageable parts (like tasks and subtasks) to see the overall workload as well as the individual steps required to complete it.
Celebrate: Whether it's a small task, milestone or goal, recognize and celebrate completing tasks with fun animations. Why? Why not?
Check it out: Start your day by reviewing your my tasks to stay on top of what's due and what's next.
Dependencies: Waiting for someone to complete their work before you can begin yours? Use task dependencies to track progress and know when you can start your task.
Unlike a handwritten to-do list or post-it note, you can't lose your my tasks list. This way you can add tasks, jot down notes or ideas and keep them all in the one location - whether on your desktop or the mobile app. You can also create separate lists in the same place, so you can see what's individually due from you for different projects. You can also set up recurring tasks for items that are due each day/week/month etc so you'll never forget a quarterly report or weekly meeting again.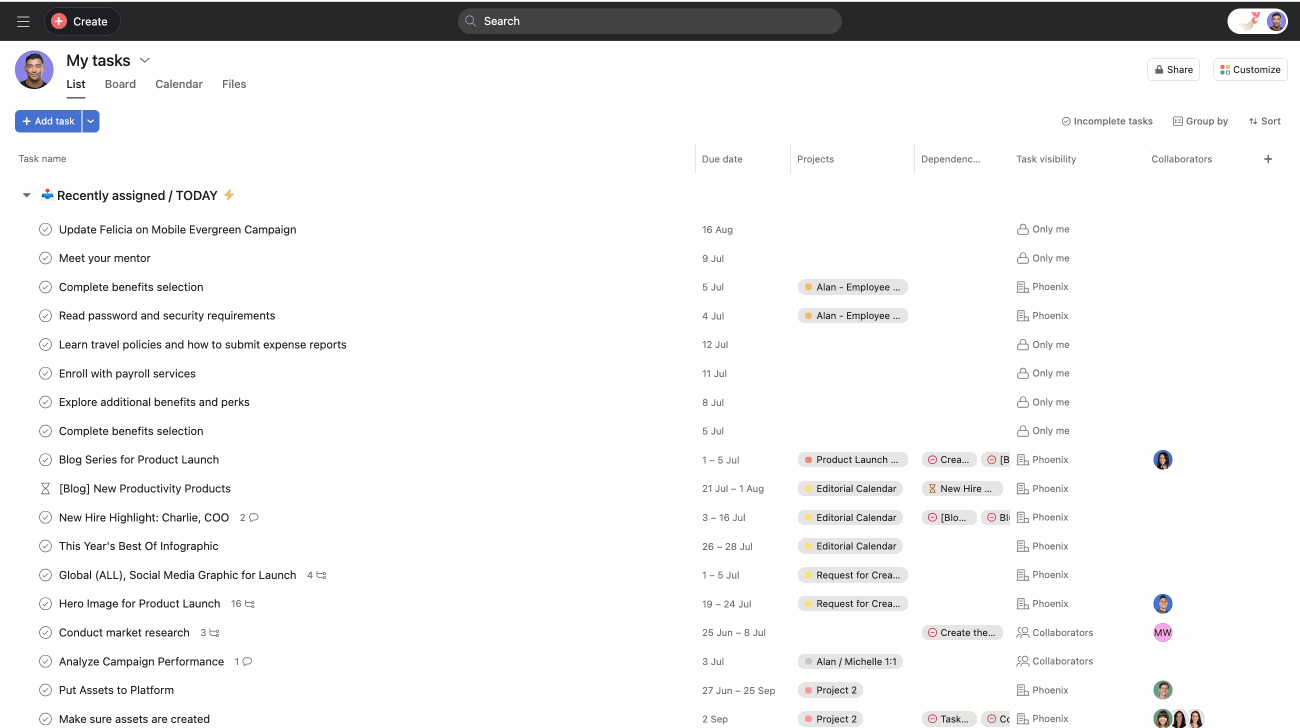 For more on how to master tasks check out these resources:
Level up your productivity with a 20-day challenge
Want to work smarter, not harder? Our 20 daily tips can help you get into a routine to work smarter and be more effective. Focus on one challenge each day and move towards a more productive way of working. Take the challenge here.
It's no secret—Asana offers free 30 day trials. Start yours today. Try for free