Whether you're simply trying to find a task you assigned to a colleague last week or preparing for reviews by gathering a record of your work, Asana keeps all of your work together and helps you make sense of it quickly with search.
Quick video walkthrough of search
How to use search in Asana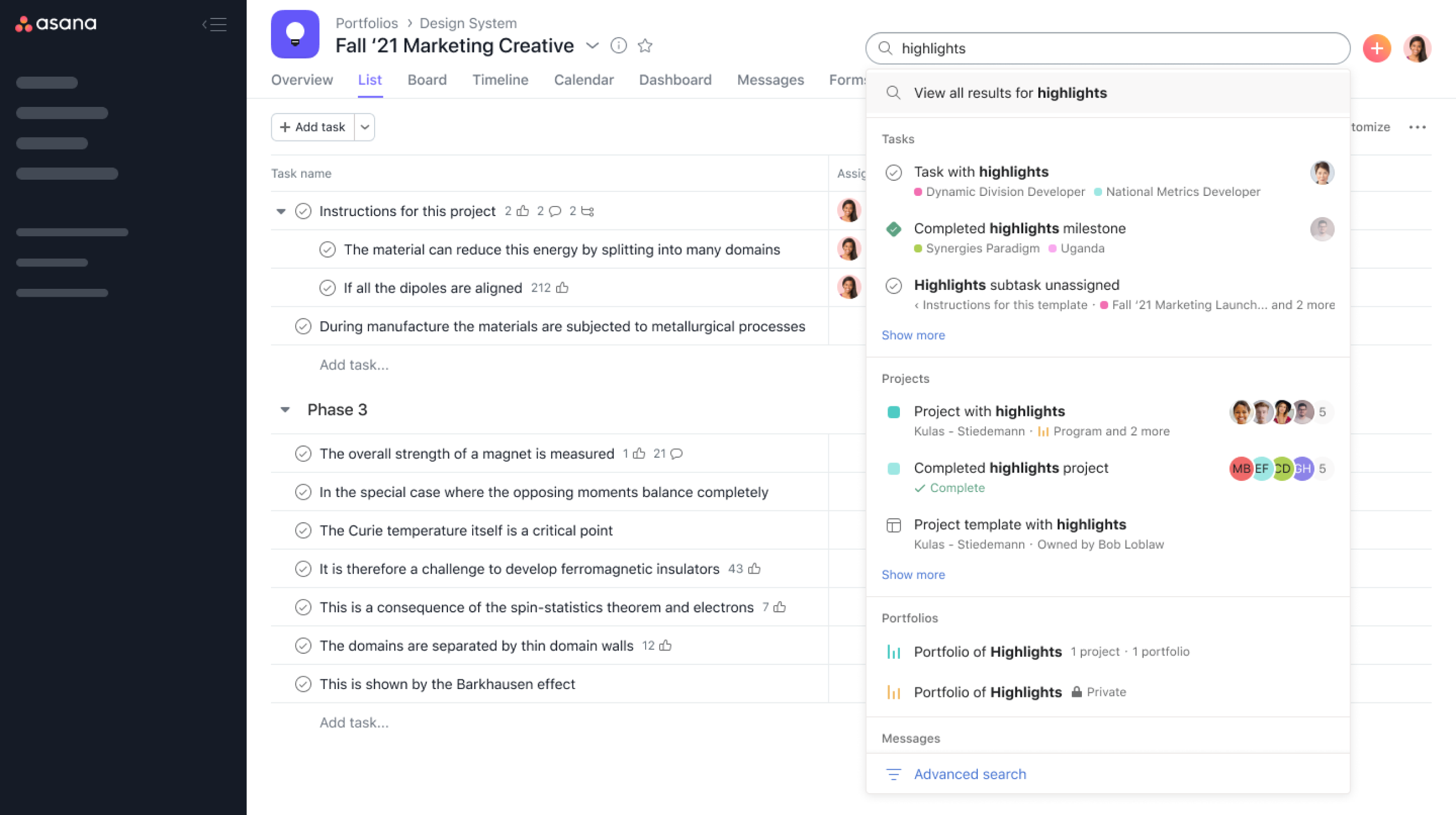 Search in Asana is as simple as typing into the search bar in the top bar. You'll get a list of corresponding tasks, projects, and messages that match your search term. Search is great when you're trying to quickly find something in Asana.
Save advanced searches
To refine your search criteria and save searches, however, you'll need advanced search. You can search anything from completion date and assignee to custom fields and task creator (and more). By searching across more criteria, you find exactly what you need. If it's something you want to search often, save it. The saved search will automatically update every time you open it.
Examples of searches to save
Work you need to follow up on—Search for tasks you've created for others that are incomplete and due within 3 days.
Tasks at risk—Search for tasks with a "high priority" custom field due today or tomorrow. Great for project managers to keep up momentum across projects.
Blocked approvals—Search for tasks with a "ready for review" custom field and provide feedback for assignees to unblock work waiting on their approval.
Work I've completed this quarter—Search for tasks assigned to you that were completed in a specific date range. Great for anyone to see their contributions for a review or to keep their resume updated.
How to make your work easily searchable
How you track your work in Asana is up to you, but there are ways to make it more easily searchable so anyone can get complete, organized results.
Give all tasks clear, actionable names. Naming a task "draft customer spotlight blog" versus "blog" can help refine your search results—especially if the task is copied from a template.
Give all tasks due dates, assignees, and put them in projects. This makes it much easier to narrow down your search with specific criteria.
Use custom fields to categorize tasks within projects by certain criteria. You can also use custom fields as search criteria.
It's no secret—Asana offers free 30 day trials. Start yours today. Try for free