Interface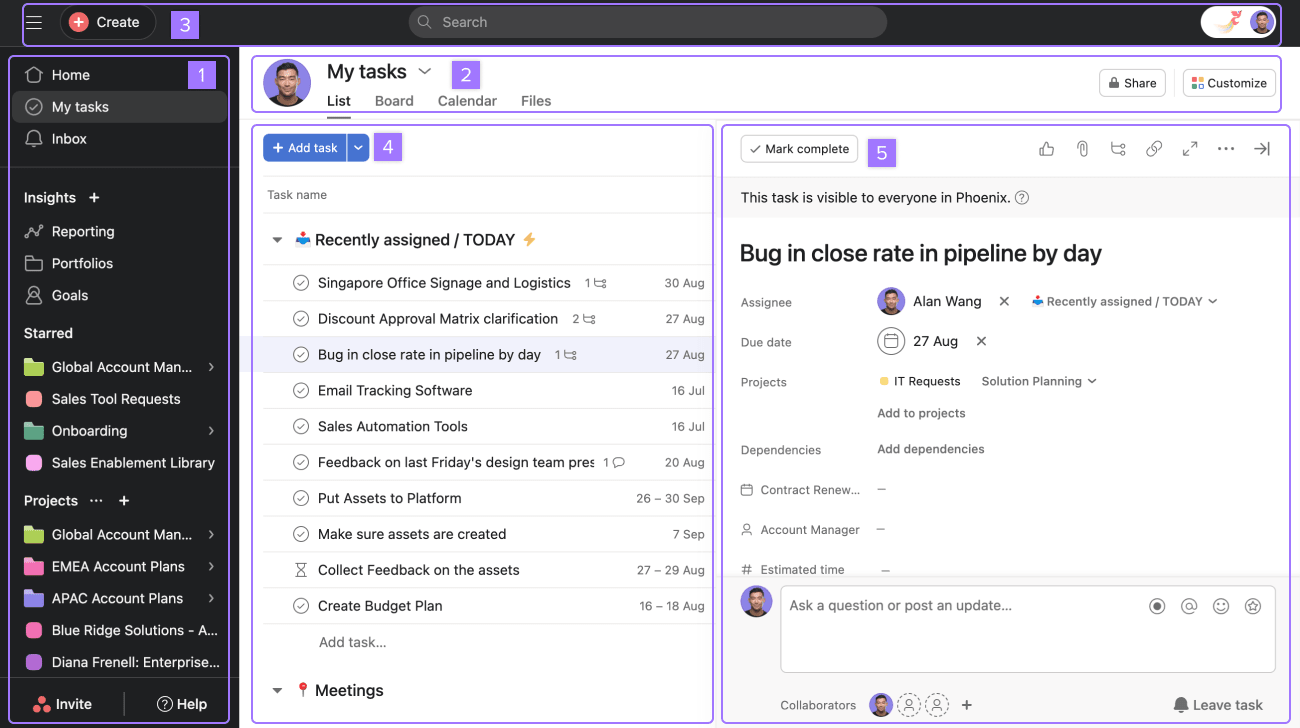 Asana's interface is divided into 5 areas:
Sidebar - access homepage, My tasks, inbox, teams, and projects in your workspace or organization
Header - contains the actions and views for the project, My tasks, or view you're currently using
Top bar - Search, quick add, My settings, and workspace or organization settings
Main pane - displays a list of tasks, messages, calendar, progress or files
Task details pane - contains the details of a task or messages
Sidebar
Global top bar and quick add button

From the top global top bar, you can:
Run a global search
Click the Quick add button to create a task, project, team, or invite someone to Asana
Access your settings, profile, switch between your workspaces and organizations, create a new workspace or team, or log out
The checkmark indicates the workspace or organization you're currently viewing.
Customize your sidebar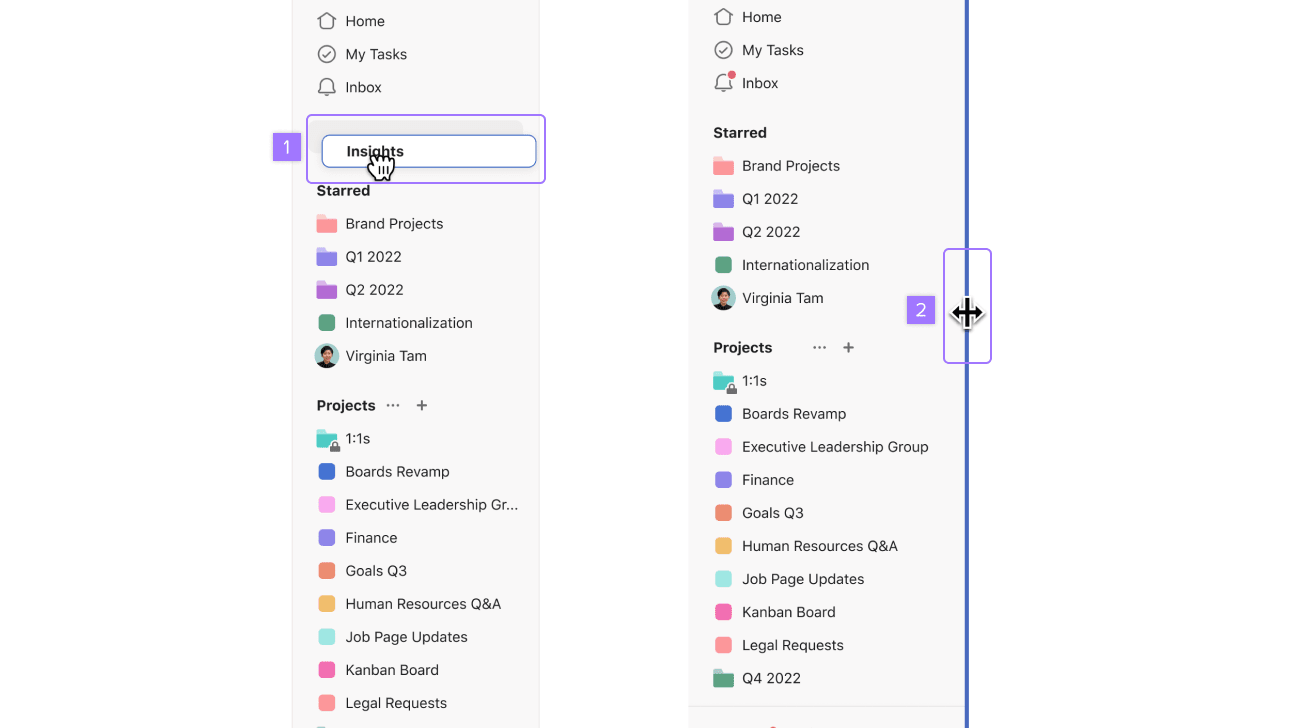 Drag and drop your sections to reorder them
Resize your sidebar
Changing your sidebar's color
Click on your avatar on the top right corner. From the drop-down menu, select Settings and click on the Display tab to toggle the color setting for your sidebar.
Starred
Star projects, portfolios, people, dashboards, saved searches, and teams to save and bookmark them on your sidebar for easier access. Simply navigate to the desired page and click on the star icon next to the title at the top of the page.
The Starred section can be used to curate work that is top of mind for you or that you access often, like a favorites list. Only you see what you've starred. Everyone in your workspace or organization has their own starred list.
Newly starred items will be added to the top of the Starred section. You can reorder items by dragging and dropping.
Your saved searches will now appear on the Starred section
You can remove items from the Starred section by right-clicking the item from the sidebar, or on the page itself to remove the star.
Projects
The sidebar lists the projects in your team or workspace. The lock icon indicates a private project.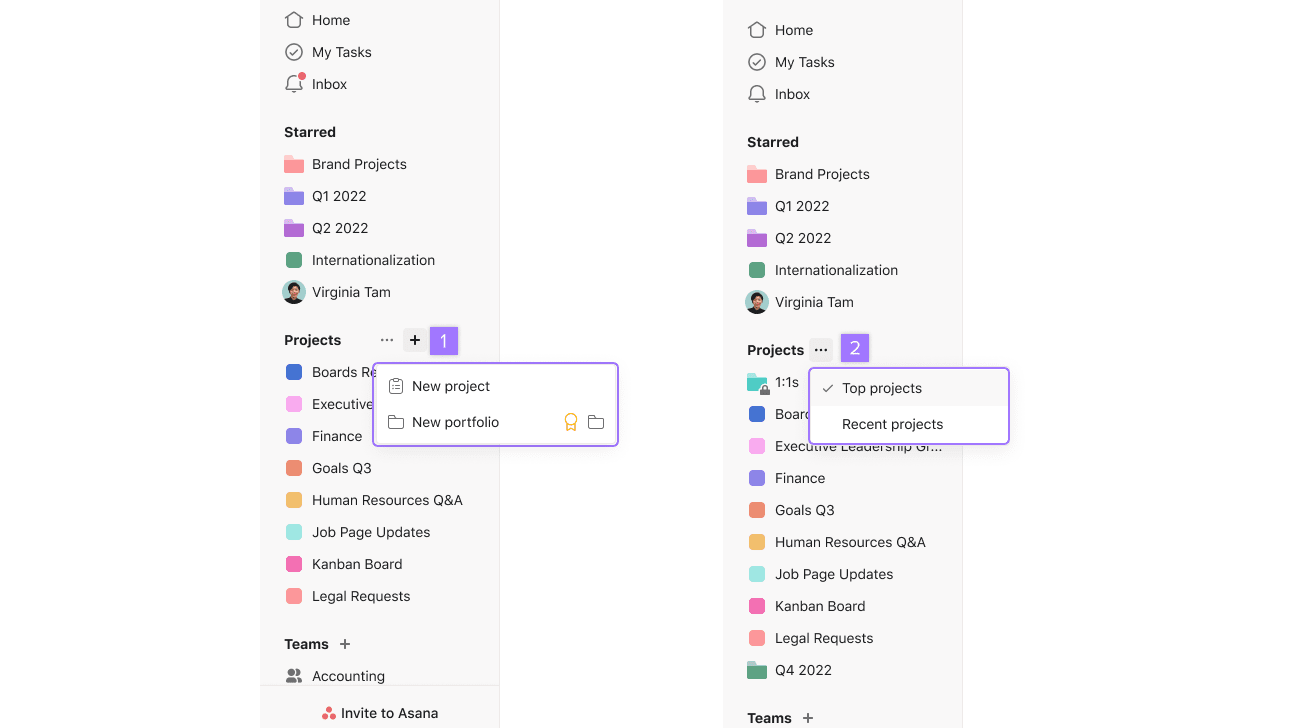 Click the + icon to create a new project or a new portfolio
Click the three dot icon to view your top projects or recently visited projects
Open up the project to reveal more actions in the project header.
Portfolios are available to Asana Business, and Enterprise.
By default, your Projects section is set to show your Top projects. This automatically surfaces projects that are most relevant to your day-to-day work based on the projects you visit most.
Recent projects is an auto-updating list of your 10 most recent projects.
Right click on any item on the sidebar to open a menu to speed up your workflow.
Insights and teams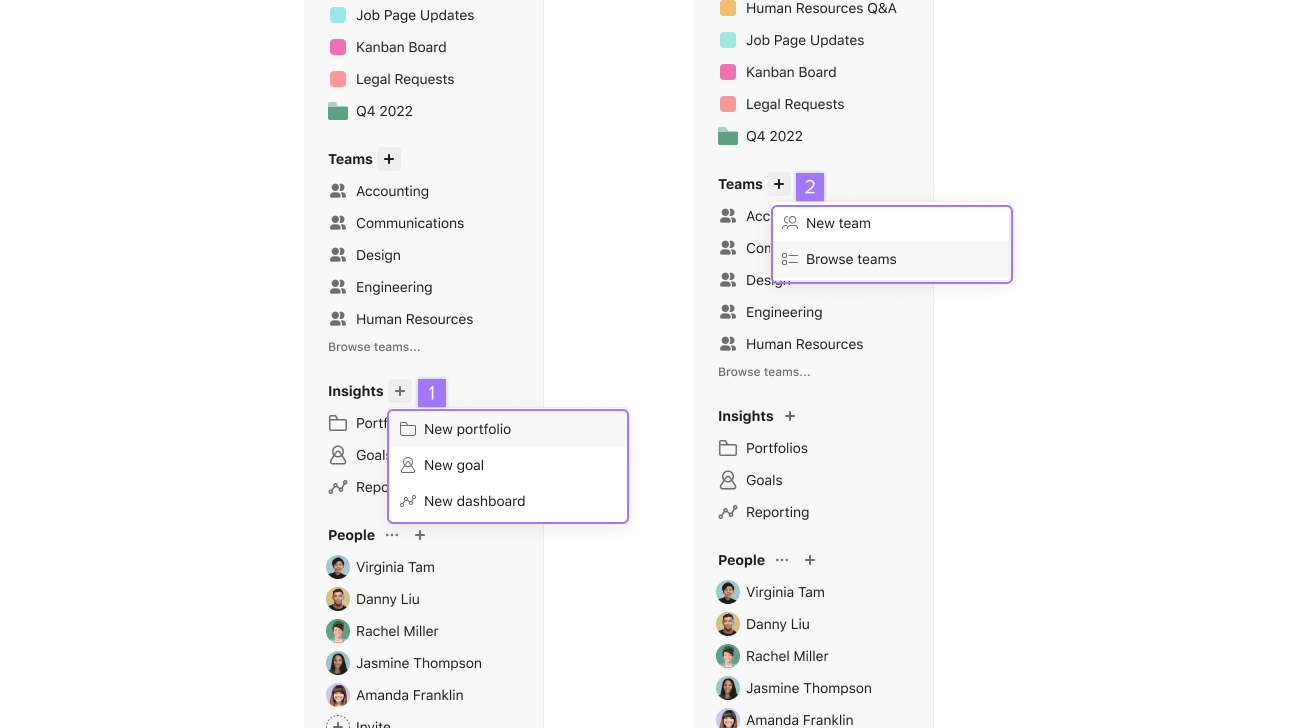 Click the + icon to create new portfolios, goals, and dashboards.
Click the + icon to browse all teams in your domain or create a new team.
Learn about the power of dashboards in Asana and how a project level tab containing charts can be used for visual reporting.
Teams are only available in organizations.
Flyouts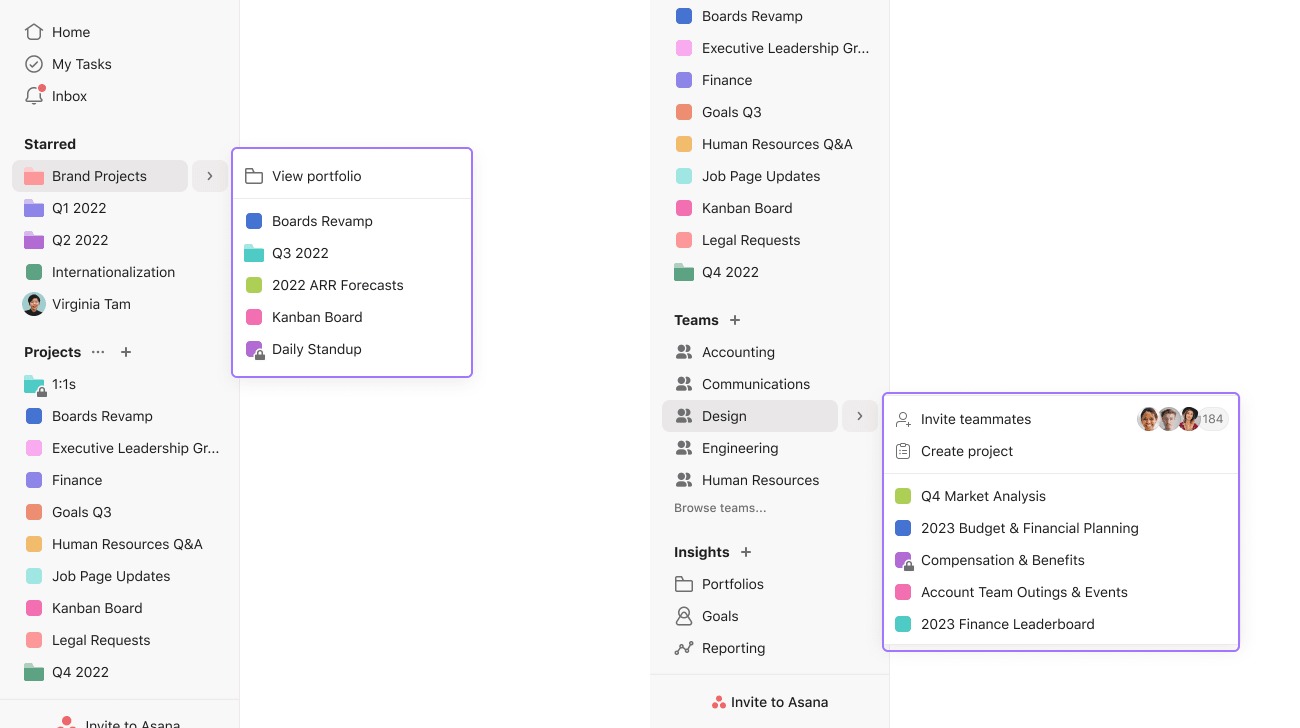 To view the flyouts, hover over the team or portfolio and click the > icon next to its name.
Portfolio flyout
Portfolio flyouts show you all of the projects and portfolios within.
Team flyout
From the team flyout, you can view the team's projects, team page, add members or create a project. By default, this will show the list of active projects. To view the archived projects, click on the team to view the Overview page, then select Archived projects under the filter.
Head to our FAQ article for commonly asked questions regarding our sidebar.
Home
From your home page, you can view the number of tasks completed and the number of people you have collaborated with during the past week or month.
You can customize your home by dragging and dropping widgets from the customize panel. Click Customize to add the following widgets:
My tasks: view your upcoming, overdue, and completed tasks.
Projects: view recent, starred, and recommended projects, or create a new project.
People: view frequent, recent, and starred collaborators. You can also browse teams and invite people to the organization.
Private notepad: write quick notes and add important links.
Tasks I've assigned: view any upcoming, overdue, and completed tasks you've assigned, or assign a new task.
Draft comments: view all of your unsent comments.
Forms: displays your recent and favorited forms, and you can create a new form directly from the widget via the + Add new button.
My goals: easily track all your open and closed goals, or add a new goal.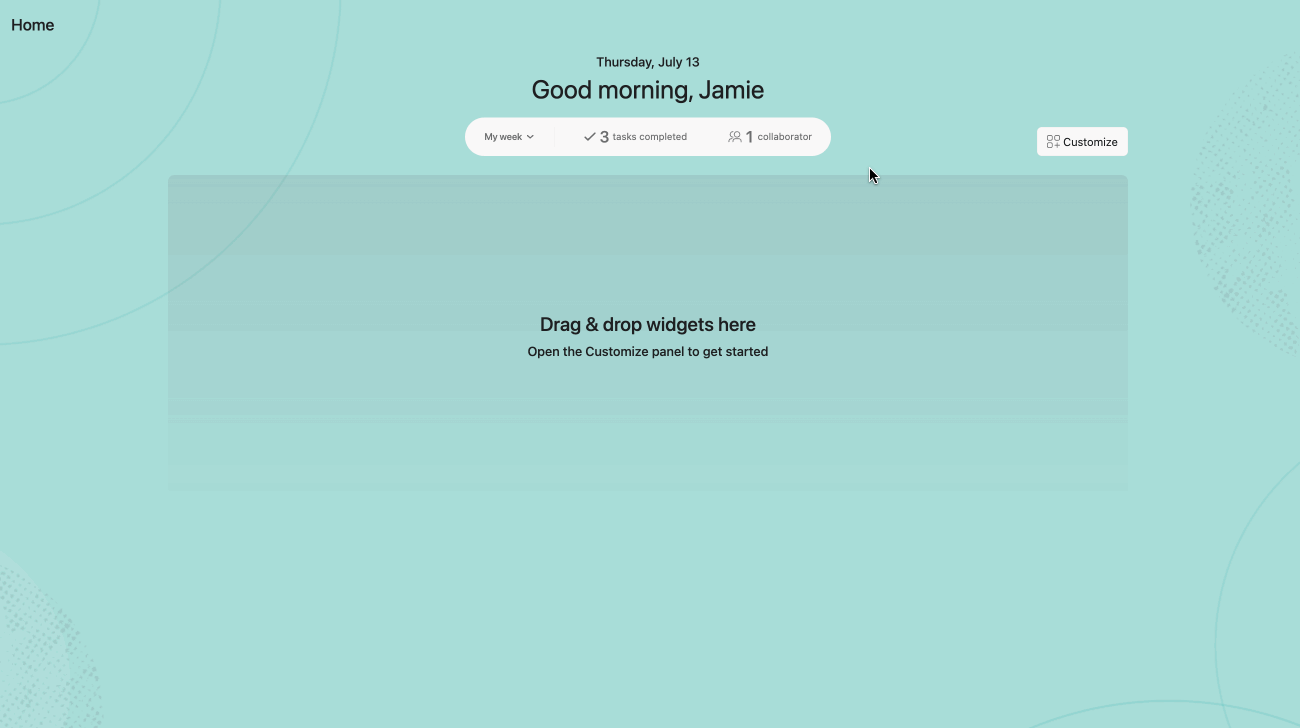 You can organize your widgets by dragging them around or clicking the three dot icon at the top of each widget to change its size or remove it from your home.
Header

From the header, you can:
Access drop-down menu with actions for the project
Favorite the project
Set a status for your project
View a list of project members and limited access members
Share your project
Acces the customize menu
Project actions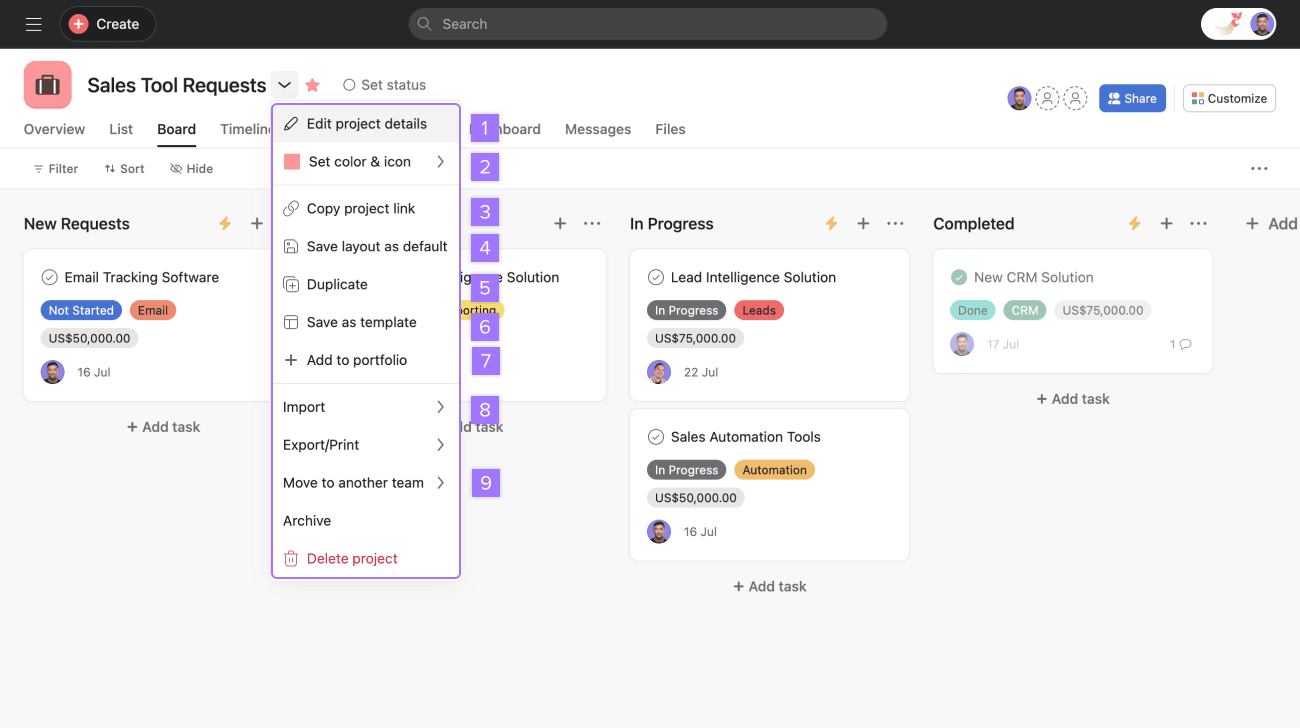 Click the drop-down menu to access the following actions:
Edit project details - modify the name or description of your project
Color - change the color of the project
Copy project URL
Save layout as default
Save as template if in a paid team or organization
Add to portfolio
Import CSV files, email and connect Wuffoo to project, export your project or My tasks, or print your project
Move to another team (only available in organizations), archive or delete your project
Open up the project to reveal more actions in the project header.
Learn more about all of these actions in the project actions section of the Understanding projects article of the Help Center.
Forms are only available to teams and organizations on Asana Premium, Business or Enterprise.
Upgrade
Views

The header allows you to switch between different views:
Overview is the team's persistent hub to showcase a birds-eye view of the what, why and how of a project and drive easy understanding of its ongoing context.
List is the default view and displays a list of tasks.
Board view organizes your tasks within columns.
Timeline is a paid feature that creates a project plan and displays how every element of a project fit together.
Calendar view filters only tasks with due dates and displays them in a calendar format.
Workflow helps you automate your team's process.
Dashboard view offers you a real-time status update; where you can use pre-configured charts to visually report and communicate project progress.
Use Messages to have discussions, make an announcement, brainstorm, celebrate accomplishments, or talk about any other topic. Messages can be used to communicate directly with people, projects or teams.
Use files to access integrated project files such as Vimeo Video messaging.
Main pane
When you select a project, tag, or person from the sidebar, you'll see the relevant list of tasks in the main pane. This is also where you see search results, Inbox notifications and Messages.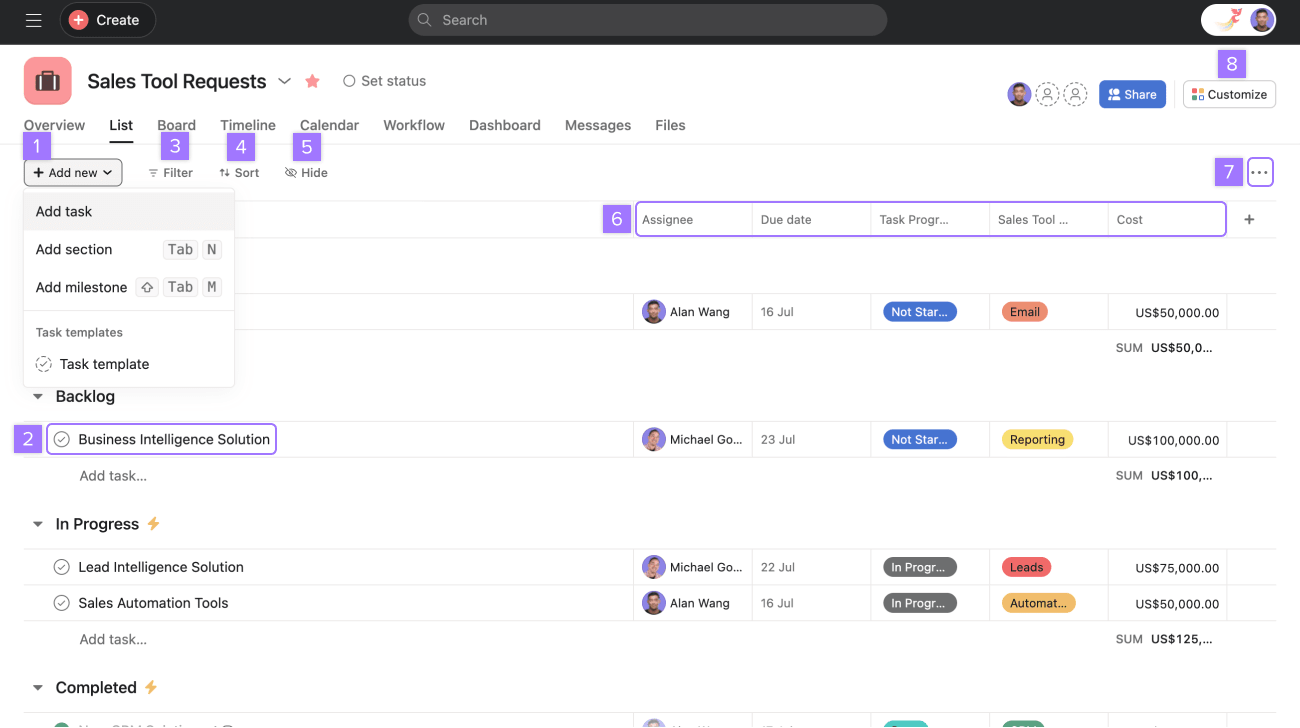 From the main pane, you can:
Add a new task, section, milestone, or task template
Mark a task as complete or incomplete and view/edit the task name
Filter tasks
Sort tasks
Hide custom fields
Identify a task's assignee, due date, and other custom fields
Create a public link to the task, save layout, search project and manage dependencies
Customize the project
You can also see the amount of likes a task has received from the main pane.
Task details pane
The task details pane, is where you see the details for a task you've selected in the main pane.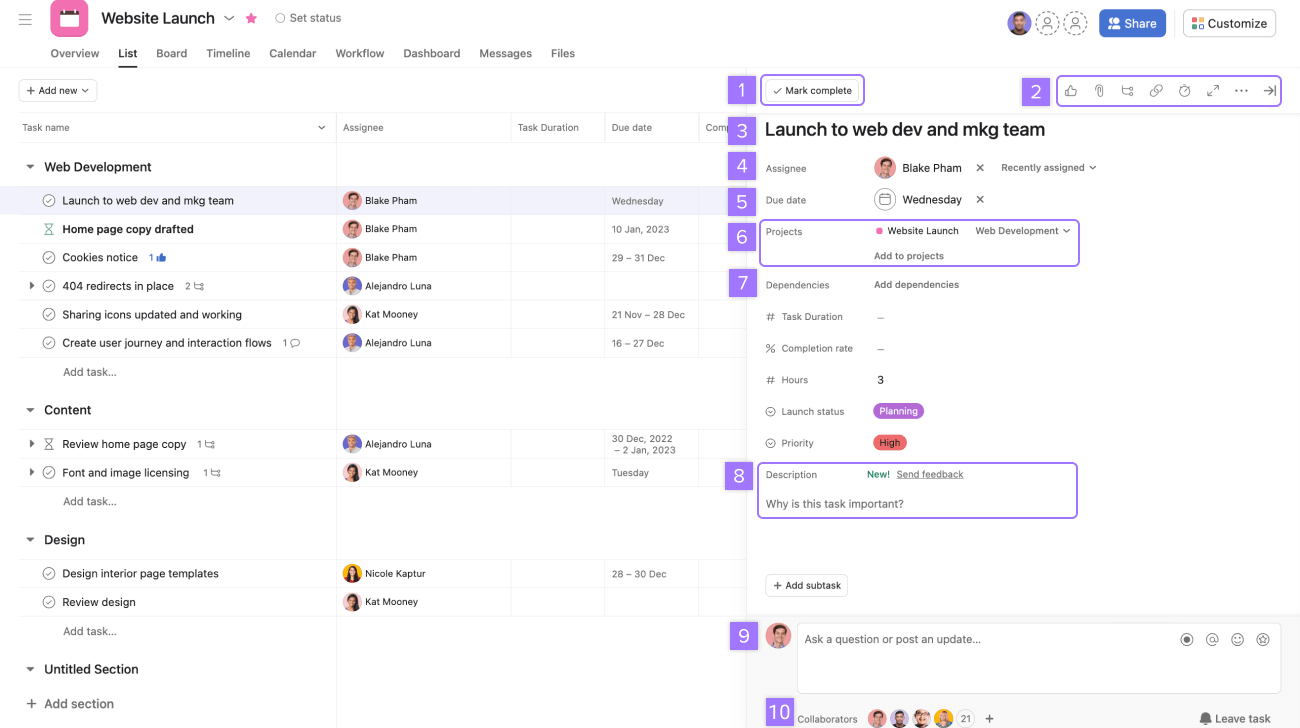 From the top of the task details pane, you can:
Mark the task complete or incomplete
Like the task, attach files, add subtasks, copy the task url, track the time spent on the task, view the task in full screen, view more actions, and close the task details pane
Edit the task's name
Assign the task
Set a due date & time
Identify what project the task is in, or add it to a project
Set dependencies
Add a description to give the task more context
Post a comment, ask a question
Add or remove task collaborators
Learn more about the functionality available in the task details pane in the tasks article.
You can also press Tab+X on your keyboard to enter full screen mode.