Asana for Android lets you work on your tasks and stay connected with your teammates.
You can access your My tasks, projects, messages, inbox, the Quick Add button, and search from your Android device. The web and Android apps update in real-time, so your tasks and messages sync automatically no matter what device you're using.
Download Asana for Android from the Google Play Store.
Asana's Android app is compatible with Android version 9.0 and later.
Signing up and logging in
Sign up for a new account
If you are using Asana for the first time, you can sign up using any Google account logged in to on your Android device or sign up using your email address.
Once you've verified your account, you can log in from either the Android app or on your desktop using one of our supported browsers.
Log in to your account
If you already have an account, you can log into your account on the Android app exactly like you would on desktop.
From the login page, tap Enter with Google to log in using Google SSO or tap Log In to log in using your password or via SAML
Login via SAML
If you are a member of an Enterprise organization with SAML enabled, you can login by tapping Log In and only entering your email address while leaving the password field empty. This will redirect you to your company's IDP login page or app.
Enter with Google
Tap Enter with Google to login via Google SSO. You can login using any Google account associated to your Android device.
Using Asana offline
You can use Asana for Android offline to check your notifications, comment on tasks and messages, change due dates or assignees, and complete tasks on the go.
Use Asana offline to:
Create tasks, messages, or projects
Assign tasks
Set due dates
Add or remove collaborators
Add or remove tags
Add or remove tasks from projects
Complete tasks
Delete tasks
Like tasks, messages, or notifications
Add or delete comments
Invite teammates
Archive or unarchive stories in your inbox
When you create a task or add a comment offline, a light grey cloud icon will appear next to those that have not yet been synced. This means they are currently only visible to you. These changes will sync when you are next online, and the updated tasks, projects, and conversations will be visible to teammates with the relevant permissions.
A tally at the bottom of the app counts the actions you've performed offline. When you're online again, the pending number will count down until all your updates are live in Asana, and the grey cloud icons will disappear.
Tasks and conversations within a project that have never been opened on your app before will not be visible offline, but you can add tasks to these projects offline.
Interface
You will be taken to your My tasks list when you first log into your account.
From your My tasks screen, you can:
Tap the drop-down arrow to access your My tasks Calendar or edit your User profile
Change your My Tasks sort view
Acccess your Homepage
Access your Inbox
Use the Search function
Navigate to your Account
Homepage
To acccess your Homepage, tap the Home icon on your screen.
From your Homepage, you can:
Toggle between your Projects and Portfolios
Navigate to your Favorites, Recents or All projects
Switch between list or board view
Create a new project
Portfolios are available to all Asana Business and Enterprise customers.
Account
View your profile
To view your profile, tap the View profile prompt from your Account screen.
From the View profile screen, you can:
Edit your profile
Show yourself as away
View tasks assigned to you or tasks you've created
Editing your profile
To edit your profile, tap on the pencil icon from your View profile screen.
From the Edit User Profile screen, you can:
Upload/change your profile photo
Edit your profile name
Indicate whether you are on vacation or not
Change your current role
Change your current department
Edit your About you section
Logging out of Asana
To log out of Asana, click on the Account tab from your dashboard. Then scroll to the bottom of the page and tap Log out.
Push notifications
If you have notifications for your Android device turned on, you will receive push notifications for the following actions:
A task has been assigned to you
A comment has been posten on a task you've been assigned or are collaborating on
A task you've been collaborating on is marked as complete
A task you've been assigned is due (sent around midnight on the day of the task's due date)
A message or status update is posted in a team or workspace that you belong to
An attachment has been added to work you're collaborating on
When you select the Asana icon from the top of your phone to see your notifications, you will find them batched. Pinch and expand to see more info, or tap through to your Asana Inbox.
By default, push notifications are turned on.
Managing your push notifications
To access your push notification controls, tap on the Push icon from your account tab. From the next screen, you can toggle on and off the selected push notifications.
Creating a task
To create a task:
Tap the Quick Add button
Add a task title
Tap to add an assignee or due date
Add a description
Add your task to a project
Add a subtask
Tap to add collaborators
The task will then appear in your My task once you tap Create.
By default the task you create will be private to you. Upon creating your task, privacy indicators will be visible, indicating if the task is private or public.
View or edit a task's deails
Task editing lets you include all of the necessary information needed within your tasks such as custom fields, description, projects, subtasks, and attachments. Having all relevant information within your tasks allows you to trust that everything is in the right place.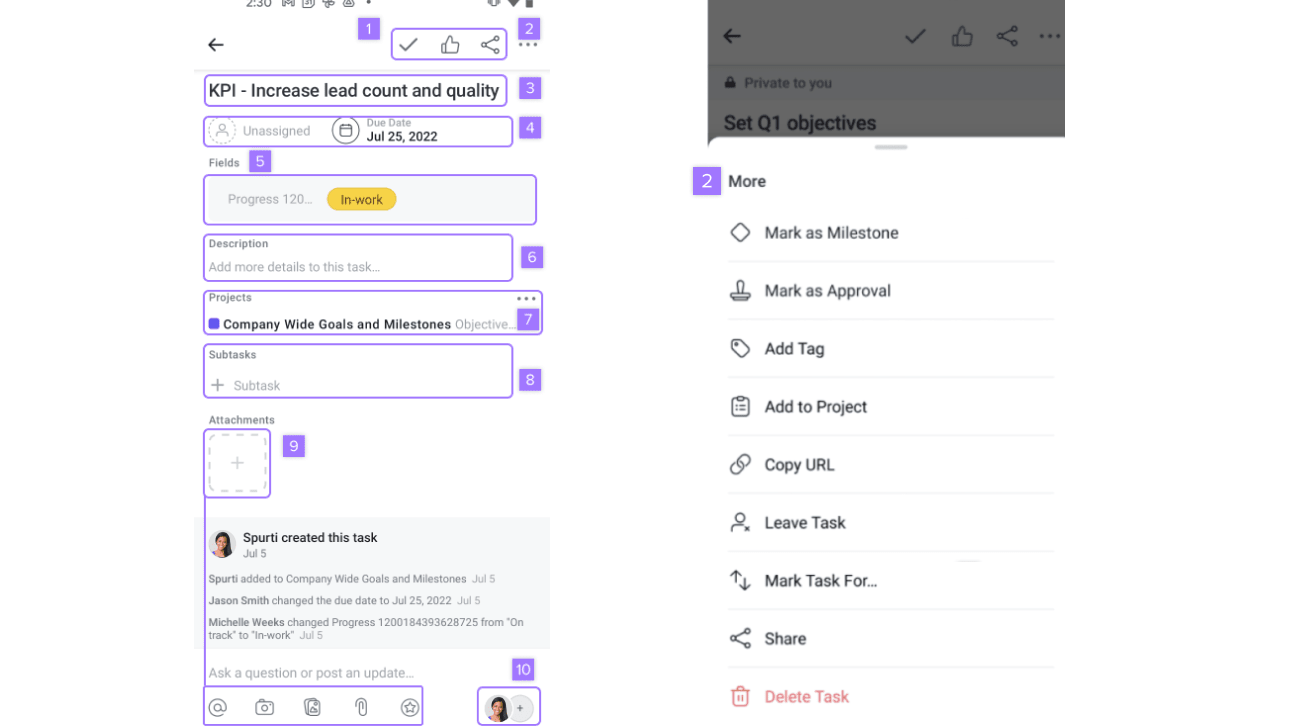 From the task edit details screen you can:
Mark a task as complete, like a task or forward a task
Tap the three dot icon to see more options
Add a task title
Edit the assignee or due date
Add custom fields to your task
Add a task description
Add your task to specific project
Create subtasks within your task
Add an image, attachment, appreciation or link
Add collaborators to your task
Sorting and filtering your tasks
From your My tasks, you can:
Change the viewing option (list or calendar)
Filter tasks and change the sorting option
Changing your sorting option
From the project page you can also:
Select your desired sorting option
Access more options
Creating a project
To create a project you can:
Tap the Quick Add button
Add a project name
Choose between list or board view
Tap Create after entering all project details
Edit a project
To edit a project:
Tap on the project
Tap the drop-down arrow next to the project header
Next, tap the three dot icon
From here, you can:
Make the project public or private to project members
Edit the project name
Change the project icon
Copy the project URL
Archive the project
Delete the project
Project progress
The project progress section gives you an in-depth snapshot into the status of any project you're working on. Status reports make it easy to create rich, repeatable, actionable status updates and share your work with key stakeholders.
Accessing the project progress page
To view your project progress page:
Tap on the project
Tap the drop-down arrow next to the project header
Next, tap the three dot icon
Updating your project status
To update your project's progress:
Tap Update Status from your project progress page
Choose whether your project is On Track, At Risk or Off Track
Add a description
Tap to add an attachment
Tap Post when your status update is ready to be shared
Your status update will then appear automatically in your progress tab.
Inbox on Android
Inbox is your notification center for Asana. Your Inbox displays updates on all projects you're a member of and tasks that you collaborate on or are assigned within a given workspace or organization.
To get to your Inbox, tap on the Inbox icon from your Home screen.
From your inbox, you can:
Expand all
Filter your inbox by All, @mentioned, Assigned to me or Assigned by me
Tap the three dot icon to view more options
Create follow-up tasks
Inbox follow-up tasks allow users to get updates from their team and respond in real-time, straight from your inbox.
To create a follow-up task swipe left on your inbox notification. Click on More. You'll be able to Create follow-up task, Mark as unread or Archive this notification.
Search on Android
Use Search to find tasks, projects, teams, messages, tags, portfolios, goals, or people in your workspace or organization.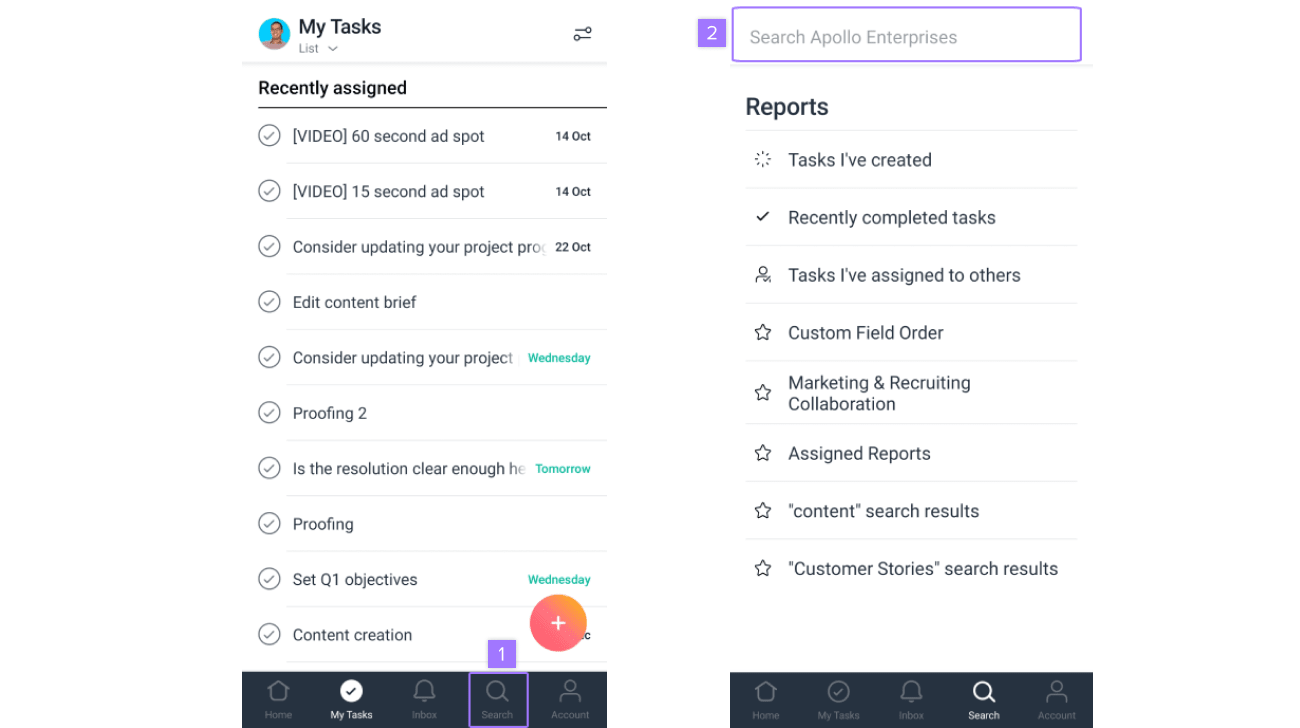 To search:
Tap on the Search icon from your Home screen
Start typing to look for tasks, projects, teams, messages, tags, portfolios, goals, or people.
You can also use your Google search bar to find search results from Asana
When searching, the results will display:
Teams - select a team to view projects and members within it
Projects - select a project to view its corresponding list of tasks
Tasks - select a task to view its details
Messages - select a message to view its details
Tags - select a tag to view its corresponding list of tasks
People - select a person to view their My tasks
Advanced search
Advanced Search filters help you quickly find the specific project, task, message, team (and more!) that you're looking for. These filters enable you to add additional guardrails to your search to narrow the results. You also have access to quick filters or shortcuts that apply filters to your search automatically.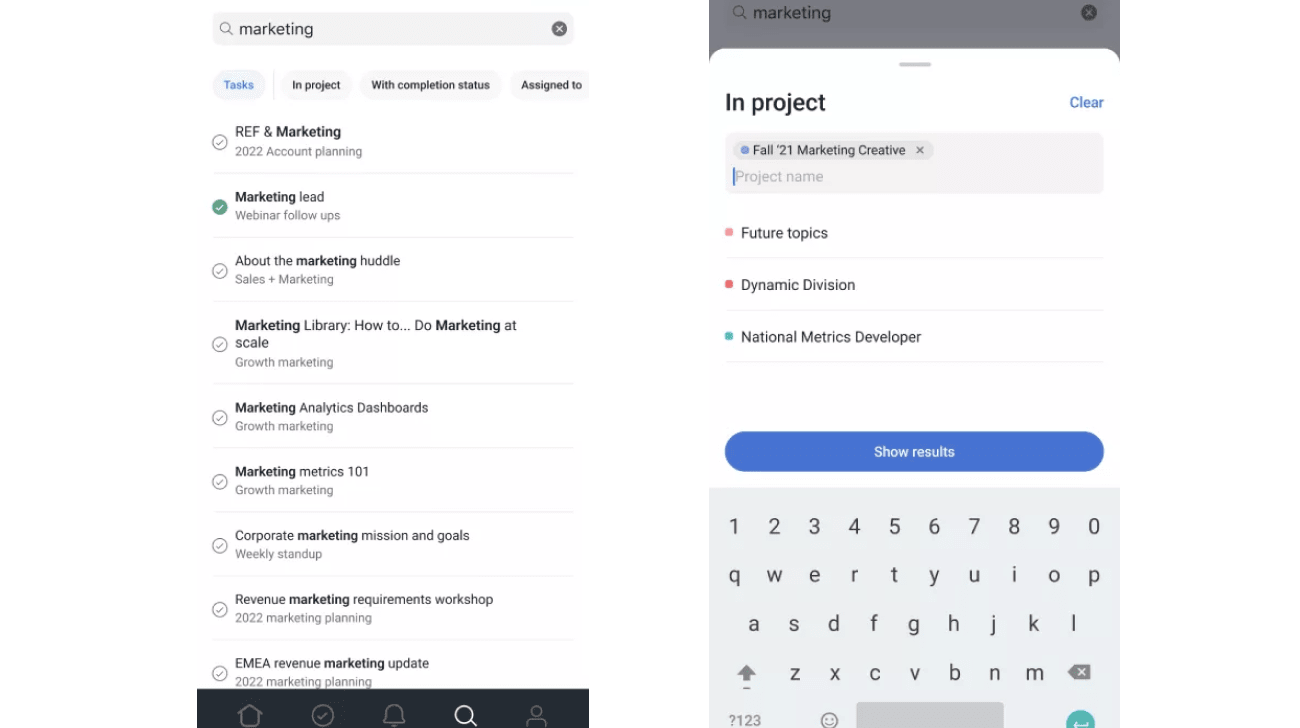 After typing in a search term, apply one of the advanced filters to narrow the results. Then, if desired, select additional filters to narrow the results even further. In this example, the user has chosen to search 'marketing' and apply a filter to search only tasks.
Then, the 'in project' filter was applied to search only within the 'Fall '21 Marketing Creative' project.
Portfolios on Android
Portfolios are available to all Business and Enterprise customers.
Portfolios help you keep track of projects across your team, or even across your whole organization. Portfolios let you categorize Asana projects, see and request status updates, and organize projects based on priority, burn-down, or even custom fields you create.
You can access your portfolios from your Home screen by tapping on the Portfolios tab.
Creating a portfolio
To create a new portfolio:
Tap the Quick Add icon
Add a portfolio name
Add a project or multiple projects at once by entering the name of any projects you'd like to add or choose from the prefilled project list. When you've selected your projects, tap Save.
Like what you see? Get started with a free 30 day Asana trial today. Try for free
Portfolio overview
Once you've created a portfolio and added a few projects, you can keep track of their health in one place.
From the Portfolio view, you can view the following:
See each project's latest status
View each project's progress as a percentage
See each project's due date or date range
View the team each project belongs to
View the owner of each project
Add more projects to the portfolio
If you have added custom fields to your portfolio using the web-version of Asana, you can view any values that were entered directly from the portfolio overview.
To view custom field values from the portfolio overview swipe across the header line to view the custom field values for each project.
It's currently only possible to add custom fields to a portfolio using the web version of Asana.
Proofing
Proofing lets stakeholders leave specific, actionable feedback on images so your team knows what needs to be done in order to complete their work. The ability to automatically create subtasks from annotations will make the process of giving and receiving feedback smoother and less frustrating and ultimately drive clarity about what changes need to be made.
When you access an attached image in a task:
Tap the Proofing icon at the top of the screen
Tap an area on the image where you wish to leave feedback
Compose your feedback and tap Create
Mark the annotation complete or incomplete/ add an assignee / add a due date
Write a comment / add additional files / or add a collaborator
When you return to the parent task, you'll see these annotations listed as actionable subtasks.

Shortcut actions
Tap and hold the Asana app icon in order to create a new task, access your inbox or open search directly from your home screen.
These shortcut actions are only available on Android devices with the OS version 9.0 or later.