Inbox
Inbox is your notification center for Asana. Your inbox displays updates on projects you're a member of, and tasks that you collaborate on or that are assigned to you within a given workspace or organization. You can control which projects you receive inbox notifications for through project notification settings.
Learn the basics of task management in our Getting started with Asana virtual training. Register now.
If you visit Asana regularly and don't want to receive email notifications, you can turn them off and check the updates in tasks and projects using Inbox.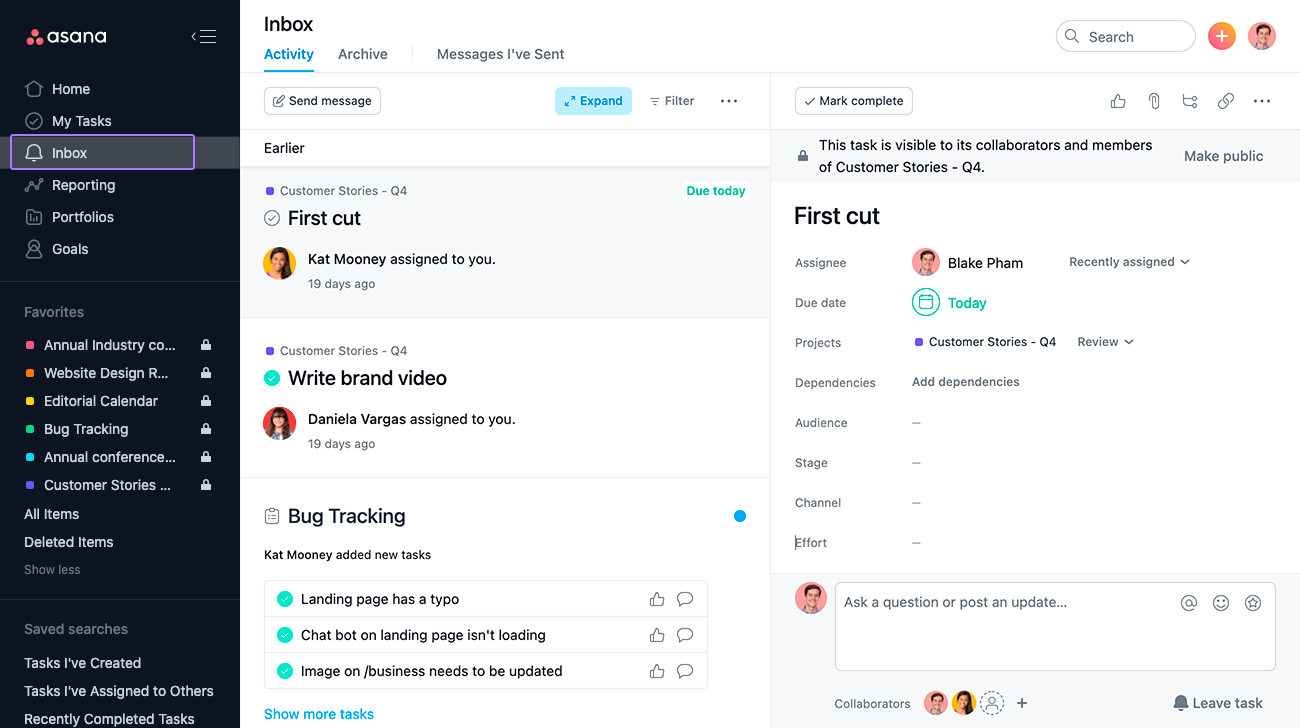 To access Inbox:
Click Inbox from the sidebar. The notifications for your organization or workspace will appear in the main pane. The most recent will be in view first. Inbox activity will appear on the task details pane when you click on the notification.
Main pane actions:
When you click on your notification from the main pane, you have the option to: Create a follow-up task, Mark as unread or Archive notification by hovering over the symbols that correspond to the action.
You can compress inbox threads or expand for greater scannability.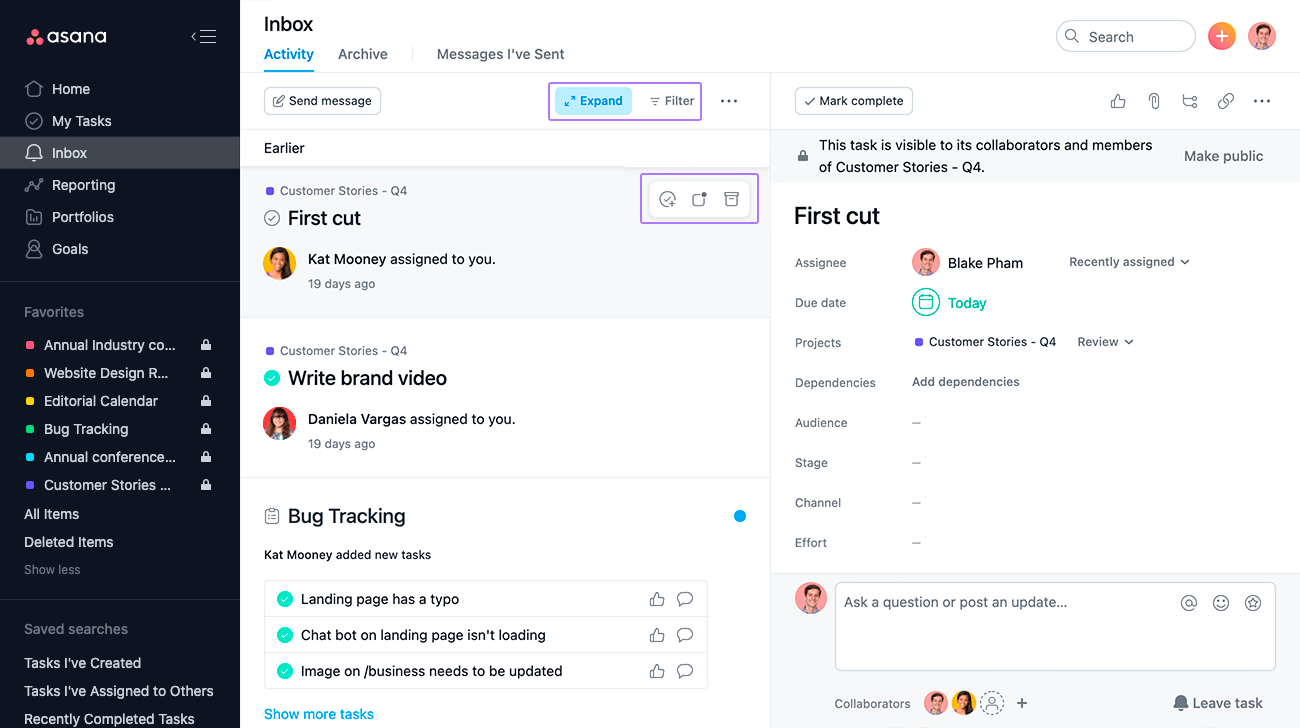 Mark notifications as read or unread:
If you want to read an inbox message later, you can mark it as unread. You can also mark messages as read without opening them.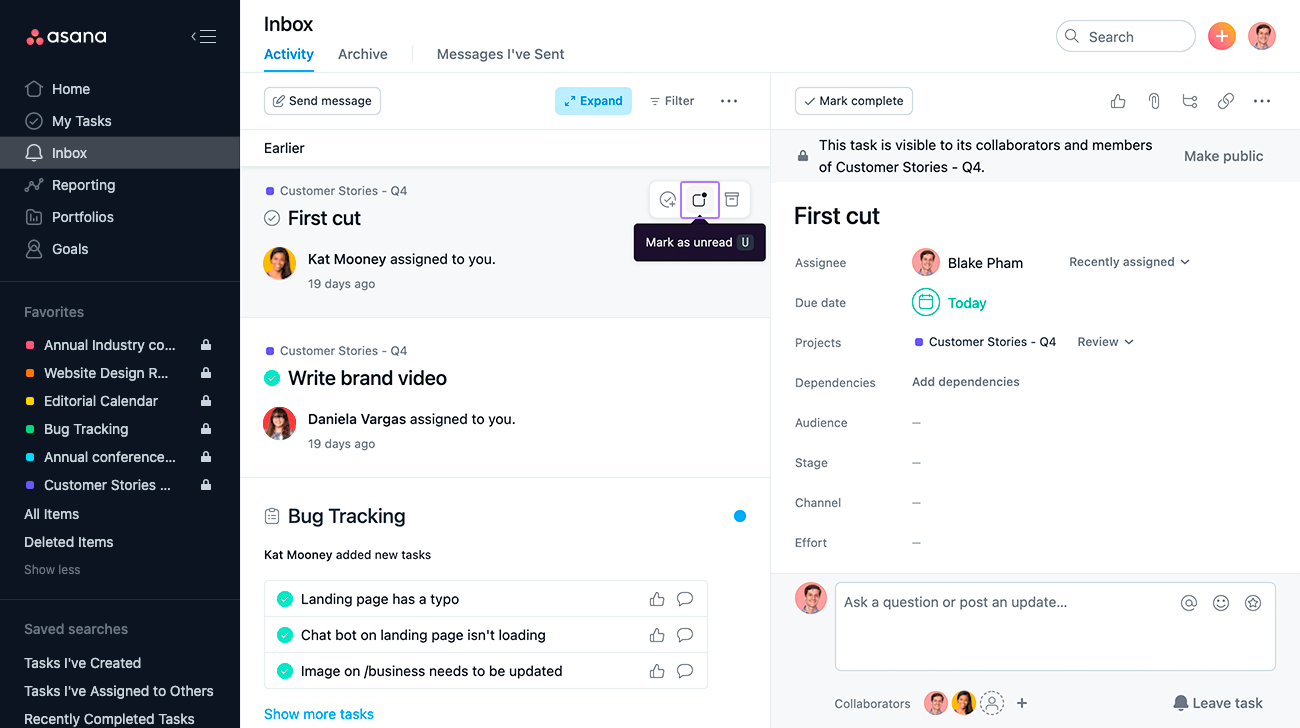 New notifications:
An orange dot will appear next to Inbox in the sidebar when there are unread notifications.
New notifications in your inbox will have a blue dot next to them. If there's new activity in a task within a project you will see a bubble.

You'll also notice a black dot next to the Asana logo in your browser's tab.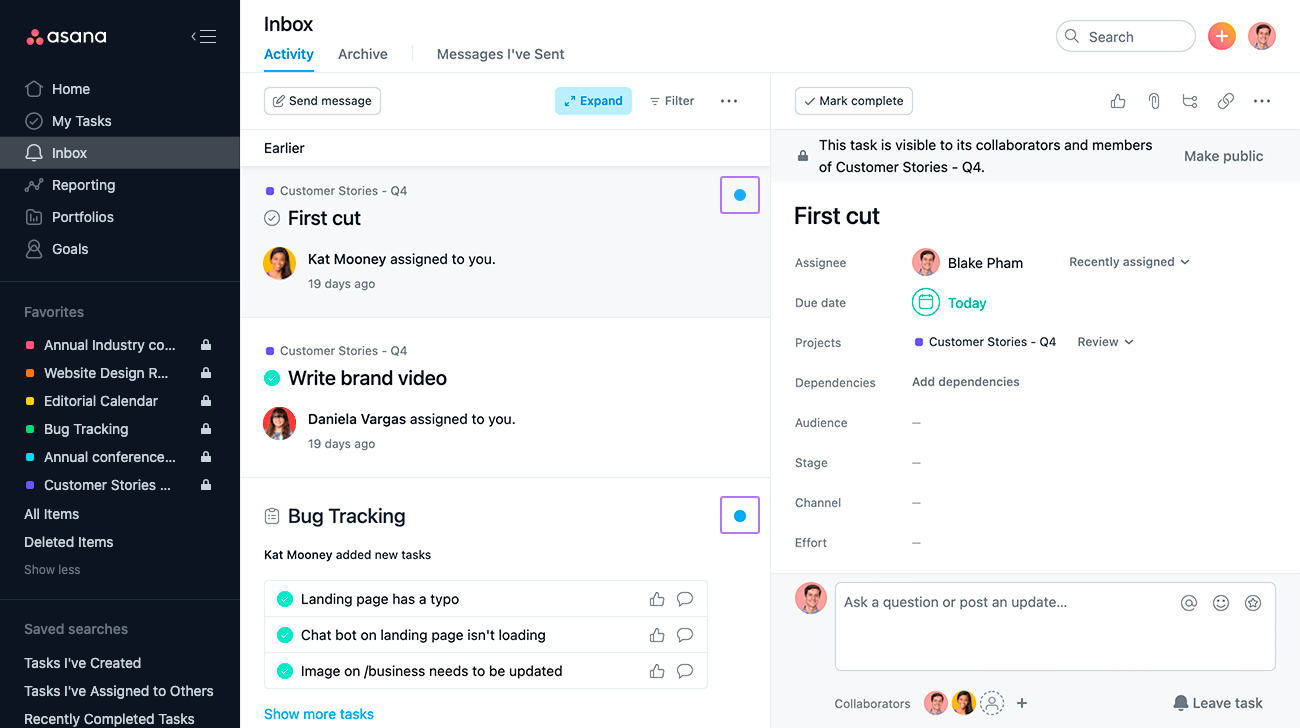 Blue dot denotes new notifications.


Notifications with new comments or attachments will have a bubble showing the number of new comments or attachments.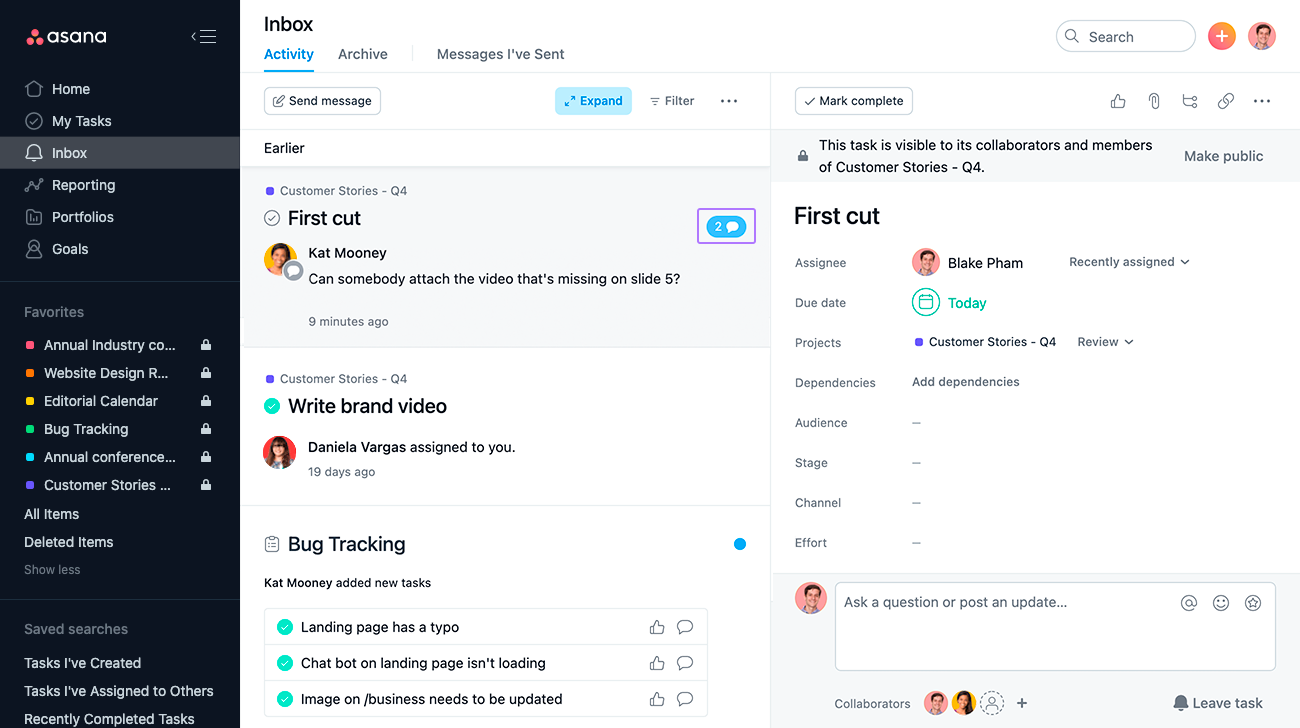 Blue bubble denotes new unread activity.
Like what you see? Get started with a free 30 day Asana trial today. Try for free
Working in Inbox
There are two tabs in Inbox: Activity and Archive.
Activity tab
You'll see an inbox notification when:
A task is assigned to you
A task is unassigned from you
A task assigned to you is approaching its due date
A task assigned to you has passed its due date
A task assigned to you has its due date changed
A task you are collaborating on has new attachments uploaded to it
A task you are collaborating on has new comments posted to it
A task you are collaborating on is marked complete
A task you created or are assigned to receives a like
A task you are collaborating on is merged with another task
You have been added as a collaborator to a task
Your comment receives a like
Your attachment receives a like
Your task completion receives a like
You are @mentioned in the task description
A message is created in a team that you are a member of
A comment is posted on a team or project message you are a collaborator on
A project you are a member of has new tasks added to it, depending on your project notification settings
A message is started in a project you are a member of
The status of a project you're a member of has been updated
The status of a task you've been waiting on has been changed


Inbox will only display notifications for actions and changes performed by others. You will not see inbox notifications about actions that you perform yourself.

After you've read or taken action on a notification in the Inbox tab, you can archive it.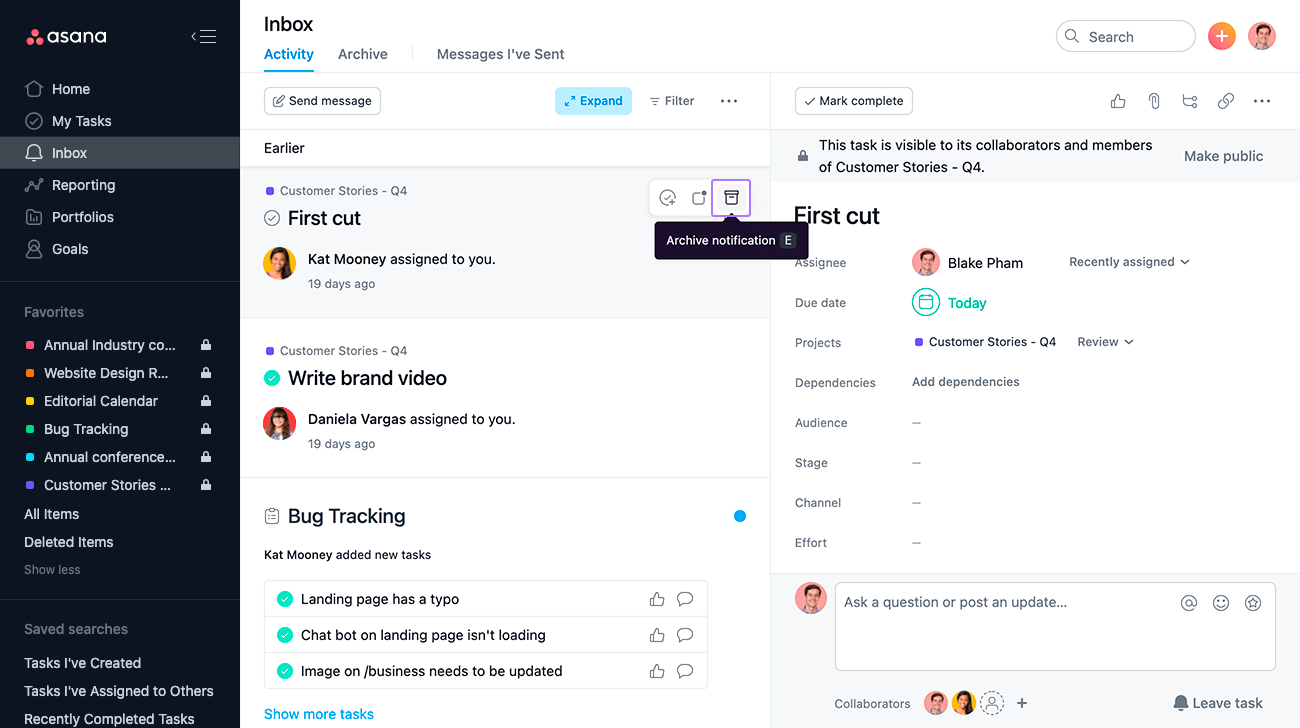 Archive inbox notifications:
Hover over the inbox notification symbol and click Archive notification. Once a notification has been archived, it will be sent to the Archive tab.
If you want to clear your inbox, you can archive all of your notifications at once, however please note that notifications older than 4 weeks are not archived when selecting "Archive All". The archived inbox will clear itself after 4 weeks.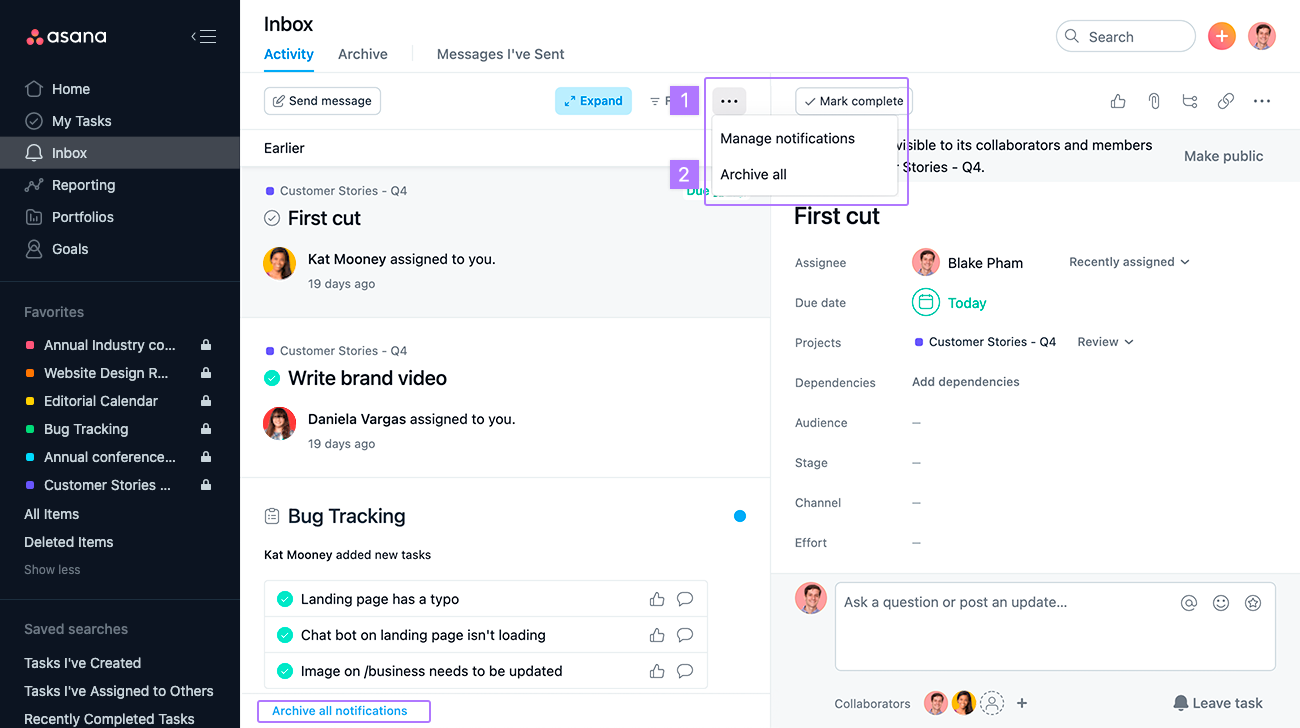 Archive all inbox notifications:
Click on the three dot icon on the top bar
Click Archive all
You can also scroll to the end of your inbox and click Archive all notifications

Archive tab
This tab is where you can find any inbox notifications that you've archived in the past.
If there are any older notifications you want to preserve, you can send them back to the activity tab.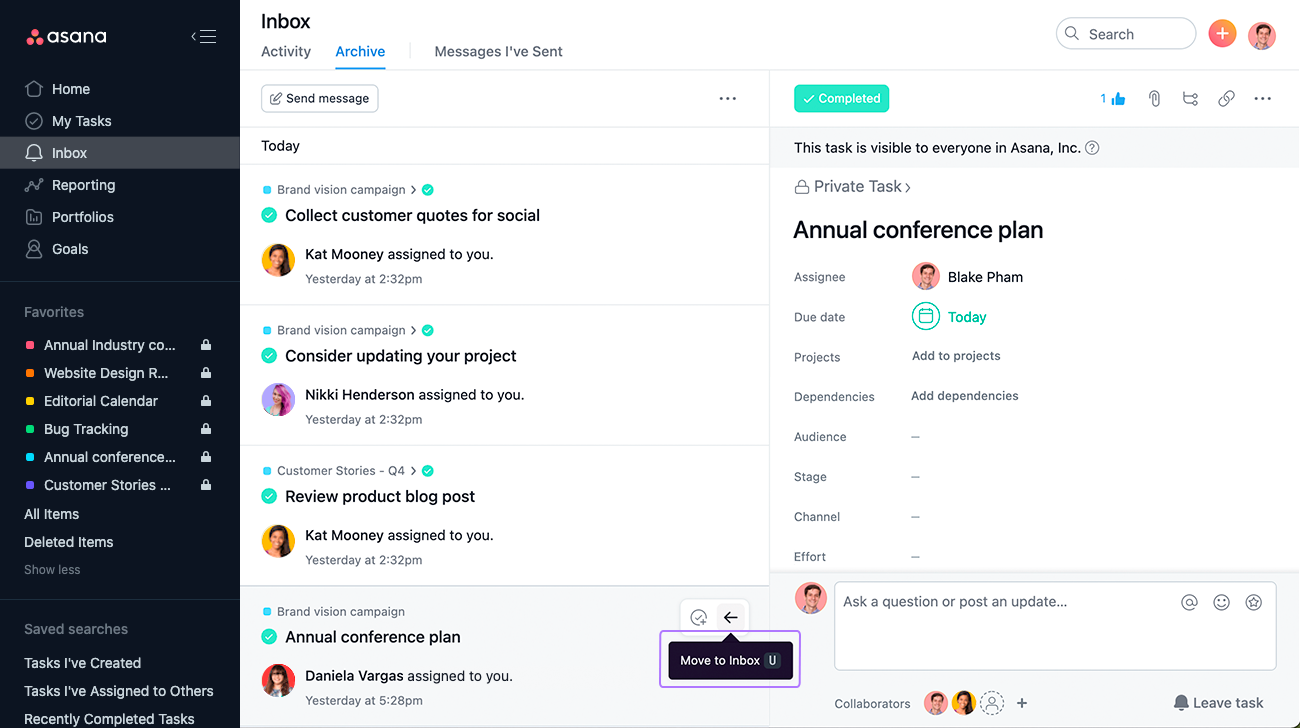 Send archived notification back to Inbox:
Hover over the Inbox notification and click Move to Inbox. The notification will then reappear in the Activity tab.
Archiving notifications from your Inbox
You can archive all notifications you read and keep your inbox clean for the new notifications you will receive.
What happens to archived notifications?:
If you archive a critical notification from your inbox within 30 sec, you won't receive an email notification. For any other notification, you won't receive an email notification if you archive them within 60 min.
Batch notifications:
If you're receiving multiple notifications within an hour of each other, Asana will batch them for you and send in one single email.
Critical notifications like task assignments and tasks comments will always be sent individually, but updates around new tasks created or completed will be batched.
Task comments and task assignments are never batched.
The 30 second threshold for receiving email notifications only applies for critical notifications. For less important notifications, the wait period is 60 minutes.

Task details pane in Inbox
You can take action on tasks from either tab of your inbox.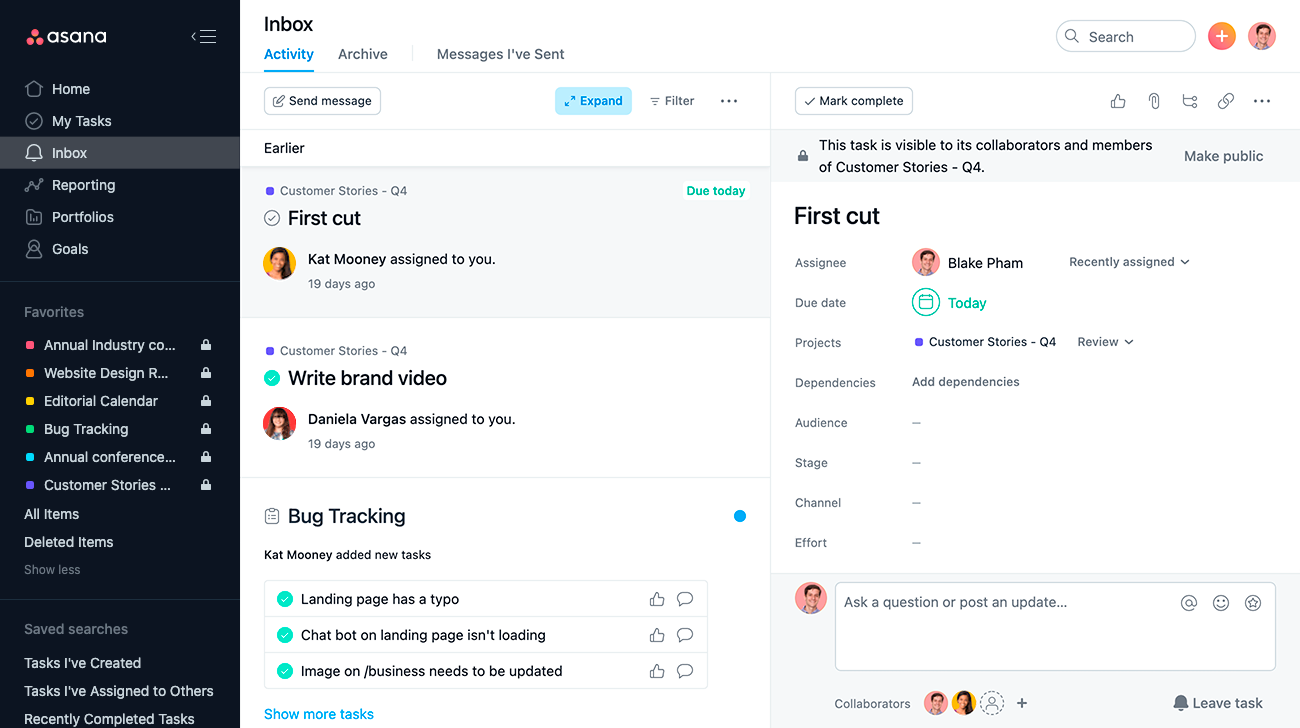 The task details pane is always open so it is easy to see at a glance what has changed and the action required.
If you want to see the task in the context of a project it belongs to, click the project name and the project will load in the main pane.


Inbox view options
You can view your inbox in an expanded view or a condensed view. To see more preview content in the main pane, click the Expand button. To see less preview content in the main pane, deselect the Expand button.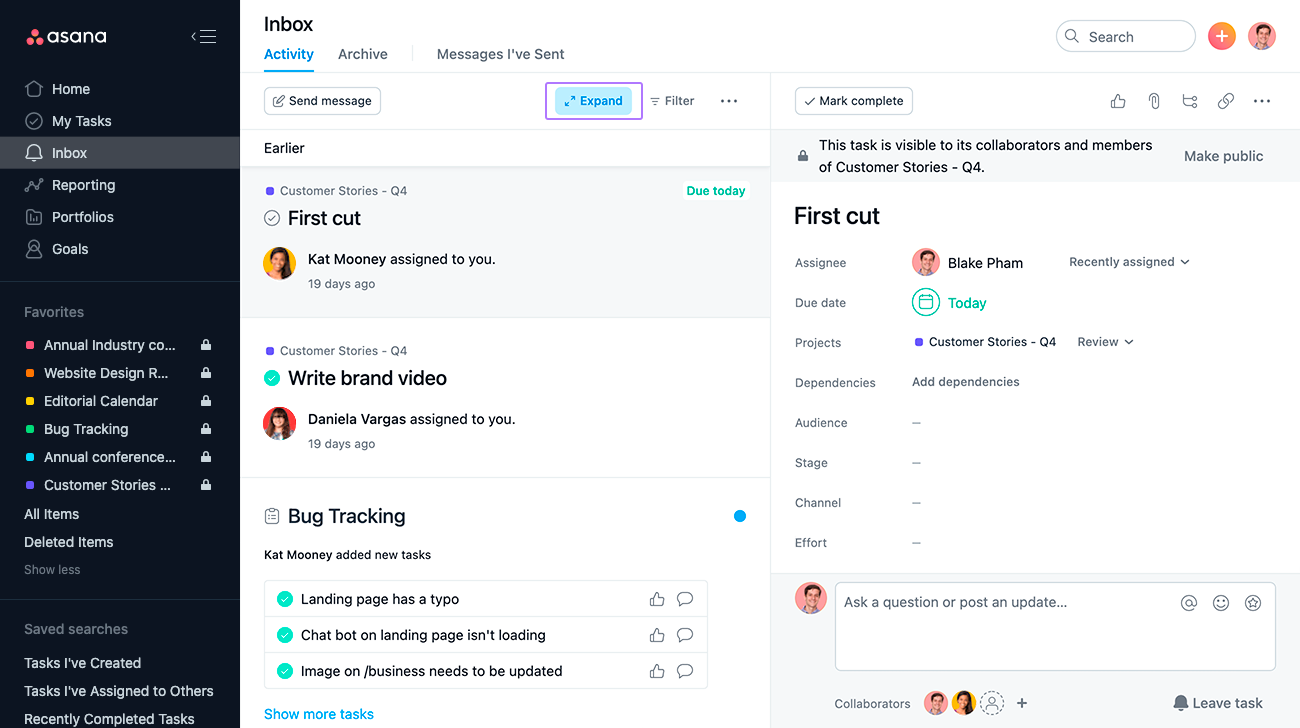 Inbox filter options
Using your inbox toolbar, you can filter the type of notifications you receive.

You can filter notifications by:
Expand
All
Assigned to me
@Mentioned
Assigned by me


Access your notification settings
You can easily access your notification settings from your inbox by clicking the three dot icon and then Manage notifications.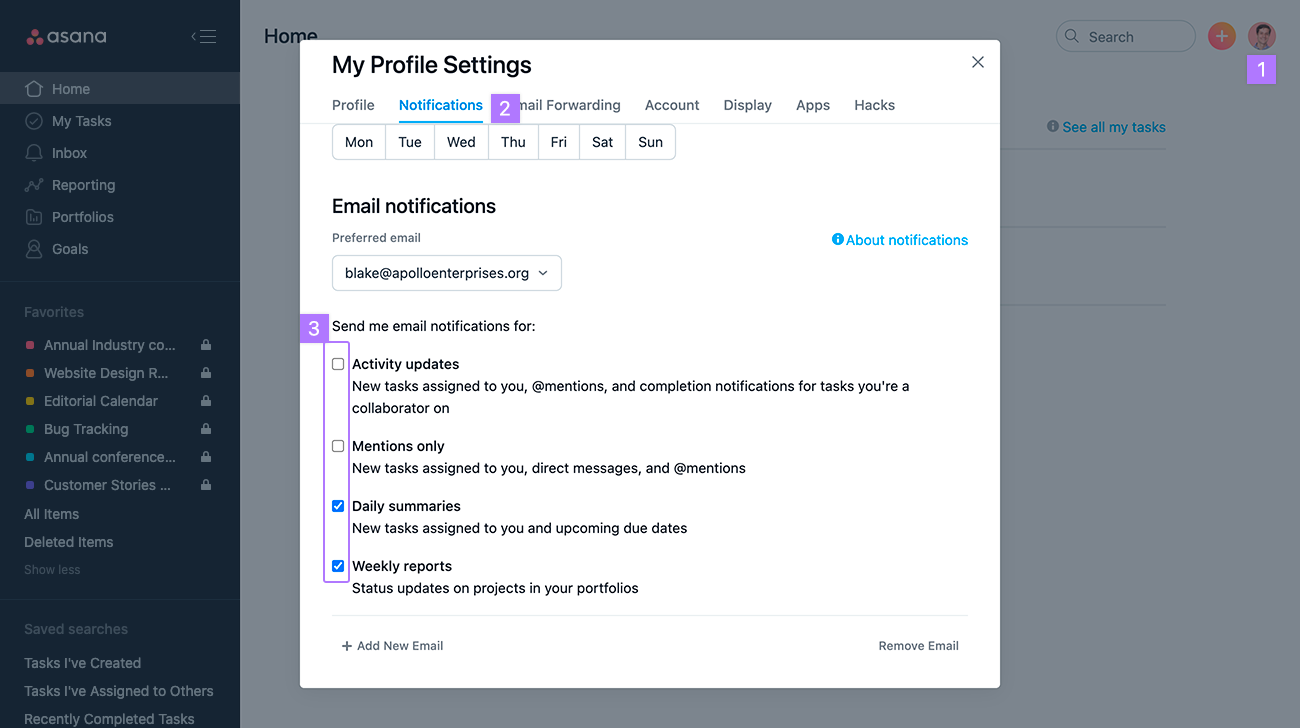 From the Notifications tab in My Settings you can access Email, browser and project notifications. You can input your preferred email for email notifications on activity updates and summaries with an option to turn on, off, or pause notifications.