View your project's calendar to keep track of important deadlines and milestones happening within that project. You can also use team calendars for a greater overview and you can adjust the start day of your calendar from your My Settings.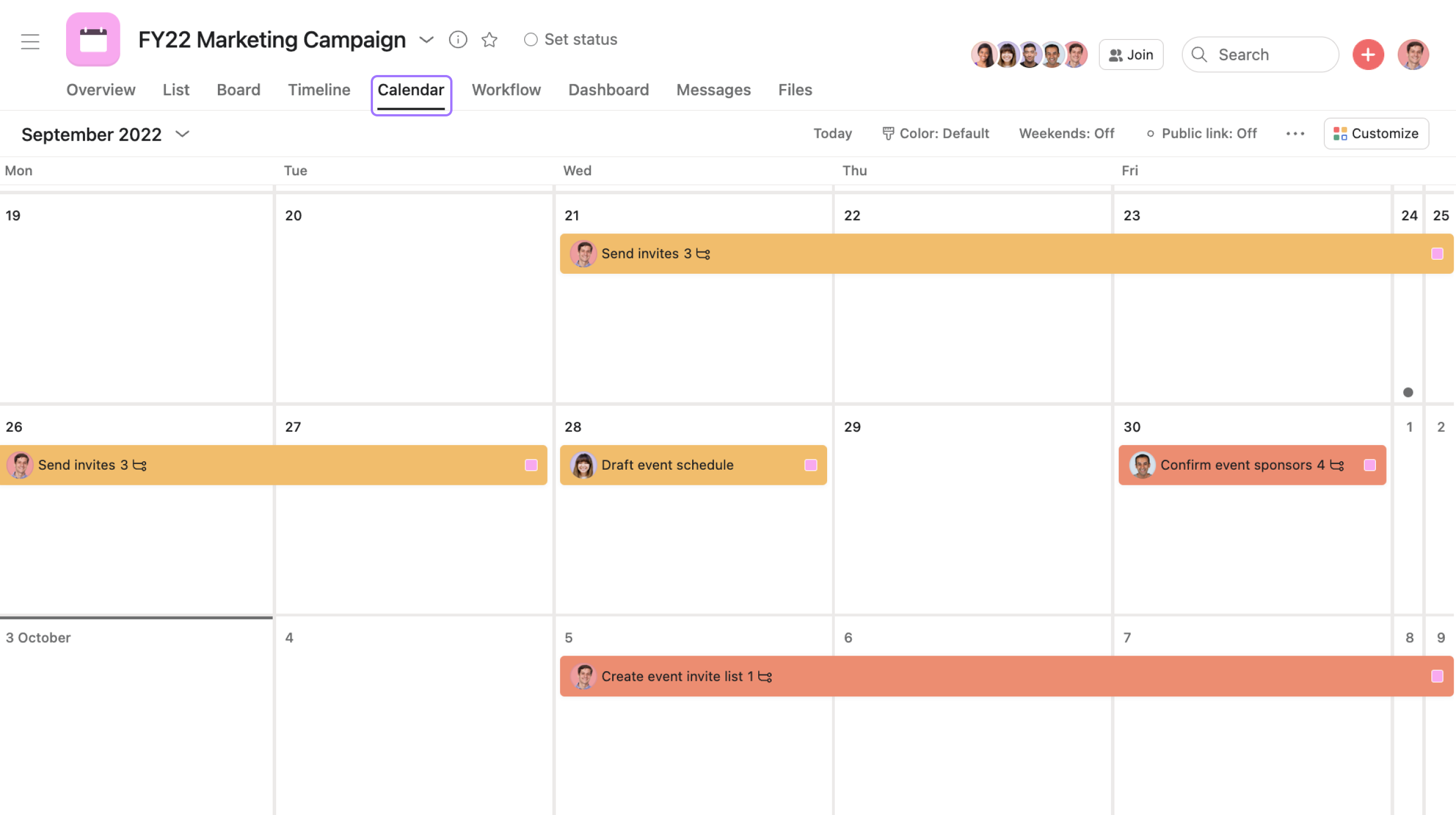 From the project:
Click the Calendar tab in the header


Only tasks and subtasks with due dates that are associated with the project will show on the project calendar view. Subtasks will need to be manually added to the project to appear on its calendar view.
Complete tasks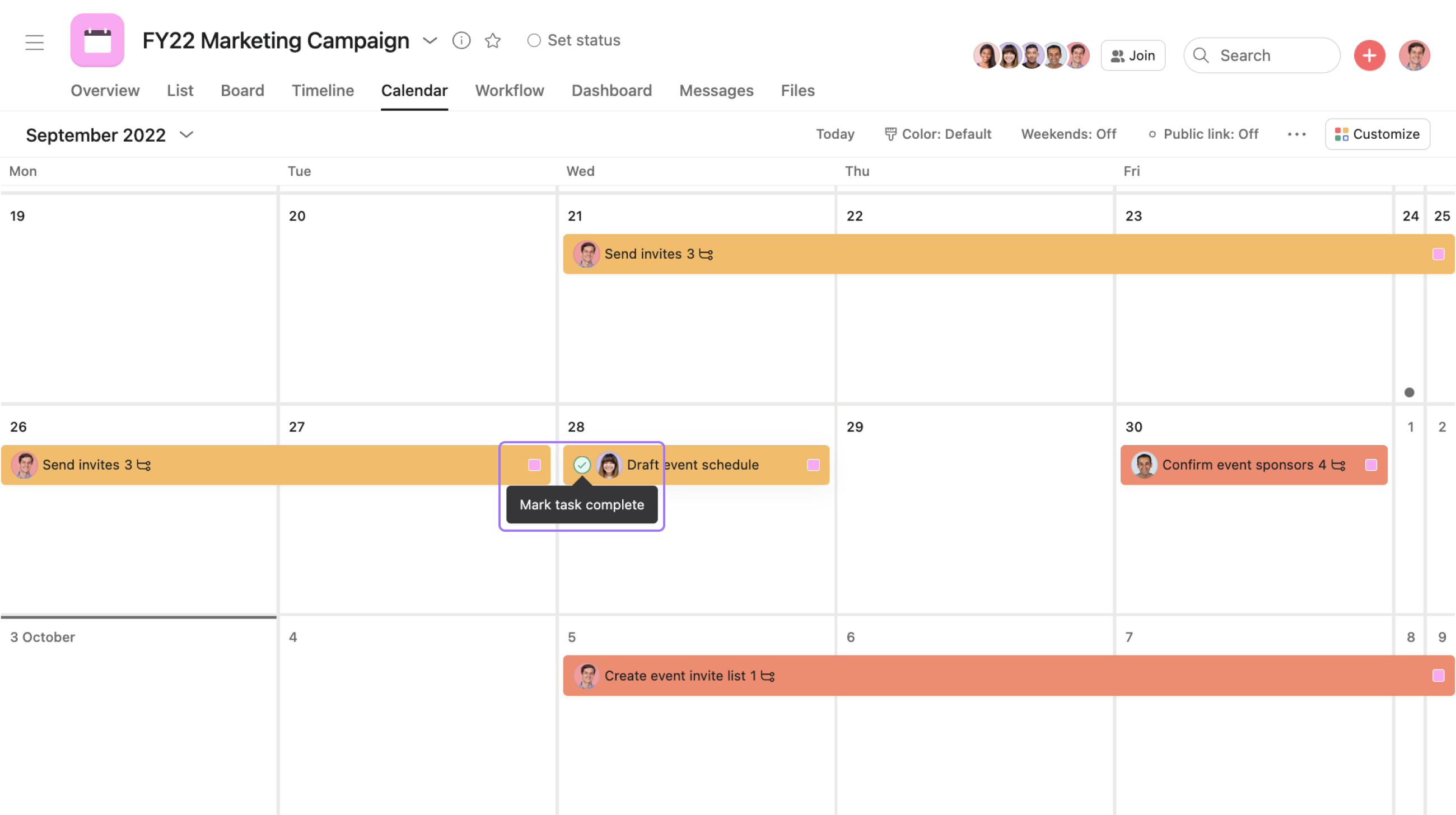 To complete a task hover over the task's name and click the checkmark icon.
Create tasks in calendar view
To create a task in a calendar, click the empty space on a given date, enter the task name and hit Enter.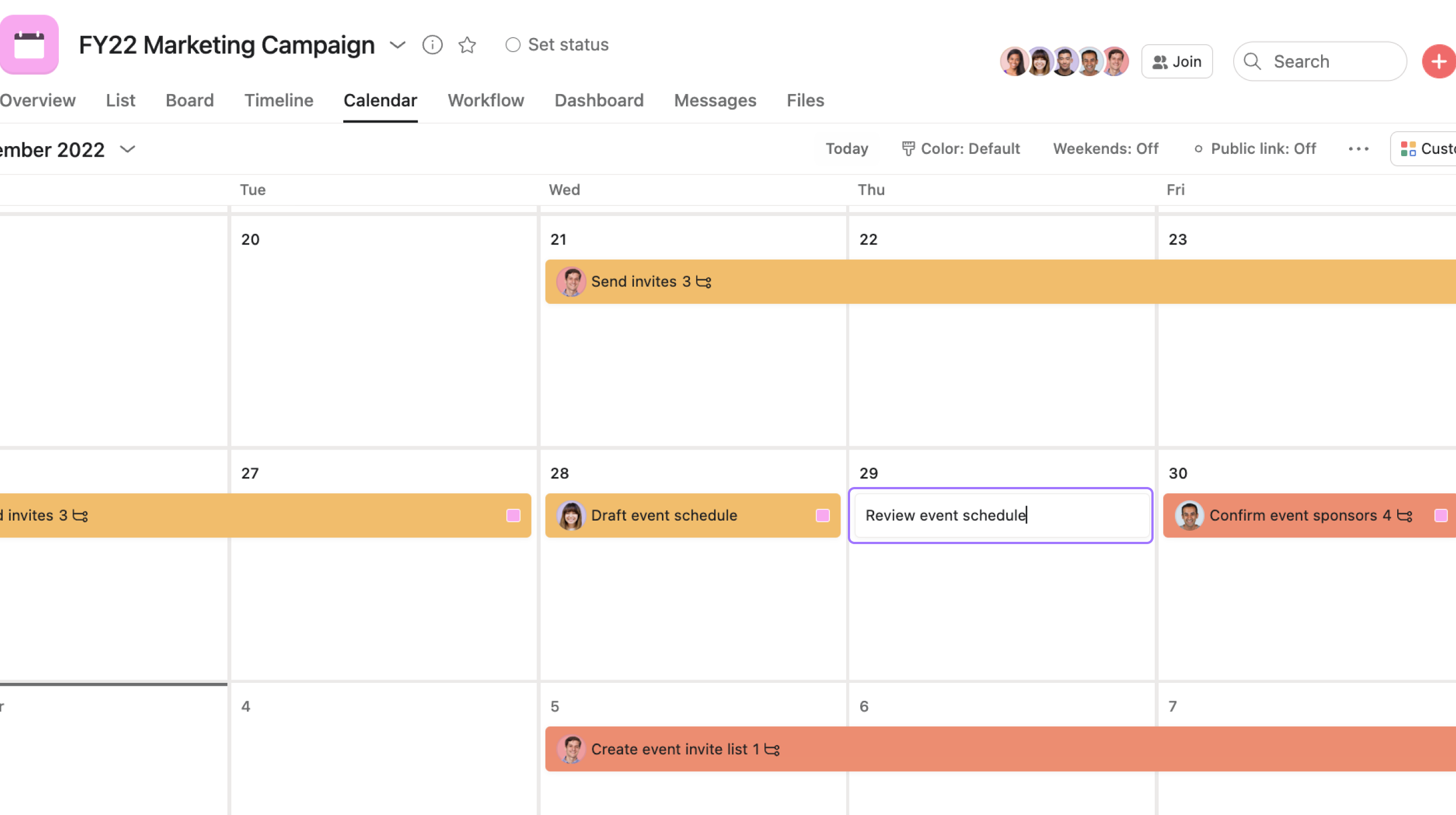 Once the task has been created, you can click on it directly to access the task's details.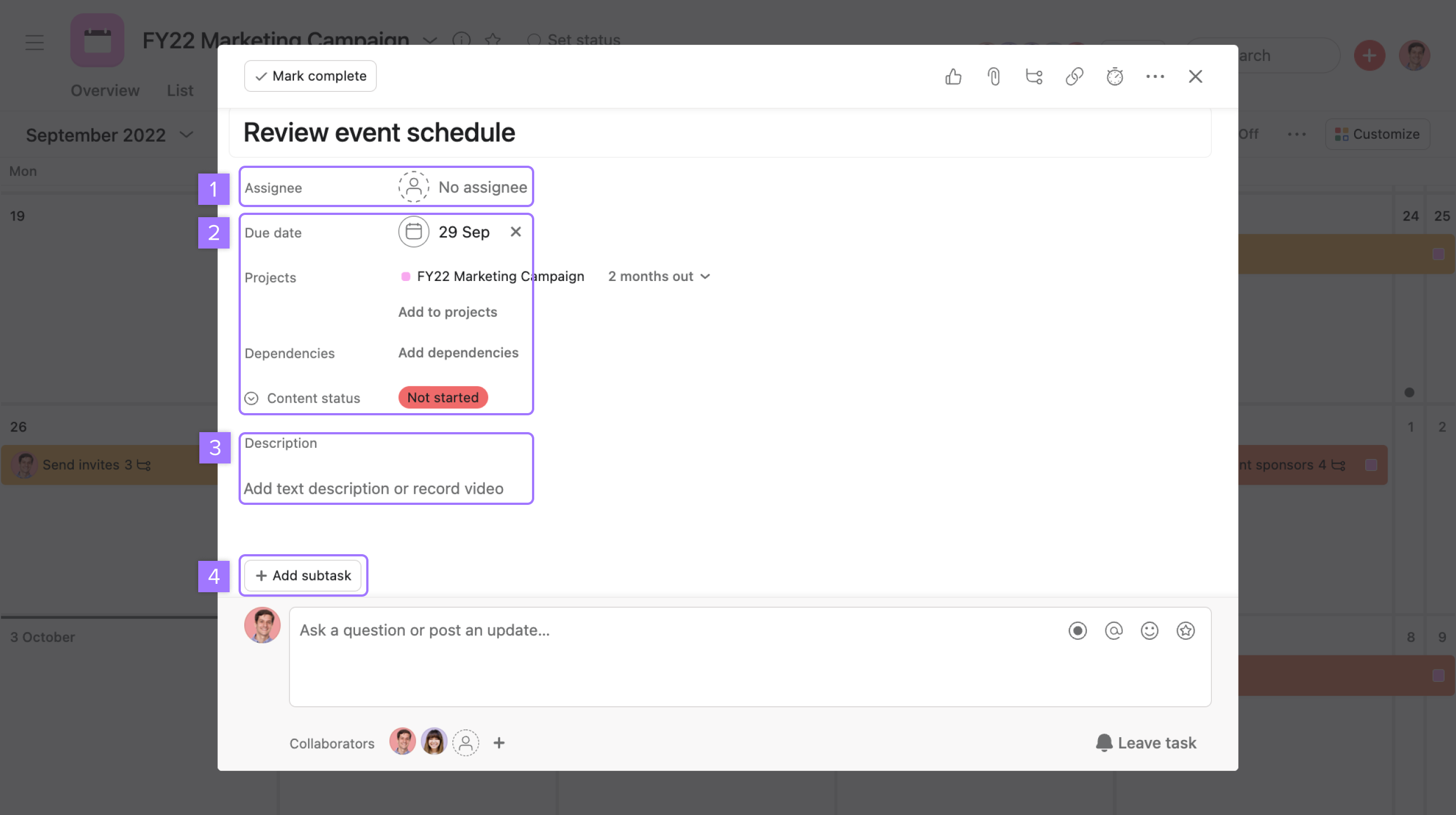 From here you can:
Add an assignee
Fill out the fields
Add a description
Add a subtask
Then, click away from the pop up or click the X on the top right to finish.
Setting colors on your project calendar
The best way to set colors on project calendar is to create custom fields and set colors for each field. Then, when you set a custom field value on tasks, that color can be viewed on your calendar.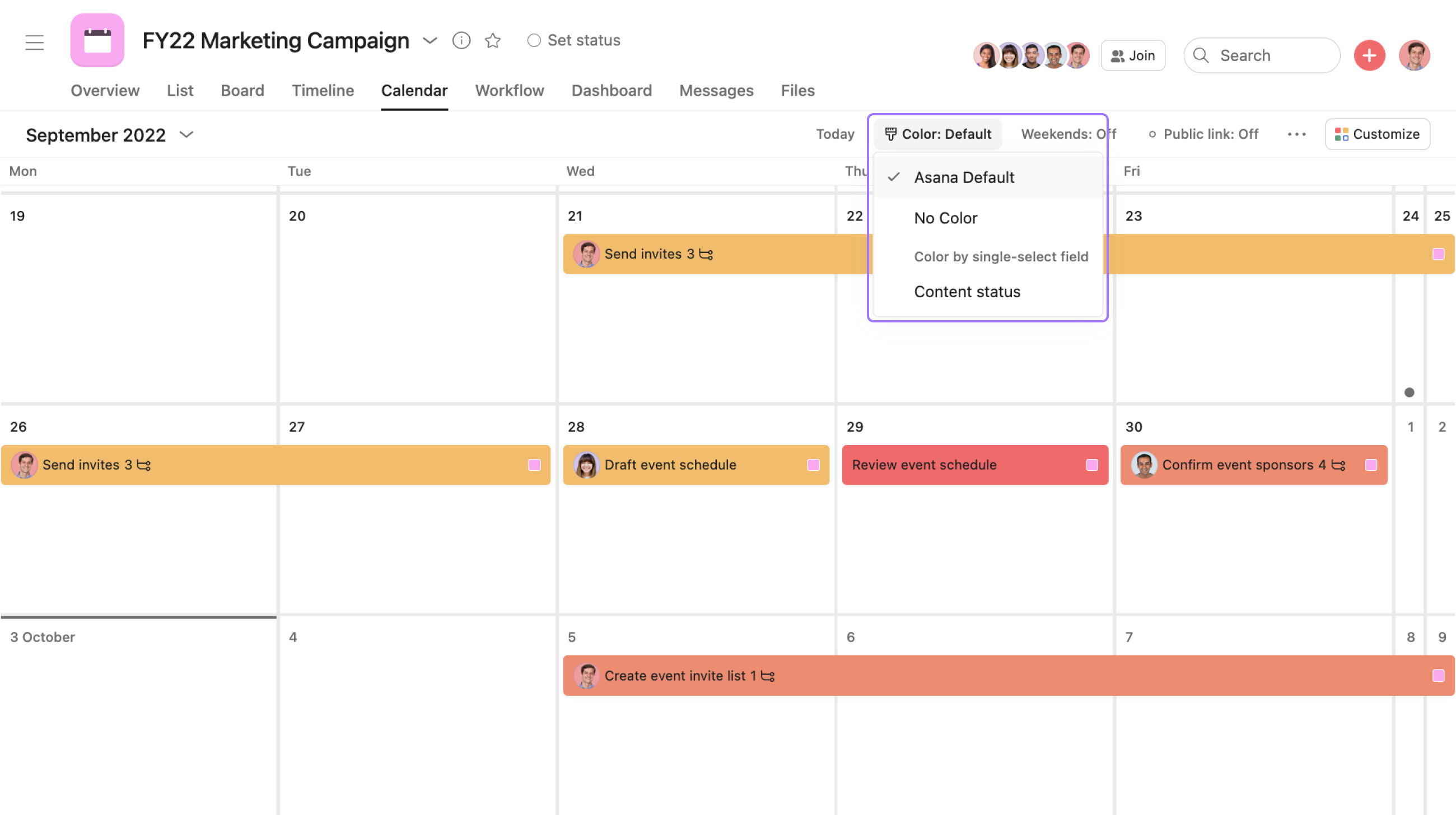 To set colors on your project's calendar, click on the Color icon, and select an option from the drop-down menu.
You can choose Asana Default, which pulls from other colors you have set in Asana, or you can set your color logic based on custom fields. Once you've chosen which custom field you'd like to use, you can save that view for everyone, so your entire team will see the same color logic when they view the project calendar.
Calendar options
You have an array of different options directly within the project calendar view.
From the project calendar view, you can:
Return to today's date
Select a date range
Filter tasks
Hide and show weekends
Apply color to your calendar
View more actions
Access the customize menu
Expand and collapse busy days
Saving a project view
To save Calendar as your default project view, click the three dot icon next to the Calendar tab and click Set as default.
You can filter tasks and save this layout, by clicking the three dot icon and selecting Save for everyone.
Clicking Save for everyone will save this project view for everyone you're collaborating with.
Change due date using drag and drop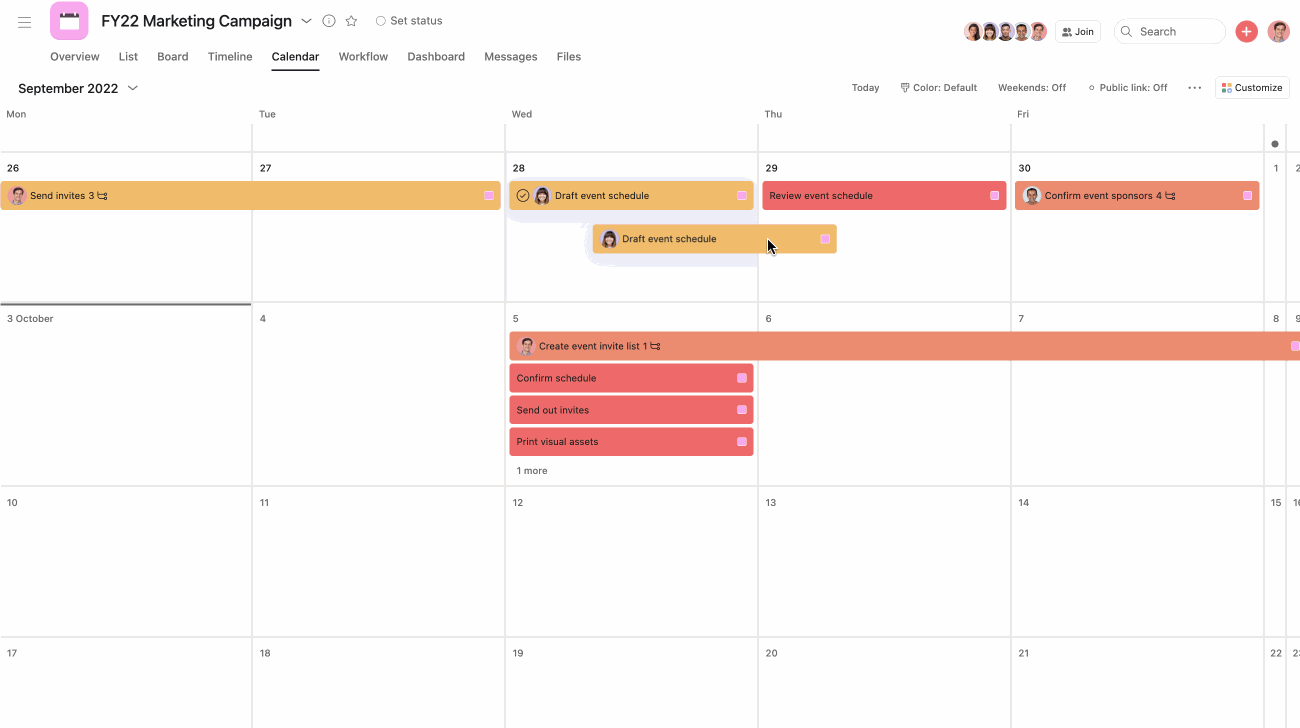 Click and hold the task on your calendar view and move it to the new due date.
Subtask count
You can also view the amount of subtasks on a particular task directly from your calendar view.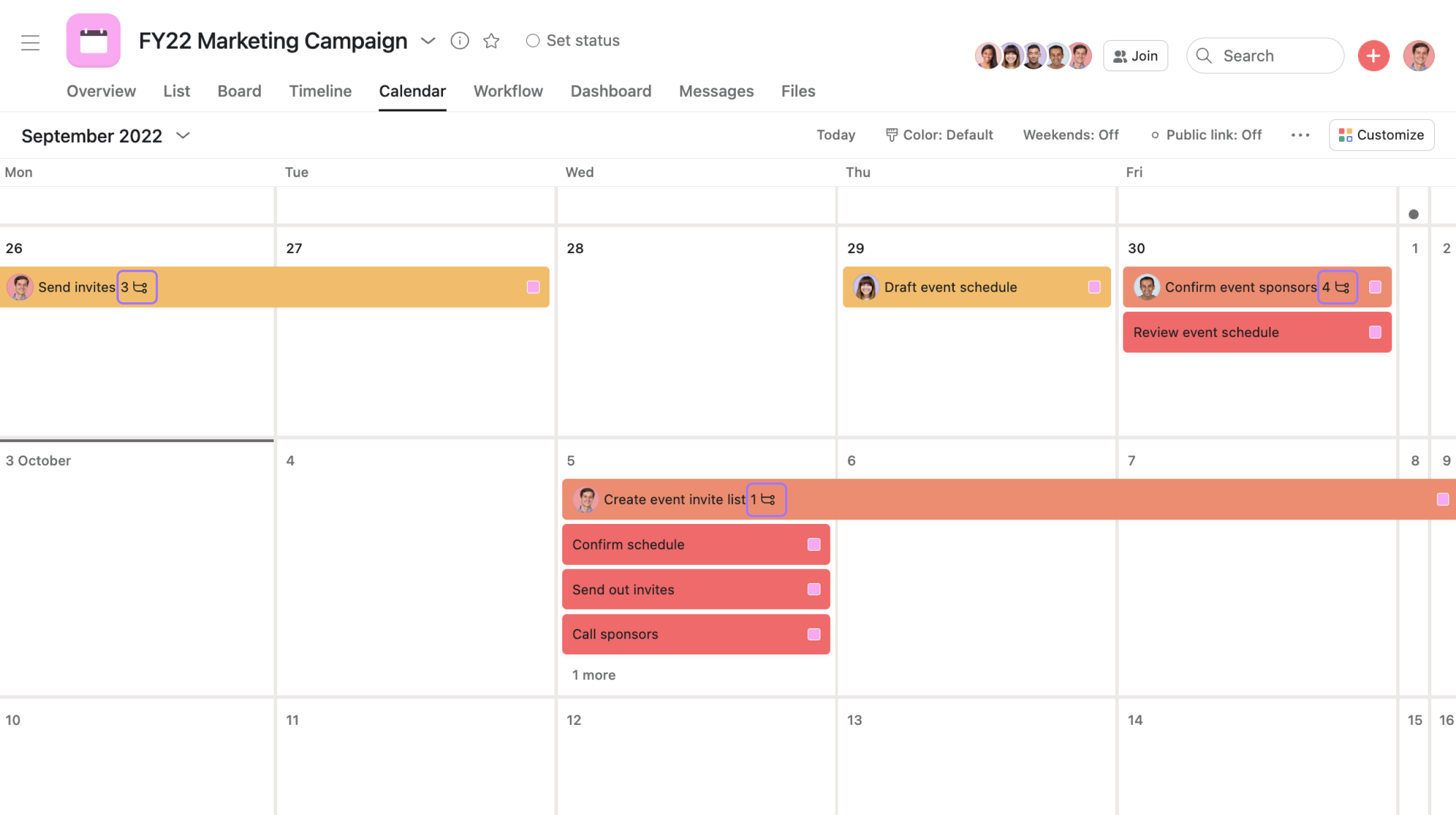 The subtask count will appear next to the task name on calendar view.
My tasks 7 day calendar view
As well as projects your My tasks also has a calendar view. View your My tasks calendar to keep track of your own deadlines and upcoming tasks. Using the 7 day calendar view you can reorder tasks due each day, to keep your highest priority tasks at the top.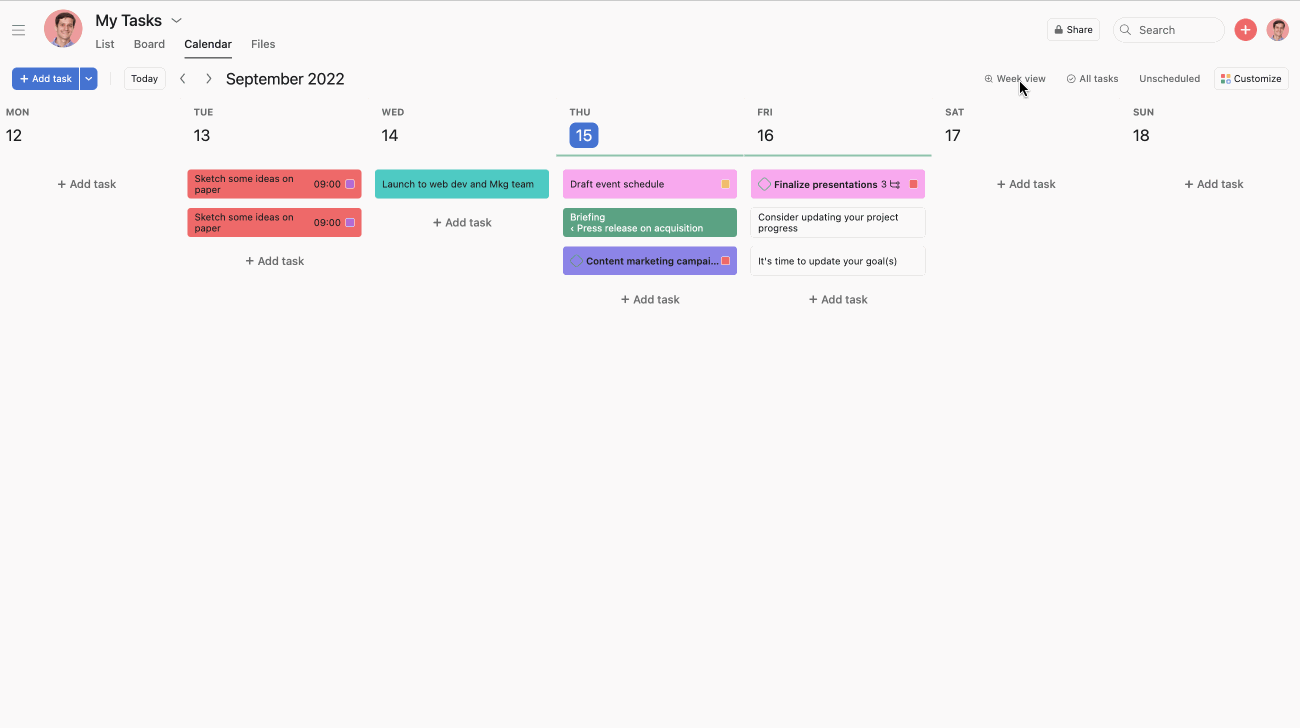 In My task 7 Day calendar view you can:
Click into Week view to toggle multi-day tasks on and off to prevent long running tasks cluttering up your weekly planning. Here you can also order your calendar by Week view, Month view, and show or hide weekends.
You can also organize your calendar view to show all tasks, incomplete tasks or completed tasks by clicking on the Task button on your toolbar.
By dragging and dropping tasks you can reorder tasks due each day to keep your highest priority tasks at the top.
Click the Unscheduled button to bring up unscheduled tasks (tasks that have no due date). This also allows you to access a mini calendar so you can jump quickly to specific dates. You can drag tasks out of the Unscheduled sidebar into the week view to schedule tasks for specific days.


Looking for a better way to manage your work? Get started with a free 30 day Asana trial. Try for free