Asana is recommended for work with Google Workspace. Using both together is a great way to easily connect your work across different Google apps and track it in Asana.
Google SSO
Login to Asana using Google SSO.
Click Use Google Account from the login page.
Learn more about authentication for paid plans.
Google Calendar
Stay up to date by syncing your Asana tasks to your Google Calendar.
Click the project actions dropdown and select Sync to Calendar.
Learn more about how to sync your Asana projects to Google Calendars here.
Google Drive
Easily attach your files from My Drive to your Asana tasks.
Click the paperclip icon from the right pane and select Google Drive.
Learn more about attaching Google Drive files to your Asana tasks here.
Receive notifications when new comments are added to your Google Docs, Sheets, or Slides, and see a snapshot of document status within Asana tasks.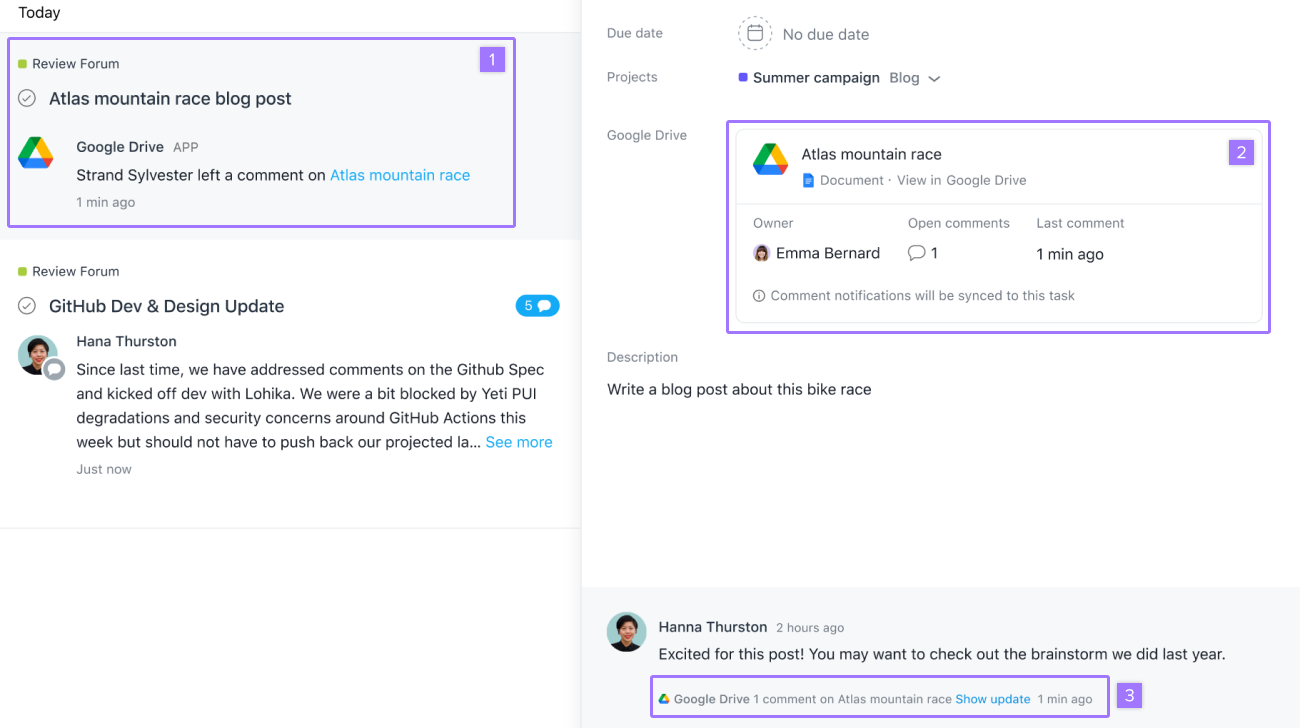 Receive an inbox notification when a new comment is left on a synced document.
View a snapshot of document details including comment activity and document owner.
Document comment updates are tracked in a collapsible history section, located within the task history.
Sync Comment Notifications
To sync your document for comment notifications, click Sync to task on an existing Google Drive attachment.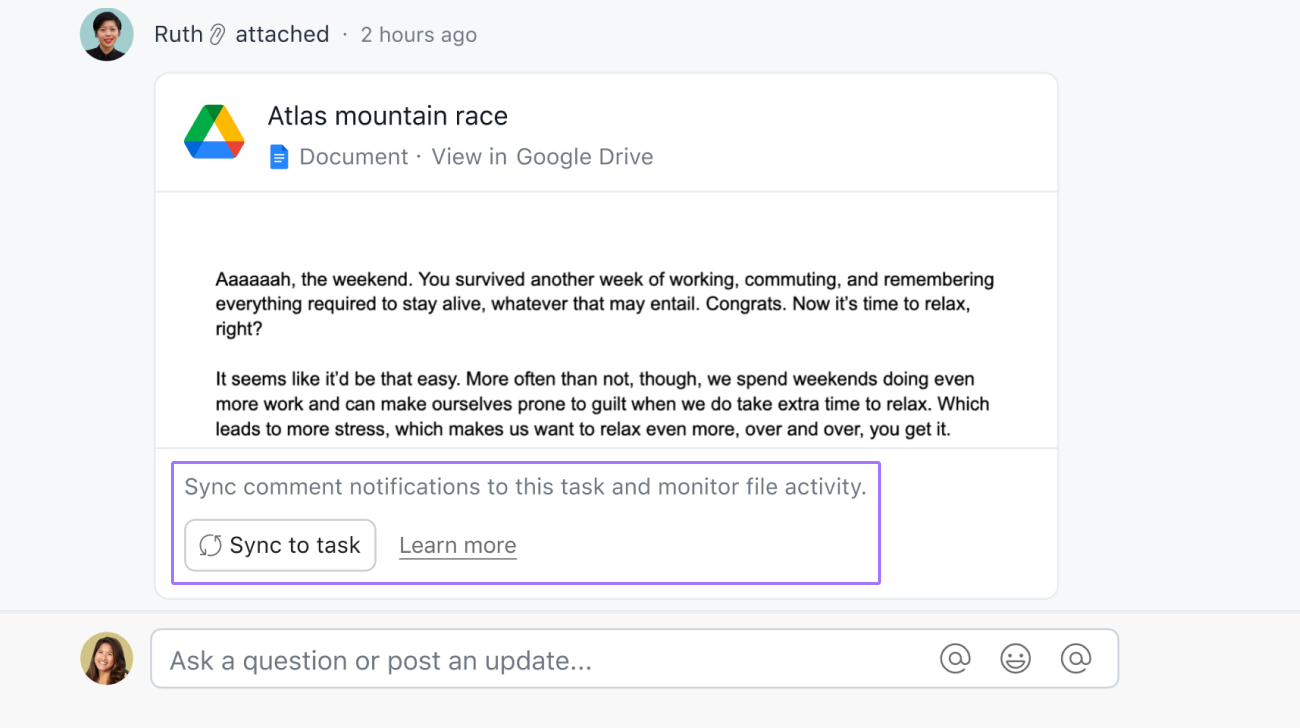 You can also sync a document for comment notifications by adding the Google Drive app to your project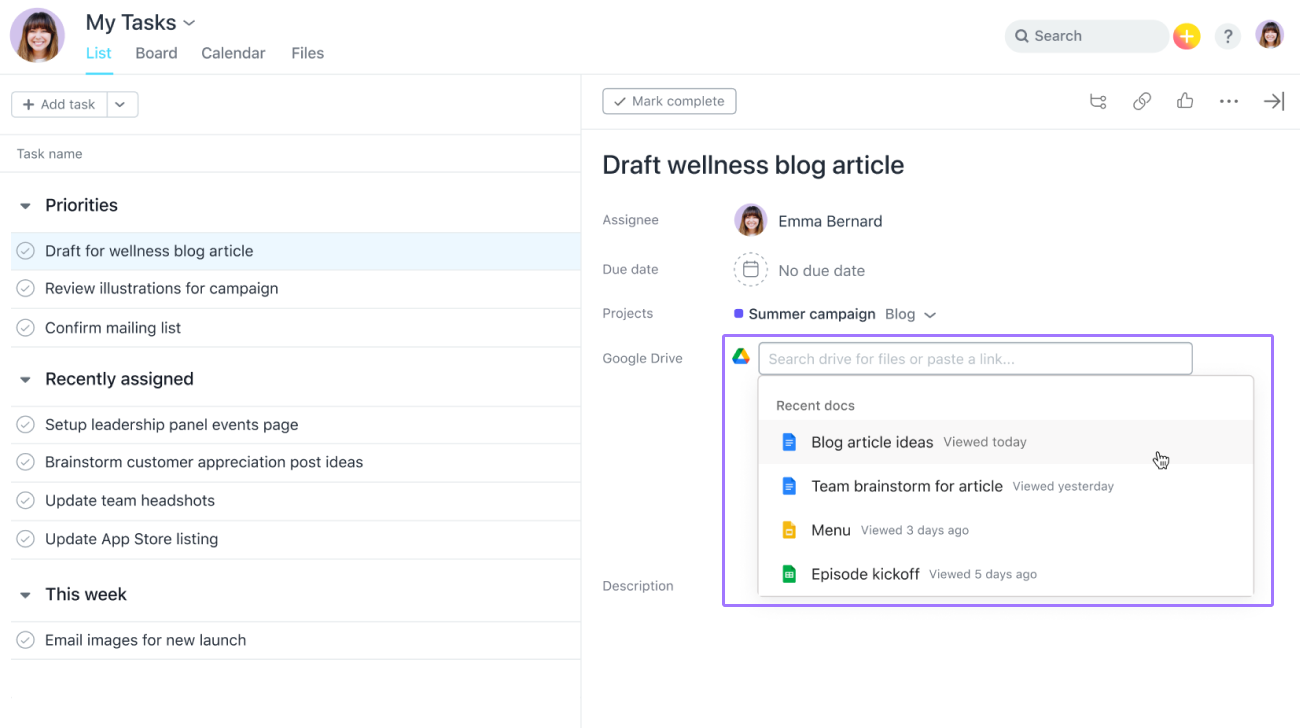 In your project, select + Add App from within the Customize menu on the upper-right
Choose Google Drive and follow the prompts to sign in
Once signed in, you can sync a document for comment notifications directly in the task
Gmail
Create tasks in Asana directly from emails in Gmail.
From My Tasks or any project, click the project actions dropdown and select Add Tasks via Email to find an email address you can use to create tasks via email.
Learn more about creating tasks in Asana via email here.
Export your portfolio to Google Sheets
Once you've created a portfolio, you can export it to Google Sheets at any time.
To export a portfolio to Google Sheets:
Tap the three dot icon next to the portfolio title
Hover over Export and select Google Sheets
Google Forms
Automatically create tasks in Asana from Google Forms responses.
This integration requires a Google Forms plug-in and works in conjunction with our Gmail integration.
Learn more about sending Google Form submissions into Asana here.
Chrome Extension
Quickly and easily create tasks in Asana from any web page in Chrome.
With the Chrome extension installed, click the Asana icon near the top right corner of your Chrome window to create a task.
Hangouts Chat
We are in the early stages of collaborating with Google on an integration with Hangouts Chat - the new intelligent messaging app built for teams in Google Workspace. Stay tuned to the Asana Blog.
Like what you see? Get started with a free 30 day Asana trial today. Try for free.