With Asana for iOS, you can organize your tasks for the day and communicate with your team from anywhere.
Download the Asana app for your iPhone & iPad from the App Store.
You can access your My tasks, projects, messages, inbox, and search, amongst others, from your iOS device. The web and iOS apps update in real-time, so your tasks and conversations sync automatically no matter what device you're using.
Asana's mobile app is only compatible with iOS 13 or later.

Signing up to Asana
When you first open the app, you can sign up for a new account or log in to your existing account.

Logging in with Google SSO
You can use your Google credentials to log into Asana via Google SSO.

Logging in with your email address
To log in with your email address, enter the desired email address.
From here, you can choose to have a magic link emailed to you or type in your password manually.

Logging in via SAML
Available on Asana Enterprise and Enterprise+ tiers, as well as legacy tier Legacy Enterprise.
If your organization has SAML enabled, you can log in by tapping Log In and only entering your email address while leaving the password field empty. This will redirect you to your company's IDP login page or app.

Logging in via 1Password
You will also have the option to use 1Password to log into Asana, providing you have the app installed on your iOS device.

Organizations
If you're signing up for an Asana account under a corporate email domain, you will be either prompted to create a team in your new organization, or if there is already an organization set up, you can request to join existing teams within this organization.

Create a team in a new organization:
Once you've signed up to Asana under a corporate domain and have created an organization, you will be prompted to create a new team. Enter the team's name and tap Next on the top right of the screen.

Joining an existing Organization:
Once you've signed up to Asana under a corporate domain with an organization associated with it, you can request to join existing teams within this organization. Select the teams you want to join and tap Next at the top of the screen.


An email domain can only be associated with one organization at a time, although it is possible to have multiple domains associated with one organization.

Using Asana offline
You can use Asana for iOS offline to check your notifications, comment on tasks, change due dates or assignees, and complete tasks on the go. When you create a task or comment offline, you'll see a banner at the bottom of your app letting you know "Asana is offline."
For larger actions such as creating or editing tasks, subtasks, projects, or comments, a light grey cloud icon will appear next to those which have not been synced. This means that they are currently only visible to you. When you are online, these changes will sync and your entire team will be able to see the updated tasks, projects, and conversations.
A tally at the bottom of the app counts the actions you've performed offline. When you're online again, the pending number will count down until all your updates are live in Asana and the gray cloud icons will disappear.
Tasks and conversations within a project that have never been opened on your app will not be visible offline, but you can add tasks to these projects offline.

Push notifications
If you have notifications for your iOS device turned on, you will receive push notifications for the following stories:
A task has been assigned to you
A task you've been assigned and/or collaborating on has a comment posted
A task you've been collaborating on is marked as complete
A task you've been assigned is due (sent around midnight on the day of the task's due date)
A message or status update is posted in a team or workspace that you belong to
An attachment has been added to the work you're collaborating on
When you select the Asana icon from the top of your phone to see your notifications, you will find them batched. Pinch and expand to see more info, or tap through your Asana Inbox.


By default, push notifications are turned on.

Managing your push notifications
To access your push notification controls, tap on the Push icon from your account tab. From the next screen, you can toggle on and off the selected push notifications.

Creating a task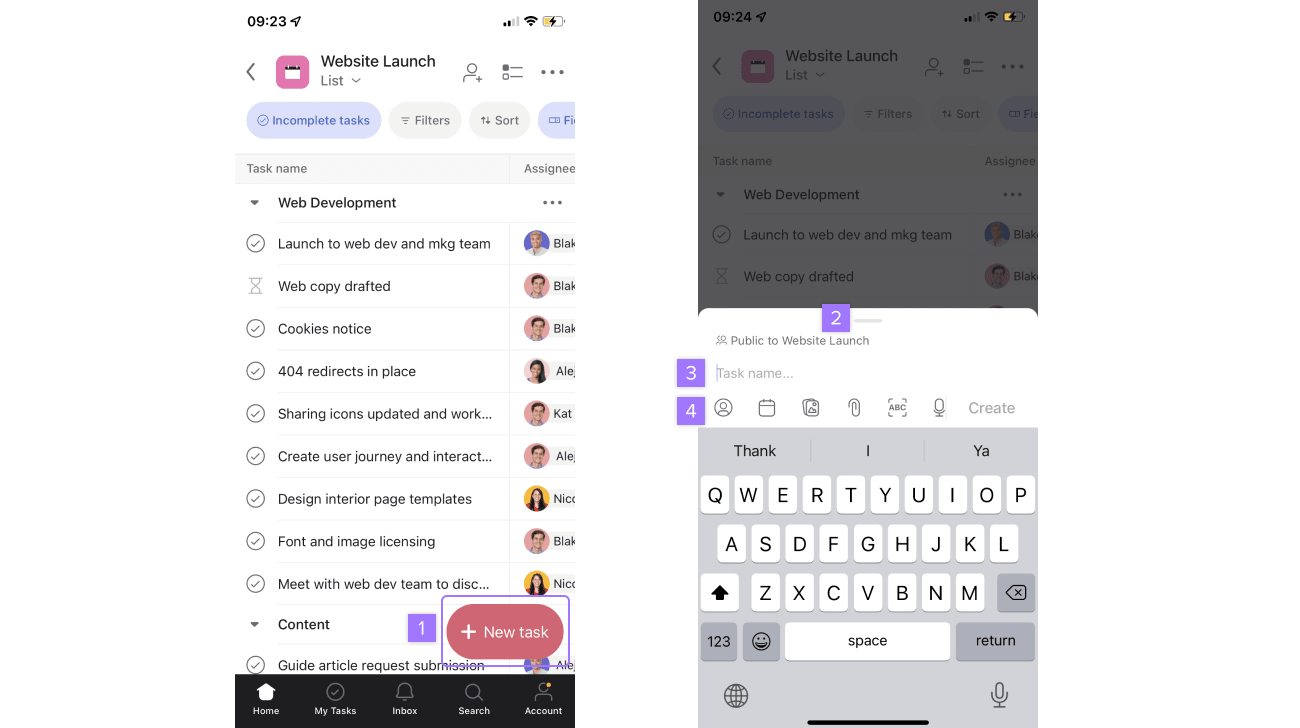 To create a task from a project or My tasks:
Tap + New task
You can tap at the top of the pop-up window to view all the task fields
Add a task name
Add an assignee, due date, add photos, attach files, capture and share photos, and create tasks with audio

View and edit a task's details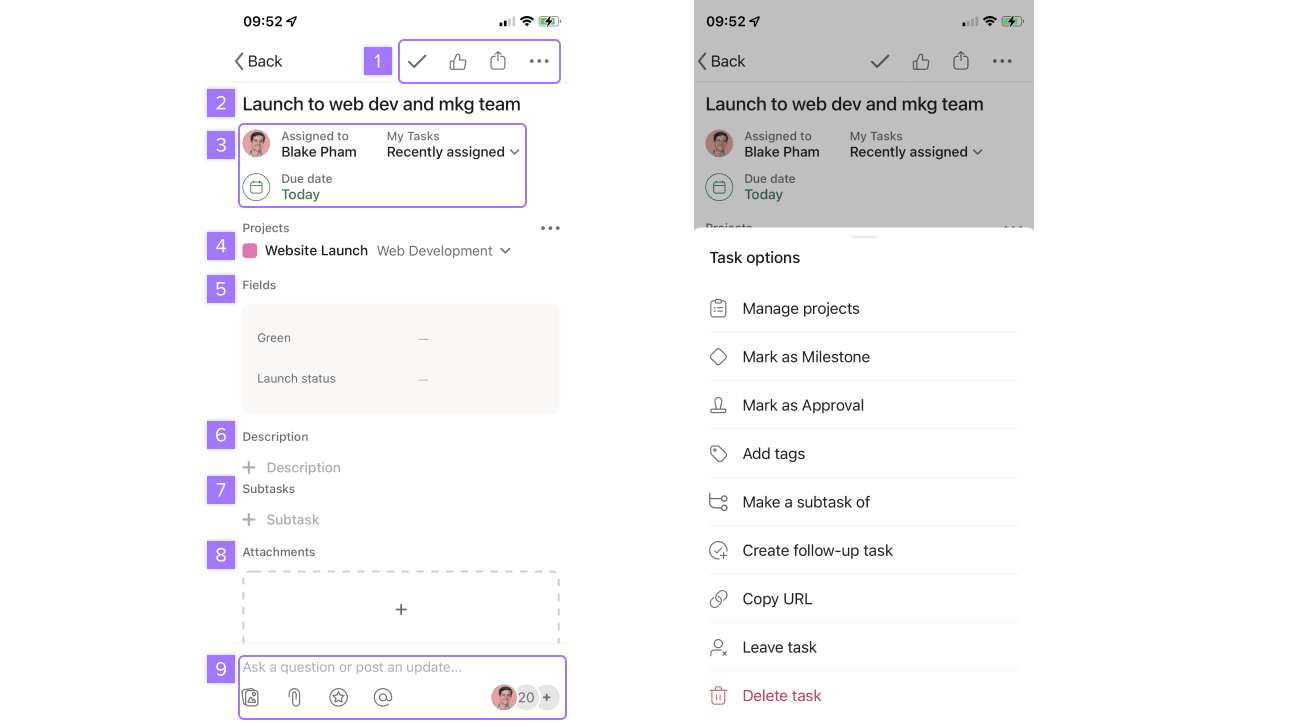 From the task details screen, you can:
Complete, like, share a task, and view more options
Write or edit the task's name
Add an assignee and a due date
View the projects the task belongs to and add more projects
View the custom fields
Add a description
Add subtasks
Add attachments
Post a comment, add images, attachments, add appreciations, link to a person, task, message, team, project, or portfolio, and add or remove collaborators
Tapping on the three dot icon at the top will open the more options screen.

Sorting and filtering your tasks

You can sort your tasks by incomplete tasks, completed tasks, or all tasks
Filter by assignee, due date, or custom field
Sort by due date, assignee, number of likes, alphabetical order, custom fields, and sort within sections
Show or hide custom fields

Creating a task with voice recognition
Create tasks using voice input on iOS. Asana mobile can transcribe audio into text and create tasks based on the results of the transcription.
To create a task with voice recognition, you can either:
Hold the New task button
Tap New task and tap the microphone icon
The task will automatically be created once the audio recording stops. You will see a notice on the screen to confirm it.
You can create a task with audio for up to 1:30 minutes. Asana mobile will use the first line of the transcribed text for the title of the task, and the full transcription will be displayed in the task description.


The transcription will be limited to the language configured on the iOS device and may not be available in all languages.

You will be able to specify other information relevant to your task before creating it, like marking a due date, editing the description, or including someone from your team or organization as an assignee.
You can easily identify tasks created via voice recognition and also play the audio recorded. The original audio will be attached to the task, with the option to reproduce it and a notice will be displayed for tasks created with voice recognition on iOS. You can remove the original audio from a task by tapping on it.

Creating a project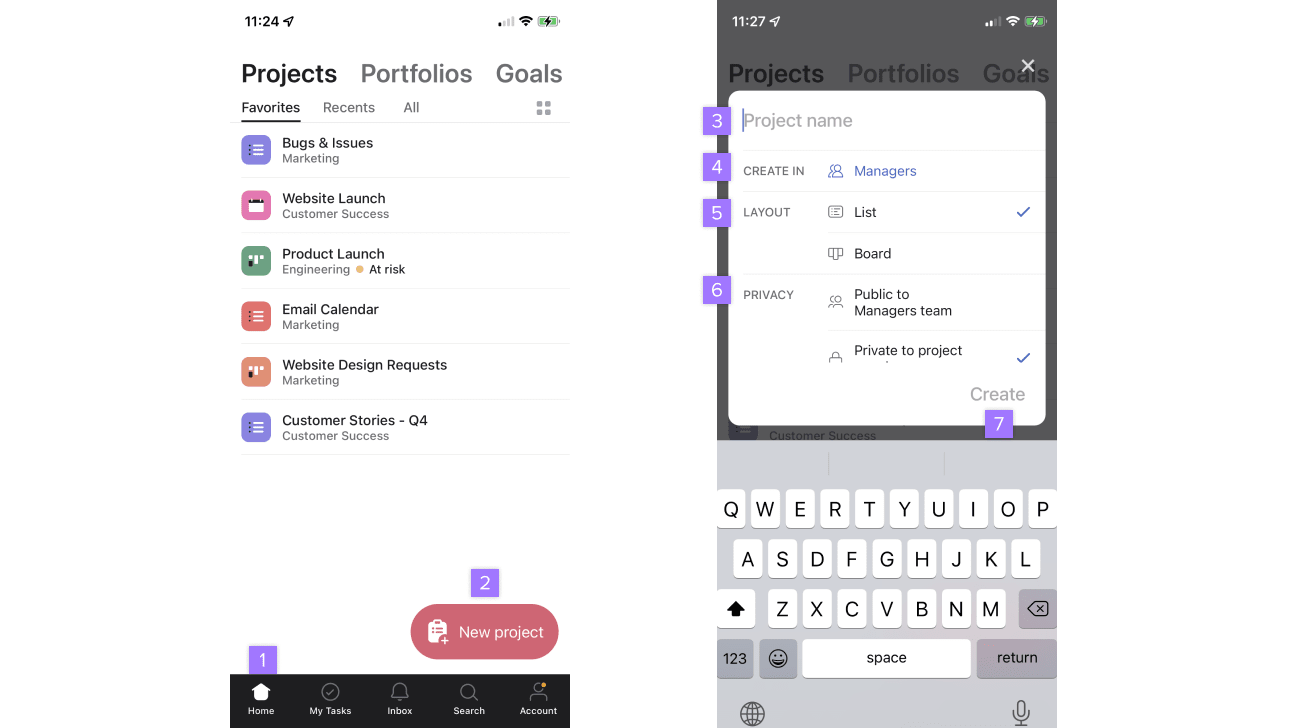 To create a project:
Navigate to the home page
Tap New project
Add a project name
Choose a team
Select a layout
Define the project's privacy
Tap create

Viewing a project's details
To view a project's details, tap the drop-down arrow under the project's name.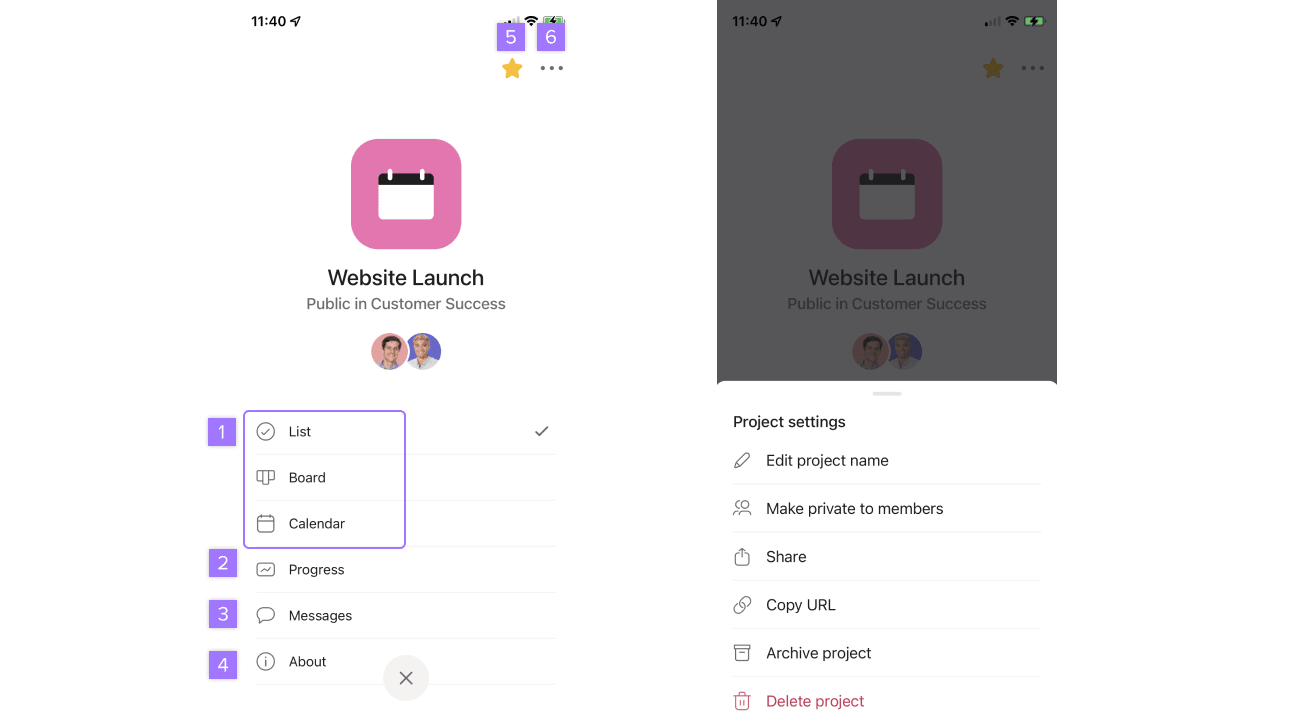 From here, you can:
View the project as a list, board, or calendar
View the project's progress and update the project status
Read previous messages or send a new message
View and edit the project's description
Favorite the project
View the project settings

Inbox on iOS
Inbox is your personal notification center in Asana.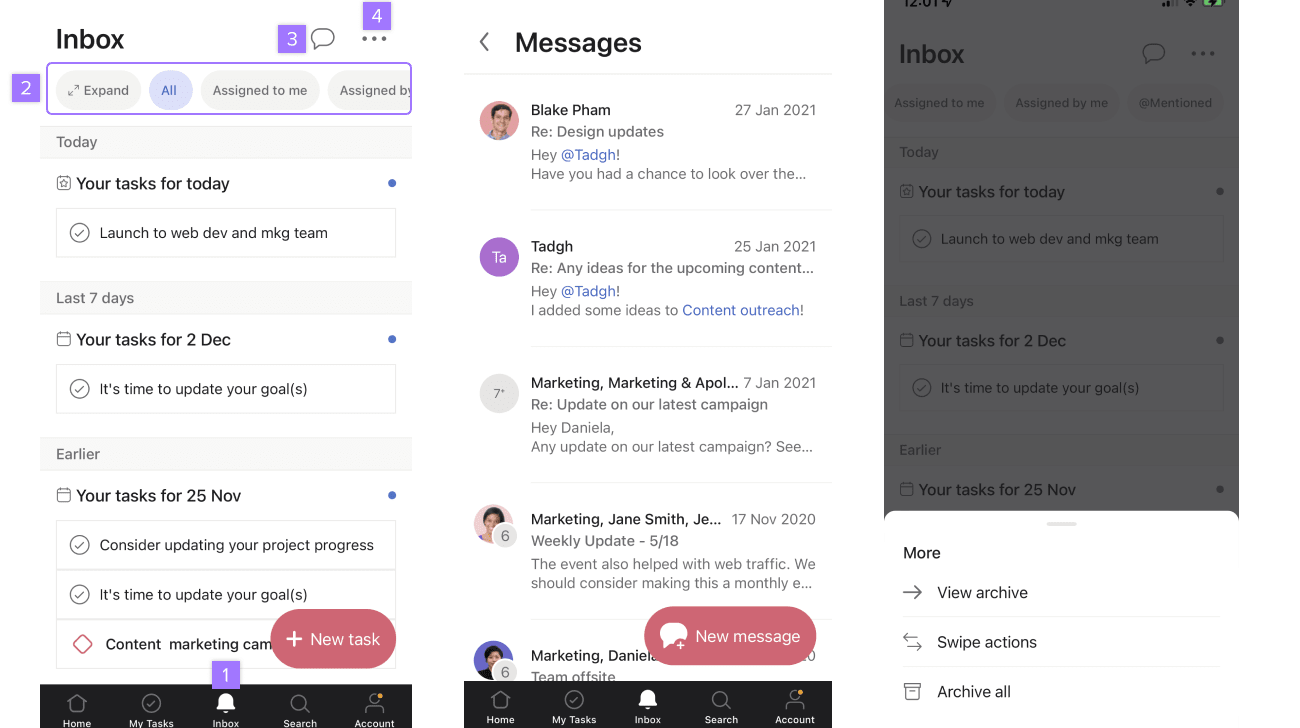 To take action on your inbox:
Tap Inbox
Use different filters to view tasks
View messages and send a new message
Tap the three dot icon to view more actions

Search on iOS
Use search to find tasks, projects, messages, teams, portfolios, goals, tags, or people in your workspace or organization.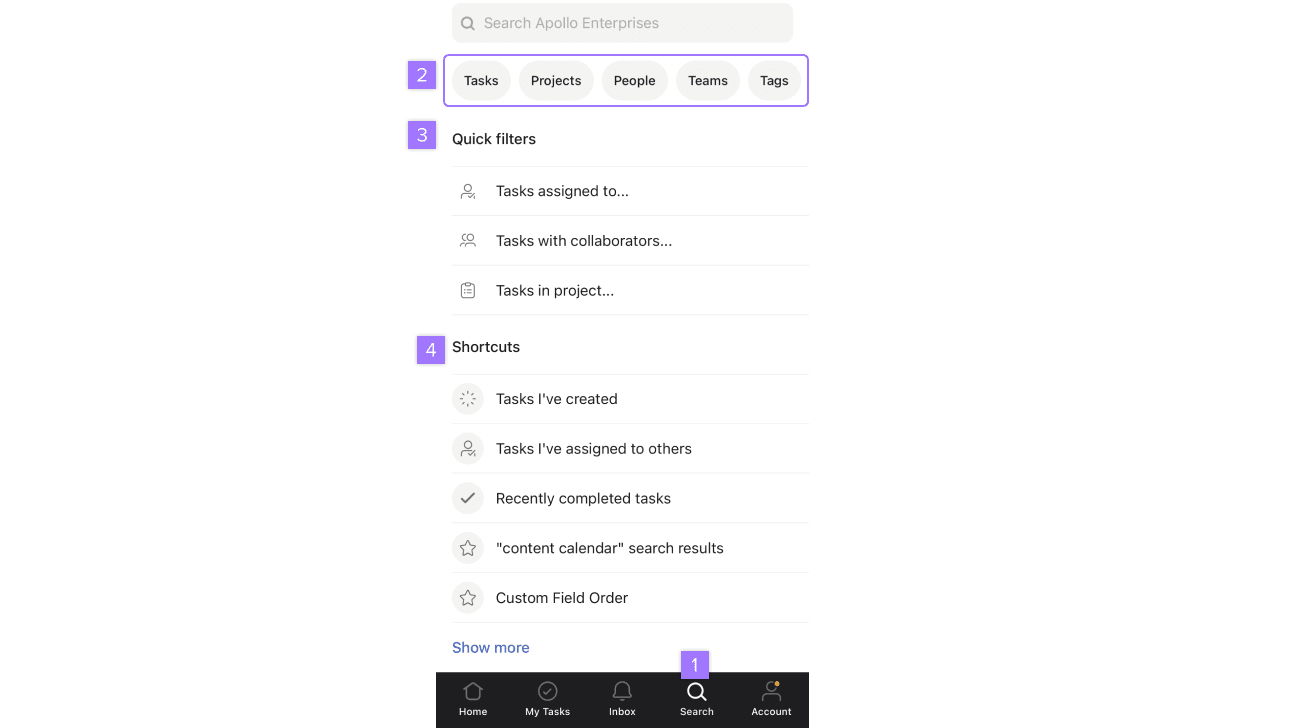 To search:
Tap Search
Select what you want to search for
Use Quick filters to filter tasks
Use Shortcuts to quicken your search

Portfolios on iOS
Available on Asana Advanced, Enterprise, and Enterprise+ tiers, as well as legacy tiers Business and Legacy Enterprise.

Portfolios help you keep track of projects across your team or your whole organization. Portfolios let you categorize Asana projects, see and request status updates, and organize projects.

Creating a portfolio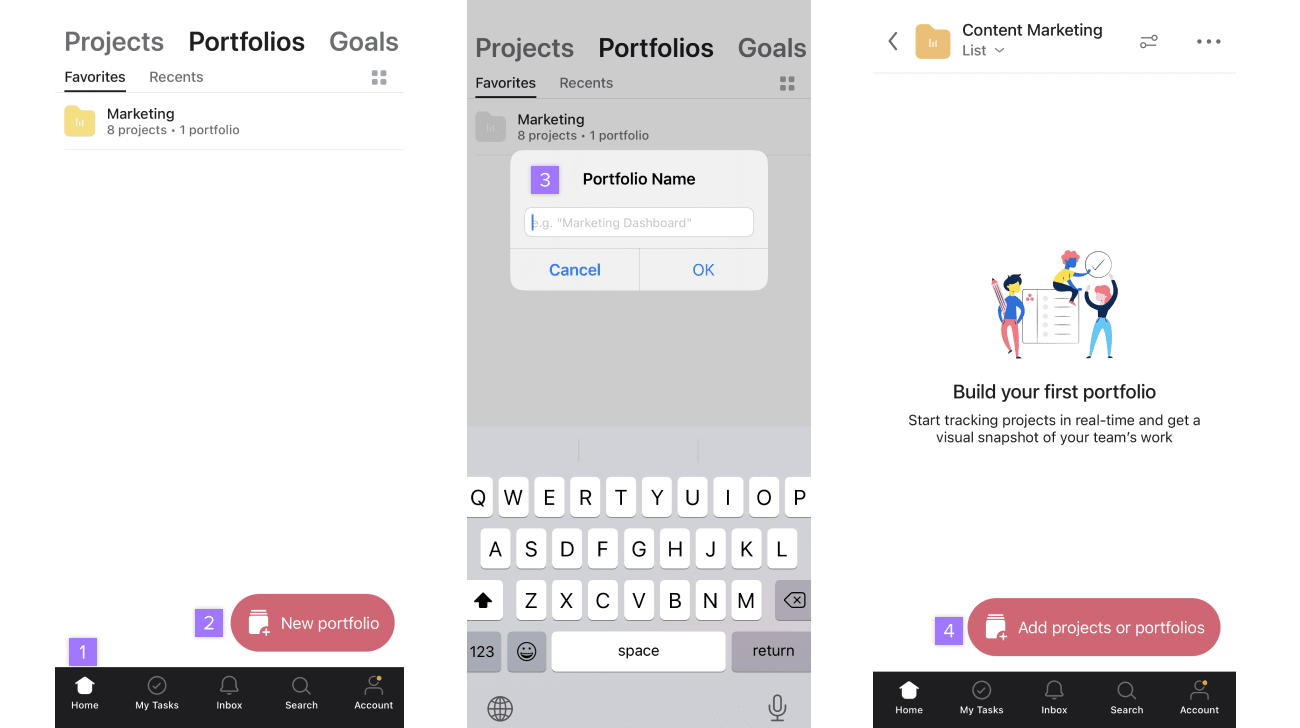 To create a Portfolio:
Navigate to your Home screen
Tap New portfolio
Enter the portfolio name
Start adding projects or portfolios

Portfolio overview
Once you've created a Portfolio and added a few projects, you can keep track of their health in one place.
From the Portfolio view, you can view the following:
Each project's latest status
The project's progress as a percentage
Each project's due date or date range
Custom field values
The number of overdue tasks
The project owner
Organize and monitor the health of your work with portfolios. Get started with a free 30 day Asana trial. Try for free

Today widget for iOS14
The Asana iOS14 Tasks Due Today widget provides at a glance access to timely work in Asana.
The unique home screen entry point allows you to easily and effortlessly view tasks due today and keep up to date with the work that matters most.
The iOS14 Tasks Due Today widget is compatible with Asana iOS 8.40 and higher. Please visit the app store to download the Asana app or update your current version.

Adding the Today widget
To add the Today widget, hold an empty area on your home screen, until the apps jiggle. Then, tap the plus icon that appears on the top right-hand side of your screen. Next, type Asana into the search field and select it from the options menu. Then, select Add Widget.
After adding your widget, it will appear on your home screen. Tap the widget to view or edit your tasks or mark them as complete.
Want to learn more? Check out all the features of Asana Mobile & Desktop Apps.