Goals are available to all Asana Business and Enterprise customers.
This article covers how to use Asana's Goals feature. Learn how to successfully manage your organization's goals and the foundations of a goal management process with our Lead the goals management process in your organization article.
Goals overview
Goal tracking connects work with its purpose. It keeps your company and teams aligned, engaged, and agile in the face of changing needs.
With Asana Goals, your company goals and work, like milestones, projects, and portfolios, are connected in the same place.
Read more to learn about how to use Asana Goals for company and team goal tracking and how to connect goals with work in Asana.
Company goals
Company goals are created by the leadership team based on the organization's mission and priorities. Every year, they convey the strategy that teams will support with their own goals.
The Company goals screen gives you an overview of these goals.
To create Company goals:
Head to the Company goals tab and click the + icon.
From here, you can enter the goal's name, choose a goal owner, select a time period, decide on the goal's privacy, and the measurements you will use to measure success.
Team goals
Team goals are created by teams to support company goals and goals from other teams.
To create Team goals:
Head to the Team goals tab and click the + Add goal button or the + icon next to the team's name.
From here, you can fill out all the details for the team goal.
My goals
Use the My goals tab to quickly find and monitor the goals you own. Navigate to the My goals tab within the Goals section on your sidebar. Here you can filter by all, open, and closed goals.
Want to try Goals for free with the rest of Asana Business? Sign up for a free 30-day trial.
How to create a goal
You can add a new goal at a company or team level.
To create a new goal:
Enter a name that describes the outcome of the goal
Assign the goal to an owner and define if it's a team or company goal
Select the team that is accountable for the completion of the goal. If it's a company goal, select your company's name.
Choose a time period by which the goal will be completed
Select the privacy of the goal
You can add members to the goal; they will receive notifications about comments, status updates, and other goal activities.
You can make the goal a subgoal to another parent goal
Choose how you'd like to measure the progress of your goal
Click Save goal
Note: You can change a goal's accountable team by clicking on the goal and then clicking Accountable team on the right hand side.
Deleting a goal
You can delete a goal by clicking the drop-down arrow next to the goal's name and selecting Delete goal.
Duplicating a goal
You can duplicate a goal by clicking the drop-down arrow next to the goal's name and selecting Duplicate.
From your Team goals tab, you can:
View a list of goals associated with the team. You can click the arrow next to the goal name to expand a list of sub-goals.
Modify a goal's team association, or remove the association
Edit a goal's time period
View a goal's progress and click to navigate to the goal directly
Change the owner for the goals displayed
When the team association is changed, the goal will be moved to the new team.
Viewing and filtering your goals
When navigating and reviewing goals, you can customize your view with filters to focus on what matters. Learn more about viewing and filtering your goals.
Goals privacy and sharing
Goals can be public to your entire company or private. Private goals are visible only to its owner and members. Read more about goals privacy and sharing.
Progress, status, and connecting work to goals
Progress and status are the key indicators of how your organization is tracking against their goals. Connecting goals to work provides clarity about the why of its progress and status. Learn more about progress, status, and connecting work to goals.
Goals comments, notifications, and activity history
Comments
You can comment under goals to ask questions, enable discussions, provide additional information or offer insight to anyone with access to the goal in question. Goal comments enable contextual communication and collaboration for all those with access to goals. You can use goal comments to draft goals with collaborators and align on goals with stakeholders.
Activity history
Goal comments and activities will appear at the bottom of your given goal. Since its origin, you can identify all of the goal's interactions.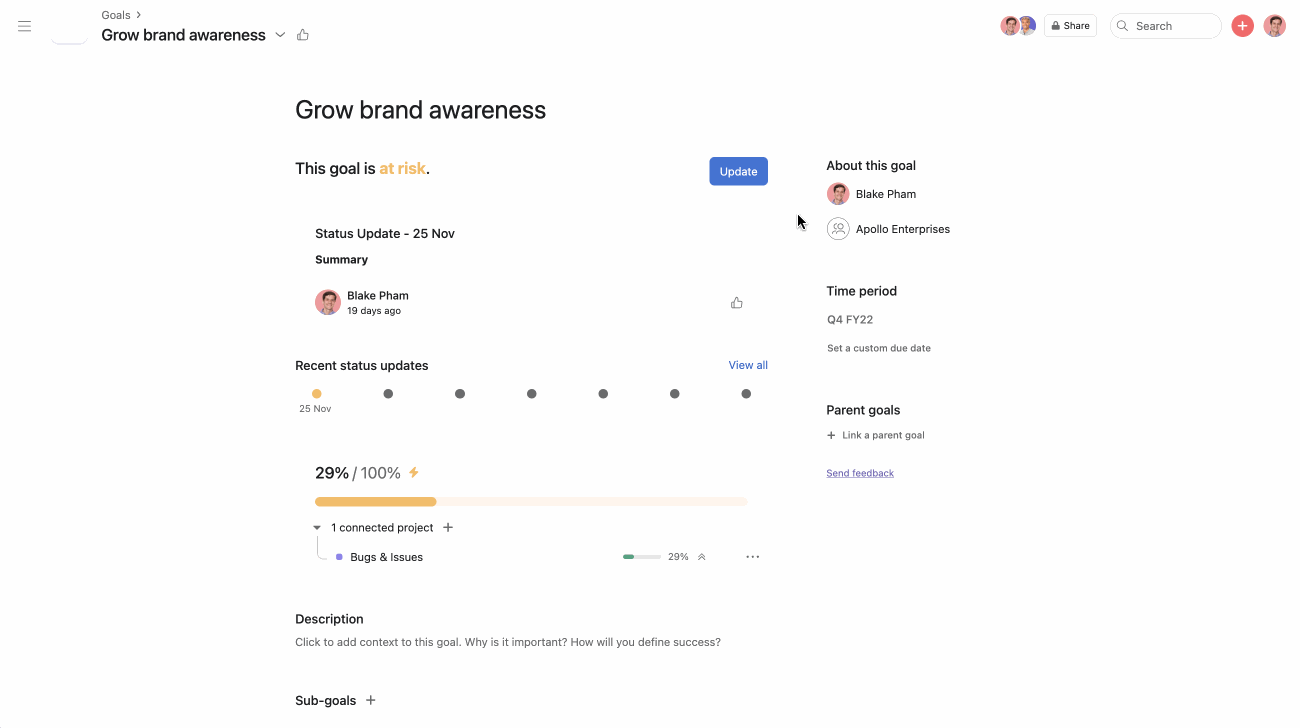 View a historical trail of changes in activity to:
Conduct a look-back analysis
Assess the process for blockers
Forecast similarly shaped future goals
Track the activity to inform decisions
Goals notifications
Notifications will be triggered in inbox, mobile, and email for the following:
Goal Owners will receive a notification when:
You are added as an owner
You are removed as an owner
The due date has been changed
You are added as a collaborator
The status of the goal is changed
Collaborators will receive a notification when:
You are added as a collaborator
The status of the goal is changed
Team members do not receive notifications unless they are added as the owner or a collaborator. Anyone who wants to get updates on goals should be added as a collaborator.
Goal types and templates
Goal templates and goal types are available to all Asana Enterprise customers.
Goal types and templates are powerful features that can help your teams write goals that adhere to the established best practices defined by the owner of the goals process, increasing the efficacy of your organization's goals methodology.
With goal types, you can categorize goals as objectives, key results, or individual goals, giving you complete control over your OKRs and goals at the individual level.
Goal templates allow the owners of the goals process to standardize goal-setting practices across the organization by automating default attributes for specific goal types.
Read our Goal types and templates article to learn more about how these features can improve your goal-setting process.


Mission statement
To add or edit an existing mission statement:
Navigate to the Goals section in your sidebar
Click on the Company goals tab
Click on Mission
Adding or editing your company's mission statement can only be done by organization admins.
My Goals Widget
My goals allow you to easily track the goals you own directly from your home, so you're clear on what you need to do and why it's important.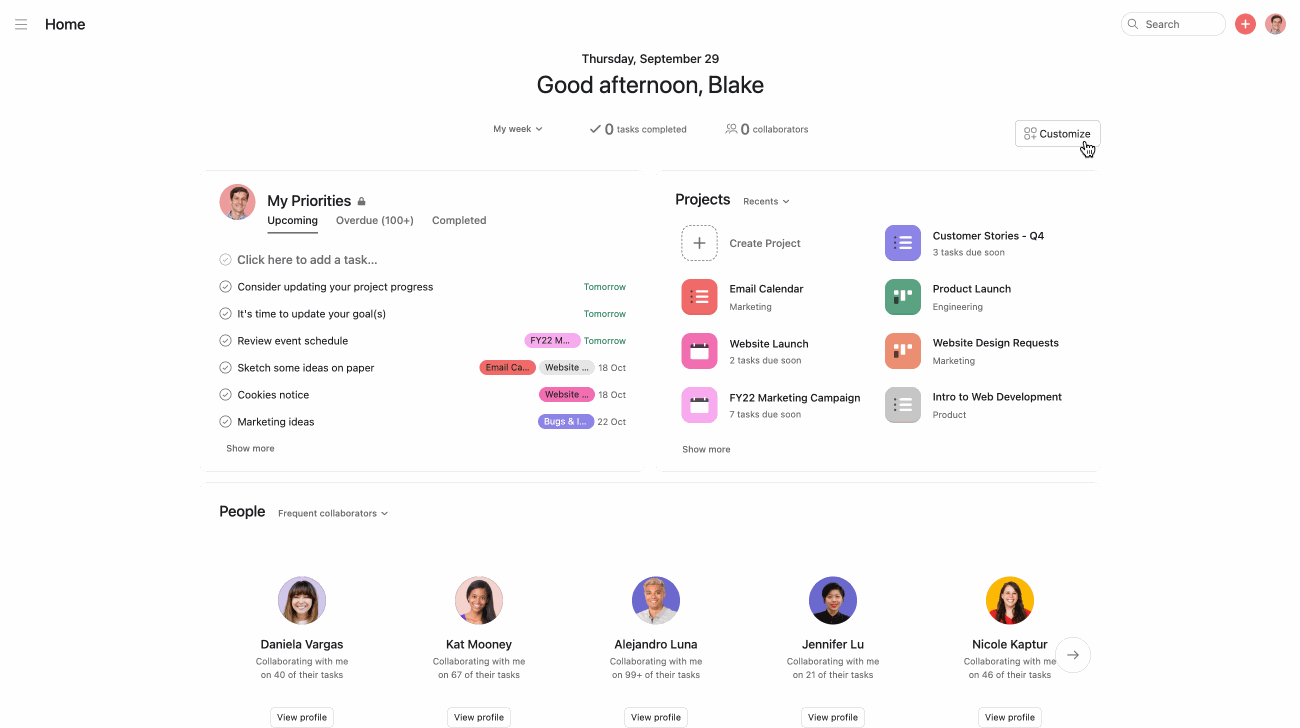 To get started, add the My goals widget by selecting it from the Customize menu on the top right corner of your Home and dragging it from the sidebar onto your Home. You can use the overflow menu to display the widget in full or half size, depending on your preferences. You can use the filtering menu from the widget to display open goals, closed goals, or both.
More goals resources
Goals FAQ
Are goals accessible on Android and IOS?
Yes, goals are available in a view-only state on Android and IOS. View-only means the goals can't be edited or altered on the mobile version of Asana. To edit or change a goal, please use the desktop version of Asana.
I don't have Asana Business, can I still access goals?
Non-business users will not be able to create or modify goals, however, they can be added as an owner or collaborators.
Goals in Workspaces
Goals are also available for Workspaces that have Asana Business. As Workspaces operate as one team, there isn't the ability to toggle between multiple teams from your goal's list view. All goals will be added at the Workspace level.
What happens if I delete a team my goals are housed under?
Deleting the team will not delete the goals, as goals are housed at an organizational level. This means that if you delete your team, you can still search for your goals using the search bar.
However, it is recommended that any goals assigned to the team are reassigned to another appropriate team before deletion. This will allow you to filter the goals using the newly assigned team for easier navigation.
Want to try Goals for free with the rest of Asana Business? Sign up for a free 30-day trial.