We're committed to making Asana accessible to everyone so teams can achieve their best results.
Asana Colorblind Friendly Mode
Colorblind mode allows Asana users who are affected by deuteranopia and protanopia (red-green colorblindness) to better distinguish between different project and status update colors.
To enable Colorblind Friendly Mode:
Click your profile from the top bar
Select My Settings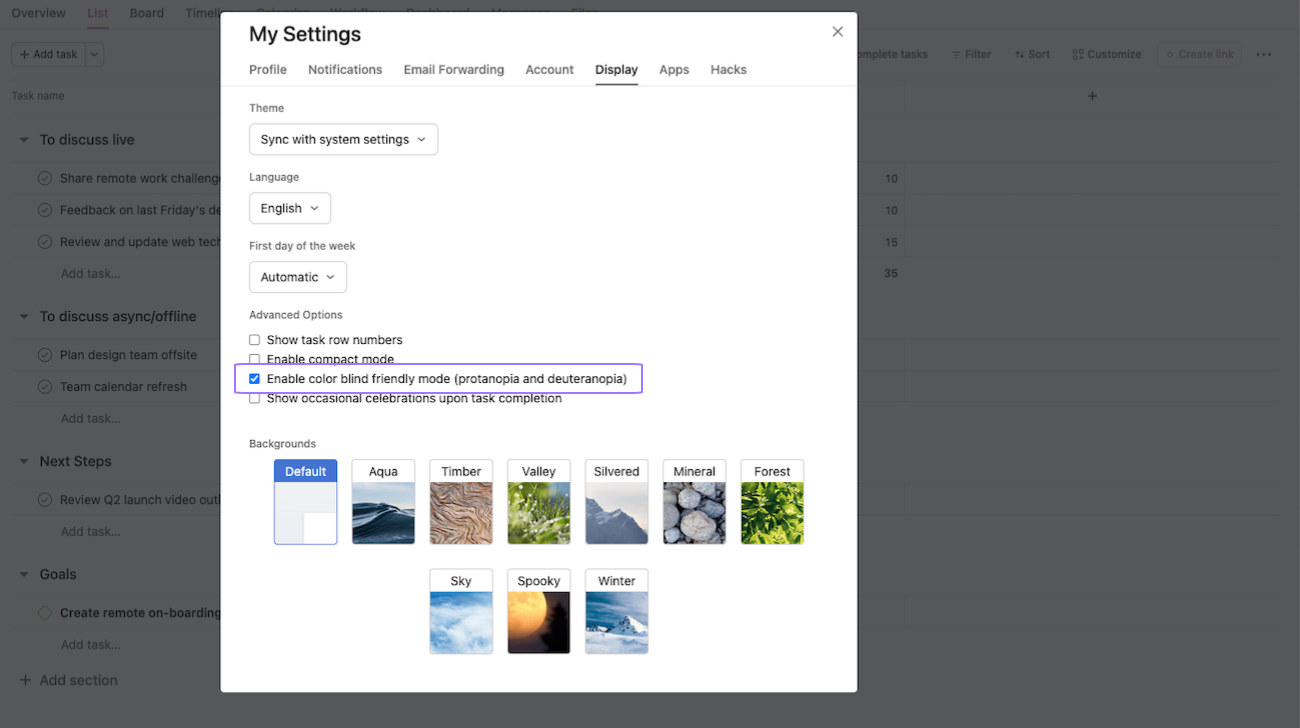 Navigate to the Display tab and select the Enable color blind friendly mode (protanopia and deuteranopia) checkbox. You should see colors changed immediately.
Dark Mode
Dark mode is a color scheme that uses a dark background with lighter text. It allows you to view Asana according to your own display preferences.
Accessing Dark mode
First click on My settings.
Then navigate to the Display tab and choose Dark from the list of themes.
Dark mode will then be enabled.
iOS VoiceOver Support
VoiceOver is a gesture-based screen reader that allows you to use the Asana iOS app without having to see the screen.
To enable VoiceOver, go to your General Settings on your iOS device and click Accessibility.
Click VoiceOver in the Accessibility menu.
Click the VoiceOver switch to enable VoiceOver mode.
You can then receive updates and create tasks using VoiceOver capabilities.
Create tasks with Siri
Create tasks in Asana from anywhere using Siri. This integration works in the multiple languages supported in Asana.
Download the latest version of Asana for iOS
Press and hold the Home button or say, "Hey Siri."
Say a task name—like, "Create a task in Asana to post photos of the conference"
Make sure to say, "in Asana" or "using Asana" somewhere in your task name
The new task will appear in your My Tasks
You must have iOS version 11.0.0 or higher to use Siri task creation.