This article features tips and best practices for getting started with our mobile app. If you're looking for feature and device-specific help content, or want to see all mobile functionality, please refer to our iOS and Android articles.
Seamless collaboration with mobile convenience
Collaborate effortlessly using Asana's mobile app for iOS or Android so you can stay connected with your team no matter where you are. Communicating through task comments, and providing feedback through proofing and approvals, are just some of the ways you can ensure everyone is aligned and informed. Share updates, progress, and ideas, all within the mobile app.
Whether you're in a meeting, commuting, or working remotely, Asana's mobile app enables seamless collaboration and efficient teamwork, making it easier to achieve your goals together. You can even take action offline, and your changes will sync when you're back online.
Stay informed with mobile app push notifications
With Asana's mobile app, you can still keep abreast of changes when you're away from your desk. Turn on push notifications to receive timely alerts when there's an important update. You'll receive a notification when someone assigns you a task, or if there's an update on a task you're collaborating on. If there's a message or status update, you'll also be informed.
Follow the notification to read the task or update. You can show your support with a like or ask a question via a comment. In the mobile app, you can also archive inbox notifications to keep your workflow organized and efficient.
Capture and manage work on the go
Create new tasks from anywhere with Asana's mobile app. Delegate work right away by assigning tasks to your team, set due dates, and provide meaningful context in task descriptions all from your phone. You can easily attach files, documents, and images directly from your mobile device or from your cloud storage so that stakeholders have all the information they need to get work done.
On mobile you can still manage tasks in a sophisticated way through subtasks, milestones, and dependencies. Breaking down work into manageable subtasks is just as easy via the mobile app, as is setting milestones to track project progress and creating task dependencies to ensure work is coordinated.
Don't forget you can create tasks using voice input on iOS. Asana's iOS app can transcribe audio into text and create tasks with assignees and due dates based on what you say.
Boost productivity with workflows, even on mobile
Leverage Asana's core features via your mobile device to push work forward even when you're on the move. Workflows are a powerful way to maximize productivity, combining components like custom fields with rules and automations to move tasks to the next stage. Even on mobile, you'll find that updating a custom field value from Pending to Done can set automations in motion to keep work flowing, keep collaborators informed, and keep projects on track.
Asana's mobile app supports the proofing and approvals features, meaning you can still provide detailed feedback on images, and carefully manage requests through your mobile device.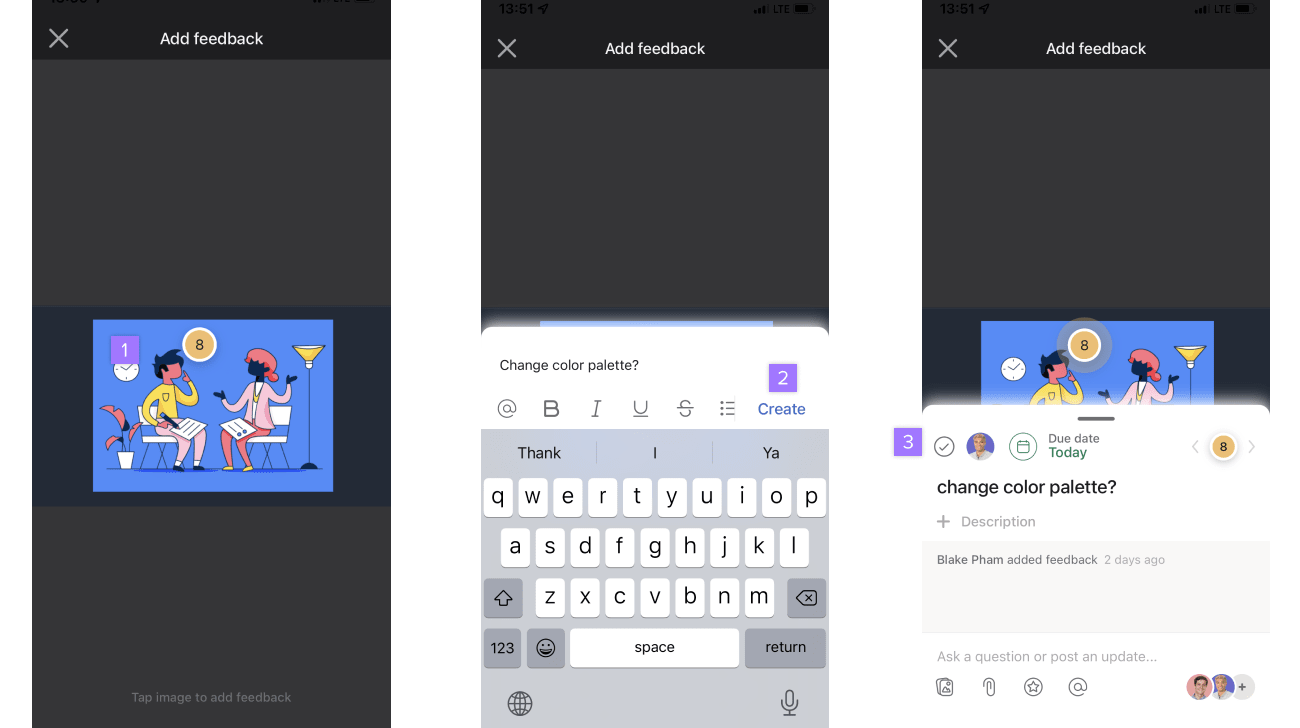 When you access an attached image in a task:
Tap the area on the image where you wish to leave feedback
Write your feedback and tap Create
Navigate to the subtask to add additional information
Set priorities with Weekly Focus
Kick off your work week more intentionally by setting a focus for the week. Capture your top priority for the week and see it displayed across mobile and web. Because this focus stays visible across platforms, setting a focus leads to better planning, actions, and outcomes.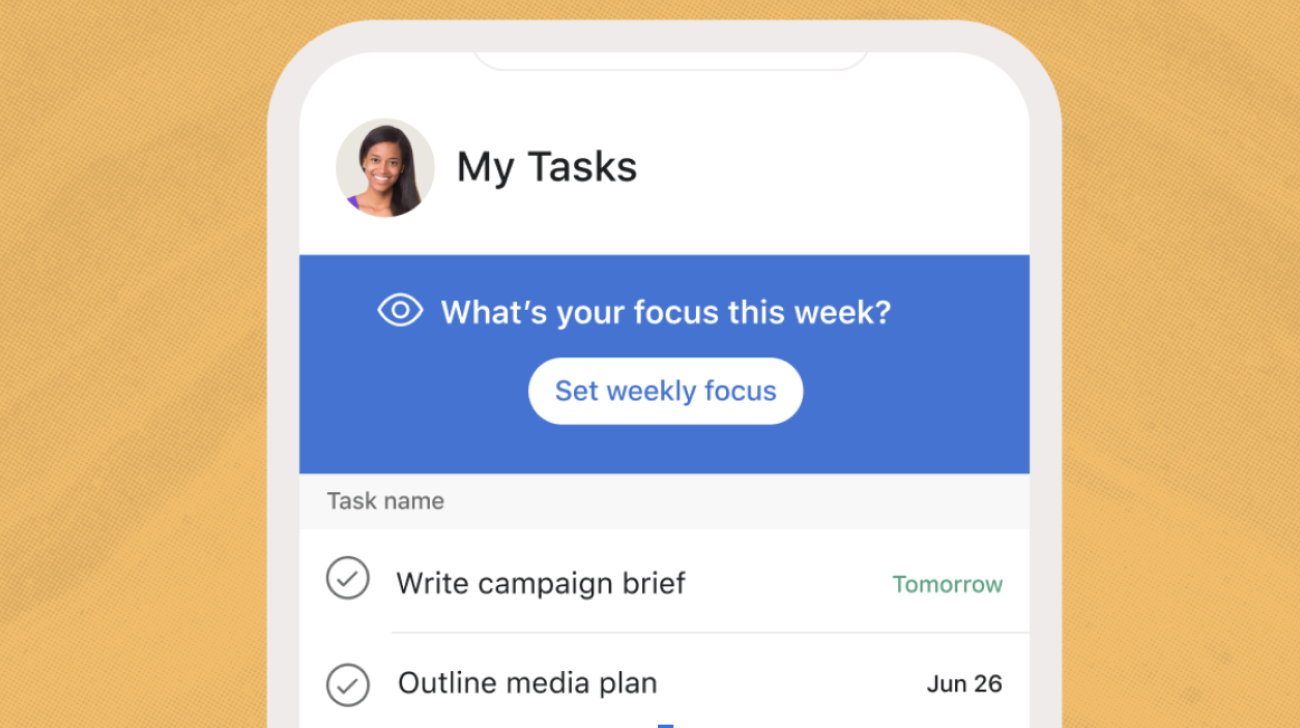 On Monday mornings, mobile users are prompted to set a weekly focus. Weekly focus set on mobile will appear on desktop and web versions of Asana also, but will not be editable there. Your weekly focus will appear at the top of your My tasks during the week to help guide your planning.
Additional resources
Watch How to Asana for iOS or Android for more tips and best practices on using Asana's mobile apps.
Read help articles for iOS or Android to learn more about Asana's mobile app.