Boards let you organize your work like sticky notes that you can move across sections. They give you a clean, visual overview with the same power as a project in list view. Add items to your board, then drag and drop to move work around or track it through multiple stages.
Creating a board project
Create a new project by clicking the Quick Add button in your top bar. Select Project from the drop-down menu. Click +Blank Project.
A pop up window will next give you the option to add your project details. Here you can choose Board as your project layout and default view. Then, click Create project.
Creating a section
Click on + Add section. A new section will appear as soon as you name it in the header field.
Use sections as categories to group related work or as stages like "Ready," "In Progress," and "Done" to track a specific workflow.
Adding tasks
To add tasks to your board view, you can:
1. Click the +Add new button and select Add task
2. Click the + button next to the section name
3. Click +Add task at the bottom of the section
Adding a cover image and more options
You can add a cover image to your task by right clicking on the the task. From there, choose Add cover image and select where you'd like to upload the image from.
After uploading your image, you can show the most recent image, show no image, or add a new cover image.
Bulk actions on tasks
You can perform bulk actions on tasks by holding down the command key on your device and selecting the desired tasks.
Once you've selected the tasks, a toolbar will appear.
From the toolbar, you can:
Edit a project or section
Copy task links
Delete tasks
Click to view more options
More options
Click the three dot icon on your bulk actions toolbar to view more options.
Drag and drop
You can drag and drop tasks and sections to reorganize your work or move it through stages. Project members can rearrange tasks as needed, and collaborators will get updates when tasks move sections, so all members stay on the same page.
You can drag multiple tasks at once to another section by using the Ctrl/Cmd + Click command.
Manage sections
Rename and delete sections
To edit the section's name or remove it:
Click on the three dot icon to the right of the section's title
You can choose to Rename section
You can choose to Delete section
Sections need to be empty to delete them. Move tasks to other sections or delete them in order to clear a section.
Filtering and sorting tasks
Customize your list view layout
You can filter and sort tasks using the options on the top left of each project.
To save your layout, click the three dot icon and click Save for everyone.
Clicking Save for everyone will save this project view for everyone you're collaborating with.
To save Board as your default view, click the three dot icon next to the Board tab and click Set as default.
Custom fields
Custom fields are the first step toward tracking all types of work in Asana. You can provide even more information on each task and track it in a way that suits your team's needs.
Manage custom fields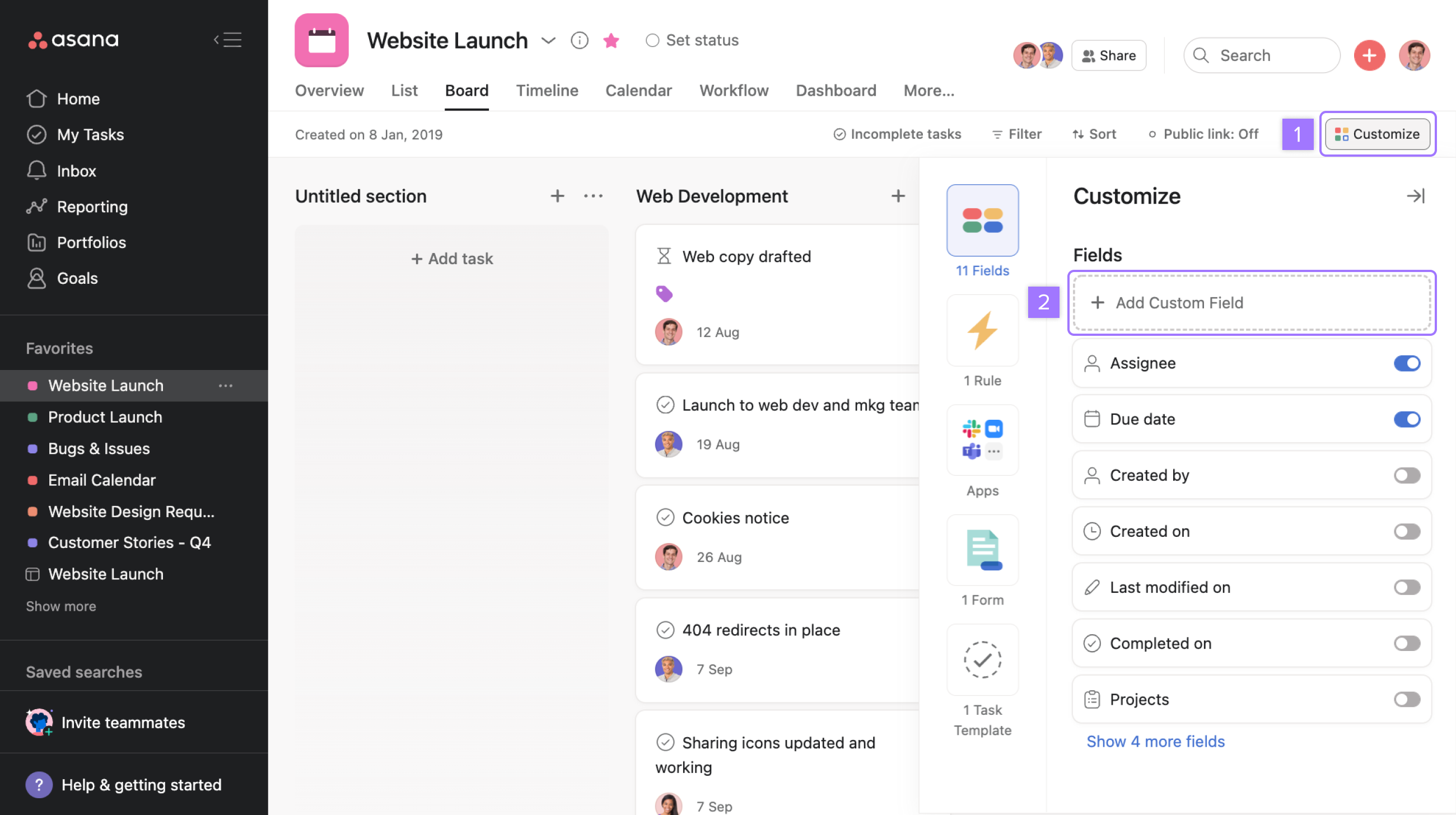 To access and manage a board project's custom fields:
Click on the Customize button
Click on + Add custom field or toggle the button to the right to enable a custom field. Blue indicates it's enabled
View custom fields on a board project
To view a task's custom fields, click any task on your board project to reveal its task details.
Custom fields are the best way to tag, sort, and filter work. See them in action with a free 30 day Asana trial. Try for free.
Searching for board sections
You can search for tasks in specific sections of board projects using the advanced search tool.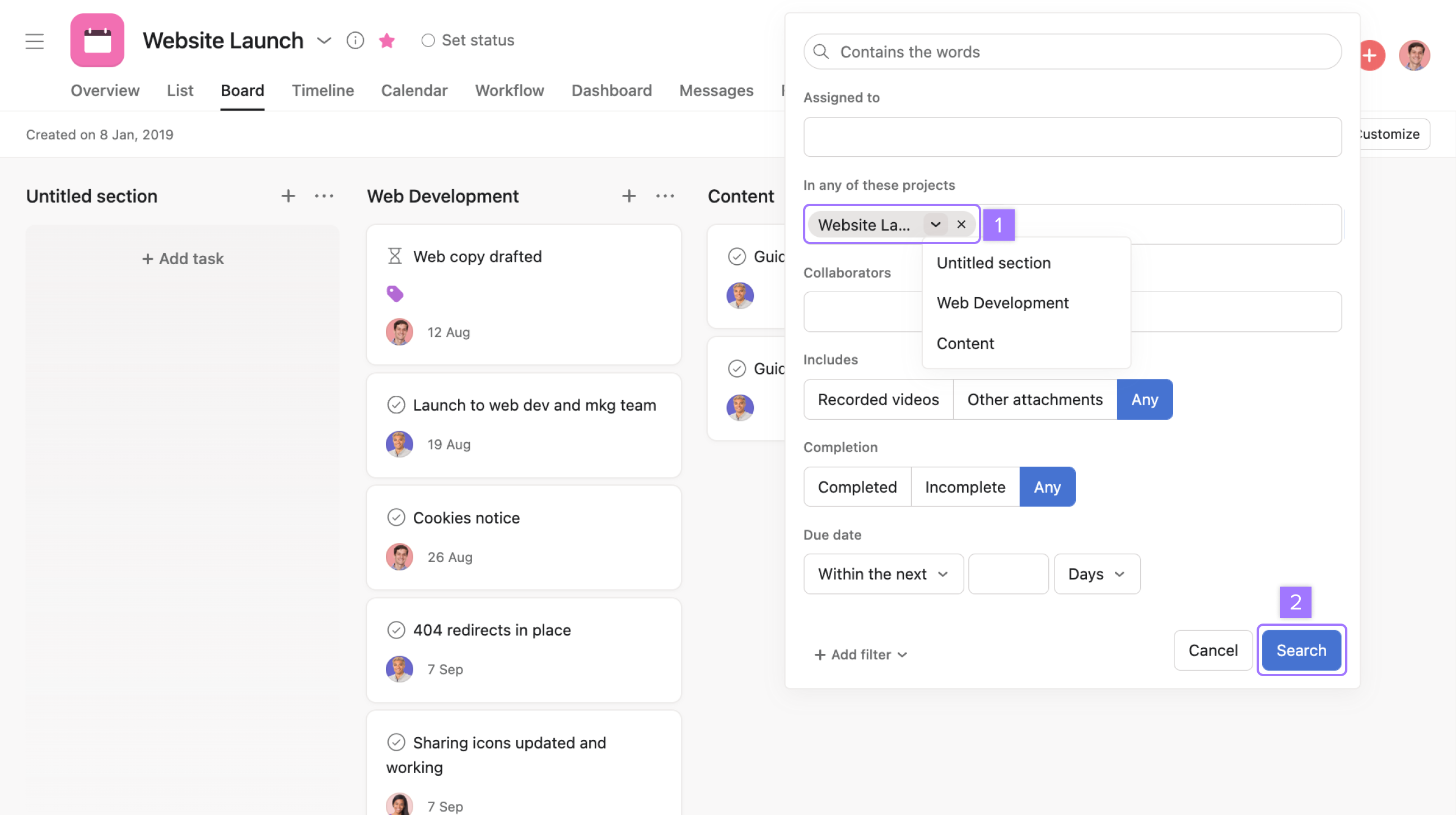 Once you've opened advanced search and selected a project(s):
Click on the arrow icon next to the board project and select a section
Click Search
Subtask count on boards
You can also view the amount of subtasks on a particular task directly from your board project.
The subtask count will appear next to the task name on your board project.
Expanding subtasks
Click on the arrow next to your subtasks from your board view to expand and view them.