To stay informed on activity in Asana, you can receive email notifications or use your inbox.
There are four email notification settings:
Activity updates
Mentions only
Daily summaries
Weekly reports
Email notification settings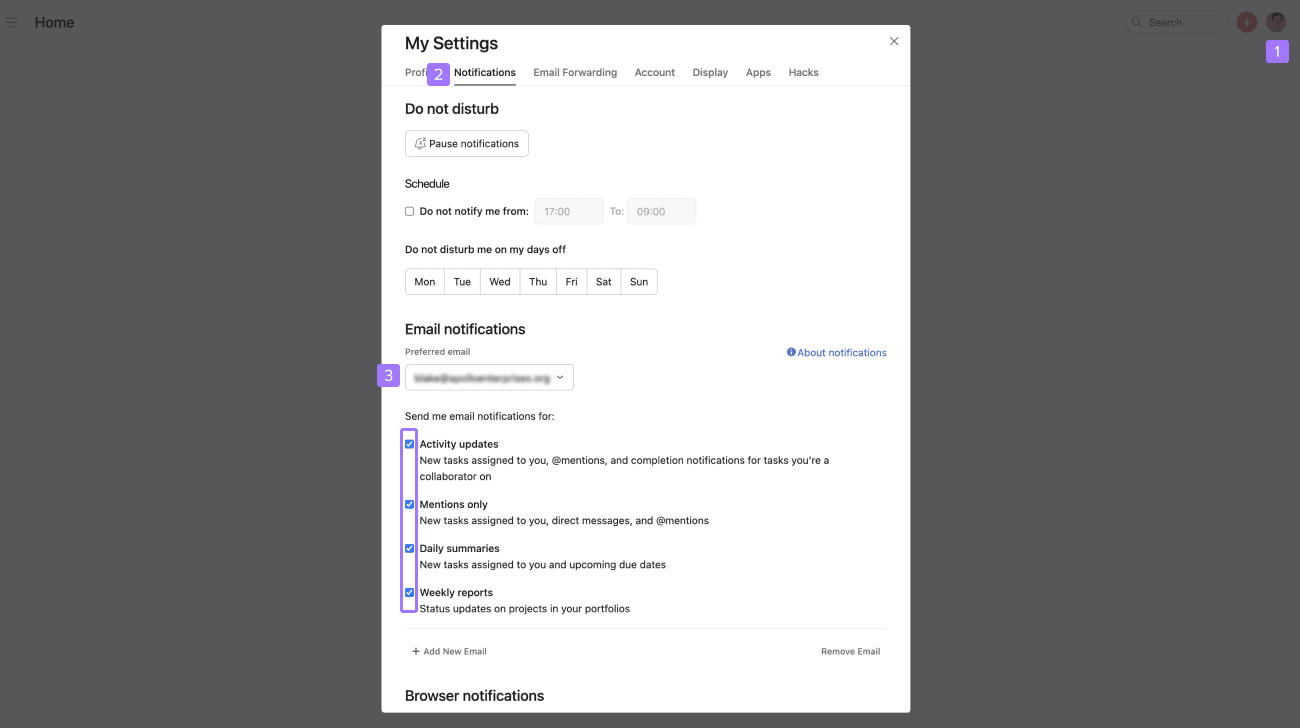 To access your email notification settings:
Click your profile photo in the top bar and select My Settings...
Navigate to the Notifications tab
Check/uncheck any of the boxes to toggle your email notifications on/off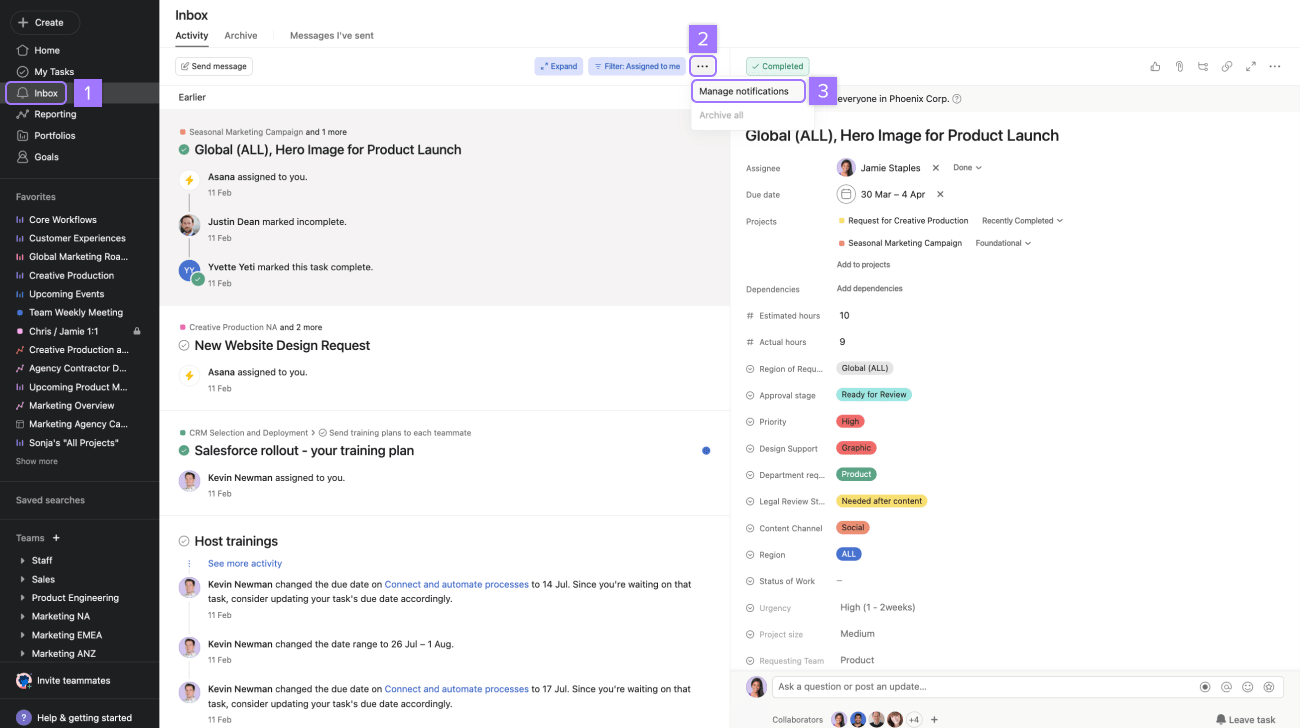 You can also access your email notification settings from your inbox:
Click on Inbox from the sidebar
Click the three dot icon on the right to expand the menu
Select Manage notifications
Turn off notifications
If you do not want email notifications, you can turn them off using the instructions in the section above and use your inbox exclusively to stay up to date in Asana.
To receive fewer notifications and minimize inbox noise:
Turn off the notifications by email
Remove yourself as a collaborator on tasks, messages or projects
Adjust the notifications for each project in My Settings
Notifications on deleted teams & deleted projects cannot be turned off as they contain links that allow you to recover them.
How to filter notifications:
Go to Inbox, where you can filter notifications by:
Assigned to me
@Mentioned
Assigned by me
Unread only
Daily summary
We will send out a clear daily update (Mon-Fri, excluding weekends) on what you need to focus on in Asana that day. This email will include any or all of the three applicable sections:
Tasks due soon: These are the tasks that are assigned to you that are due within the next 5 days.
Tasks recently assigned: This section will display tasks that were recently assigned to you, regardless of whether the task has a due date or not.
Tasks you've assigned to others: This section will display tasks that you have recently assigned to others, regardless of whether the task has a due date or not.
Overdue tasks will not appear in daily summary emails.
If you do not have tasks in one of these categories, this section will not appear in the email.
Activity updates
You will receive an email notification for the following activities:
A task is assigned to you
A task is unassigned from you
A task assigned to you has its due date changed
You have been added as a collaborator of a task
A task you are a collaborator on has new files added
A task you are a collaborator on has new comments
A task you are a collaborator on is marked complete
A task you are a collaborator on is given a like
Your comment is liked
Your attachment is liked
Your task completion is liked
A message is started in a team or a project you're a member of
A comment is posted in a message you're following
A project you are a member of has new tasks
There is a new status update for a project you're a member of
The status of a task you've been waiting on has been changed
A task is moved from one column to another in a board view project
You have been assigned a task to approve
Activity notifications are only sent out for actions and changes performed by others; you will not receive a notification for actions you perform yourself.
Collaborate or remove yourself as a collaborator on tasks and messages to start or stop receiving inbox notifications.
Inbox notifications generate automatically as you complete and take action on your tasks.
Reply to notifications
Reply to an email notification to:
Mark the task complete - reply to the email and type Complete or Done as the first word in your message
Comment on the task - reply to the email
Assign the task to a teammate - reply to the email and add your teammate's email address in the To: field
Add a teammate as a task collaborator - reply to the email and add your teammate's email address in the CC: field
These tips can be found at the bottom of your email notifications.
Do not save the reply-to address in your contacts list. It will change.
Weekly Report
Weekly report emails are available on Asana Advanced, Enterprise, and Enterprise+ tiers, as well as legacy tiers Business and Legacy Enterprise.
We will send an email once a week containing project Status Updates in your portfolios.
You can receive a maximum of 20 weekly report emails per week.
Batch updates
If you're receiving multiple notifications within an hour of each other, Asana will batch them into a single email. Critical notifications like task assignments will always be sent individually, but updates around new tasks created or completed will be batched.
We wait 30 seconds before delivering email notifications (i.e., email notifications about non-batchable stories).
The 30 second threshold for receiving email notifications only applies for critical notifications. For example a task assigned to you is a critical notification. For less important notifications, the wait period is 60 minutes.
If you happen to archive those notifications within the 30 second interval, we will suppress those emails.
Batch patterns
Different types of notification have different batching behaviors.
Batched means that notifications are collated in one single email to avoid clutter and un-batched means notifications are sent out separately for each individual update.
What is batched:
Assignment notification batched for the previous assignee (but not the current assignee who gets a critical notification)
Task completion notifications are batched (except if the task being completed was a milestone)
What is not batched:
Custom fields that have been changed (if enabled) are not batched
Comments are not batched
"X completed the last task you were waiting on" notifications are not batched
Files notifications are not batched
Email notifications for projects
Asana users receive email notifications when comments or @mentions are being made to a task they are collaborating on.
All members of that project should receive email notifications when comments or @mentions are made.
For all project members to receive email notifications ensure that the project they are working out of has all the member's notifications boxes ticked in Member Settings.
If there is a project owner change or a member request in a project, project members will only receive custom field notifications if they are collaborating on a task, or following a task where the field value has been changed.
Like what you see? Get started with a free 30 day Asana trial today. Try for free.