Instagantt is a web app that creates Gantt charts to help you visually plan projects and schedule tasks with your team. You can create start dates, set a progress percentage, and link tasks.

Setup
Create an Instagantt account. You can sign up with your email address or through Asana using Asana Connect.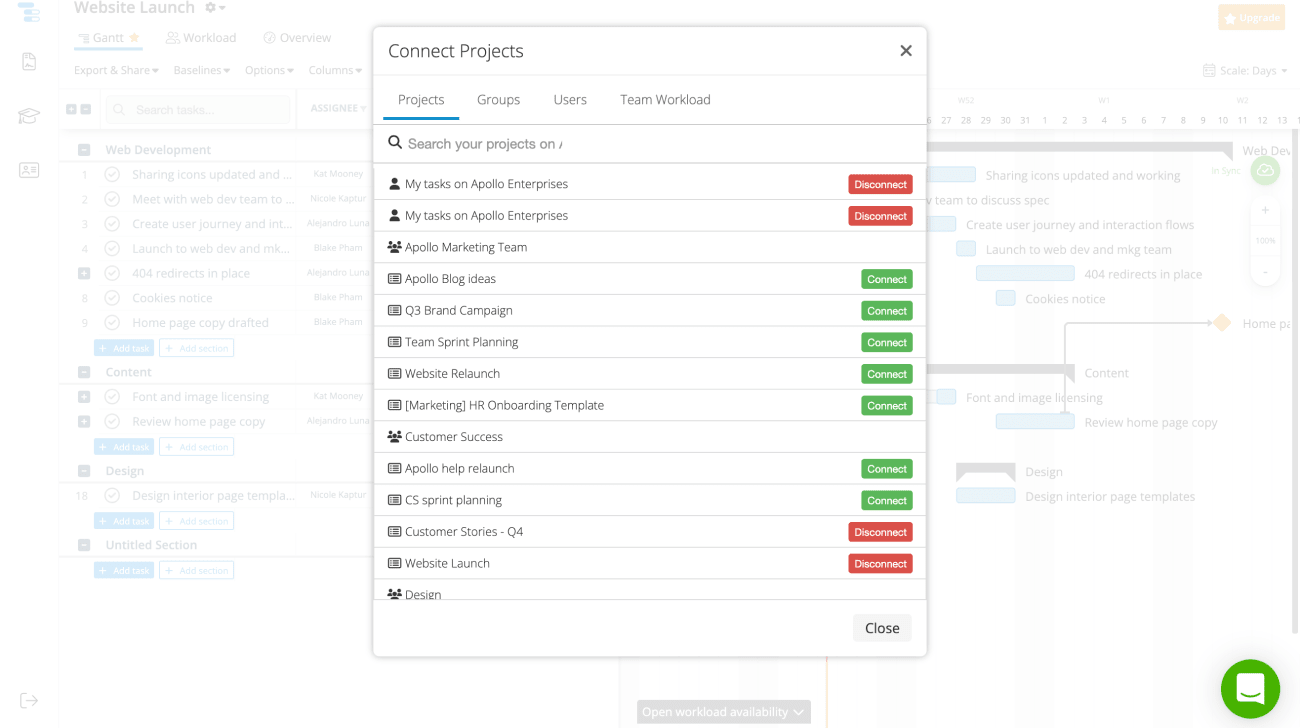 Select which of your My tasks lists and projects in any of your workspaces or organizations you'd like to sync with Instagantt.
You can create a group of up to 10 projects from different workspaces and organizations. Within a group, you can order tasks by project and by section within those projects.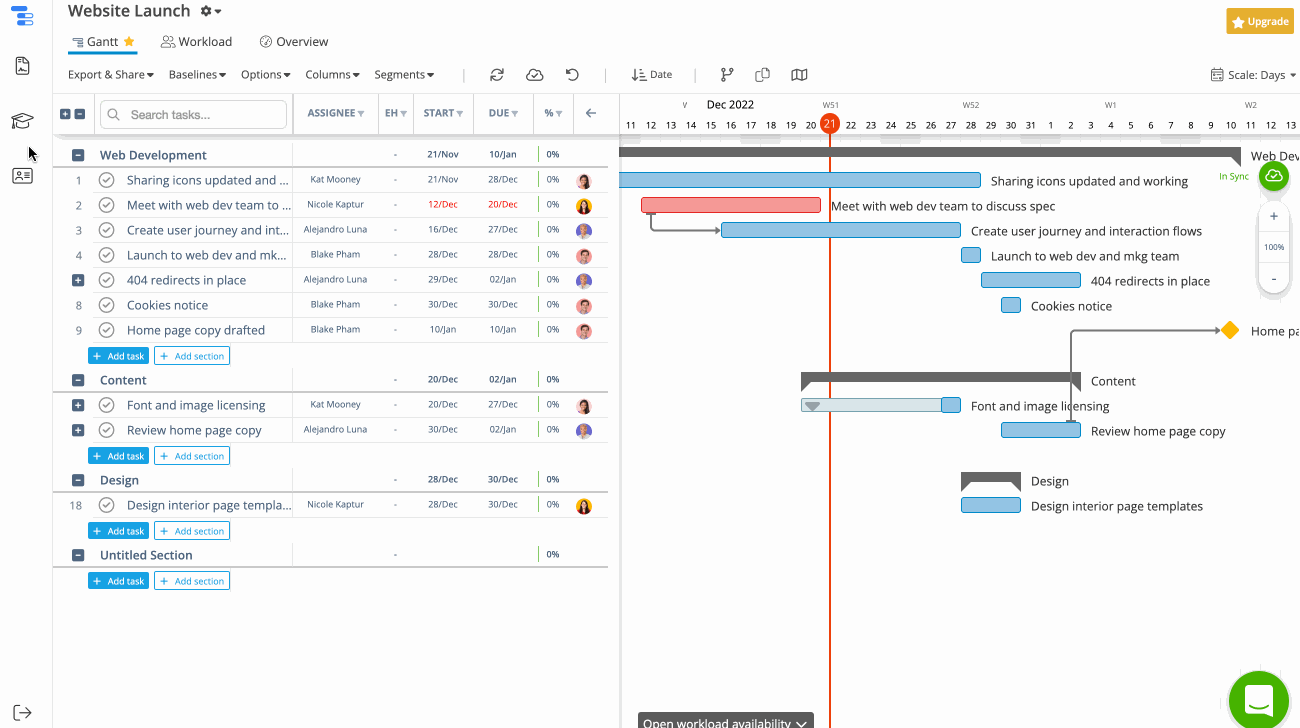 Remove projects from Instagantt
To disconnect a project or My tasks:
From the sidebar, click the Projects icon
Click the Gear icon next to the project's name
Click Disconnect
Get started
The projects you've synced will be sorted by workspace and organization in Instagantt's sidebar. They will be in the same order as they are in Asana. You can reorder them in Instagantt, but this won't change the order in Asana.
View projects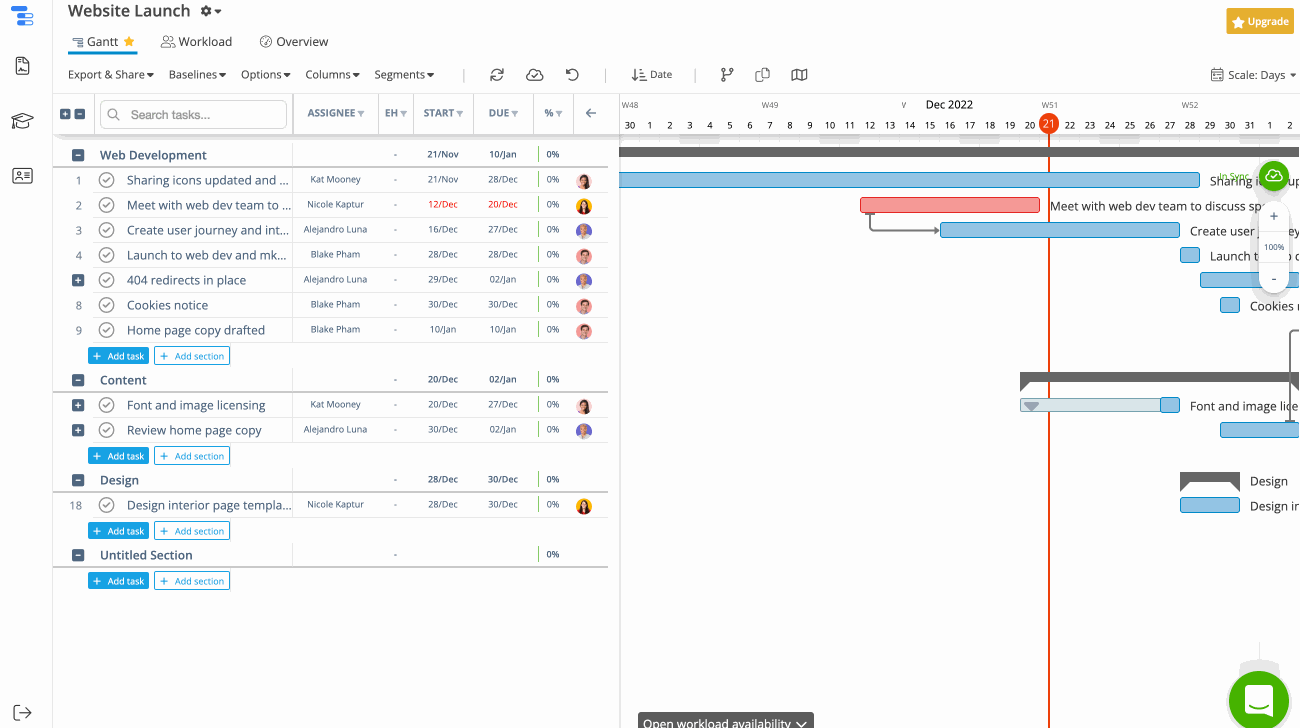 To view a project in Instagantt:
Navigate to the sidebar
Select the project
Project colors you've set in Asana will reflect in Instagantt.
Due dates and colors
Tasks will display in Instagantt in 3 colors:
Green - tasks that have been completed on time
Blue - tasks on track to be completed on time
Red - overdue tasks that are incomplete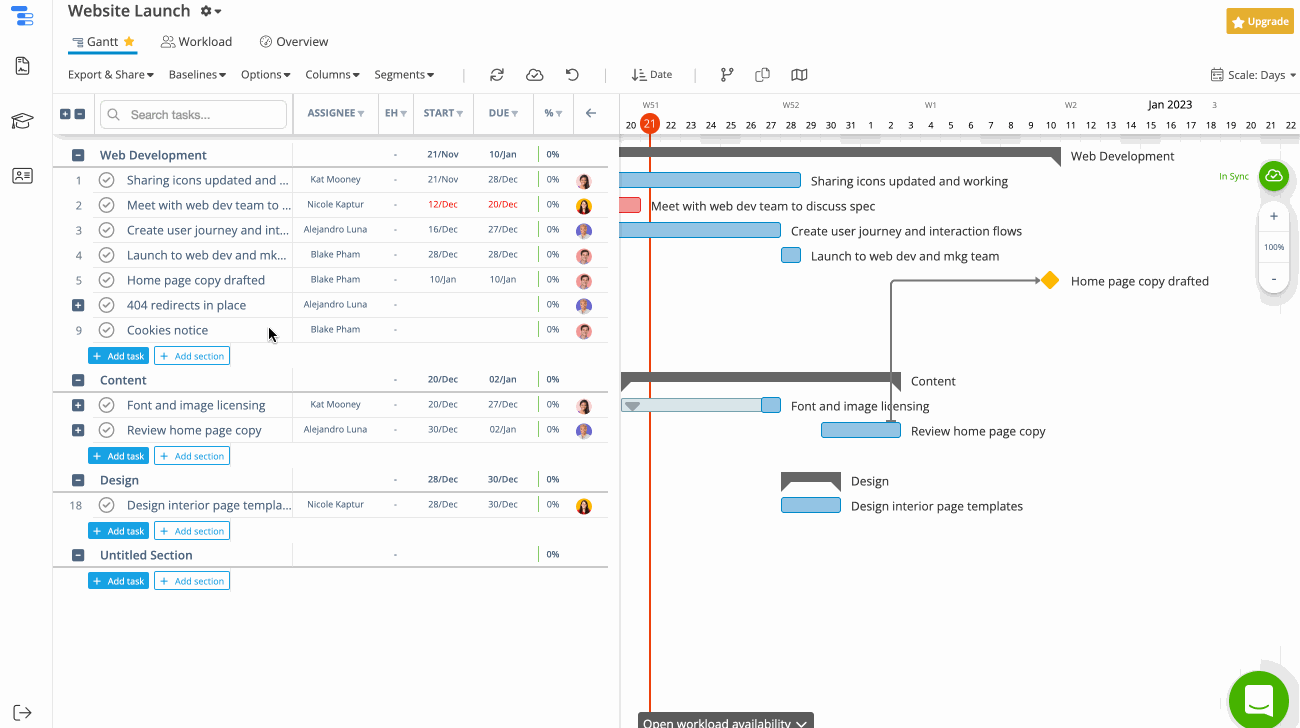 If tasks don't have a due date, they won't appear in the chart, but you can easily add them by clicking wherever you'd like their bar to begin.
Mark tasks complete from Instagantt
You can mark tasks complete directly from Instagantt, and they will be marked complete in your project in Asana.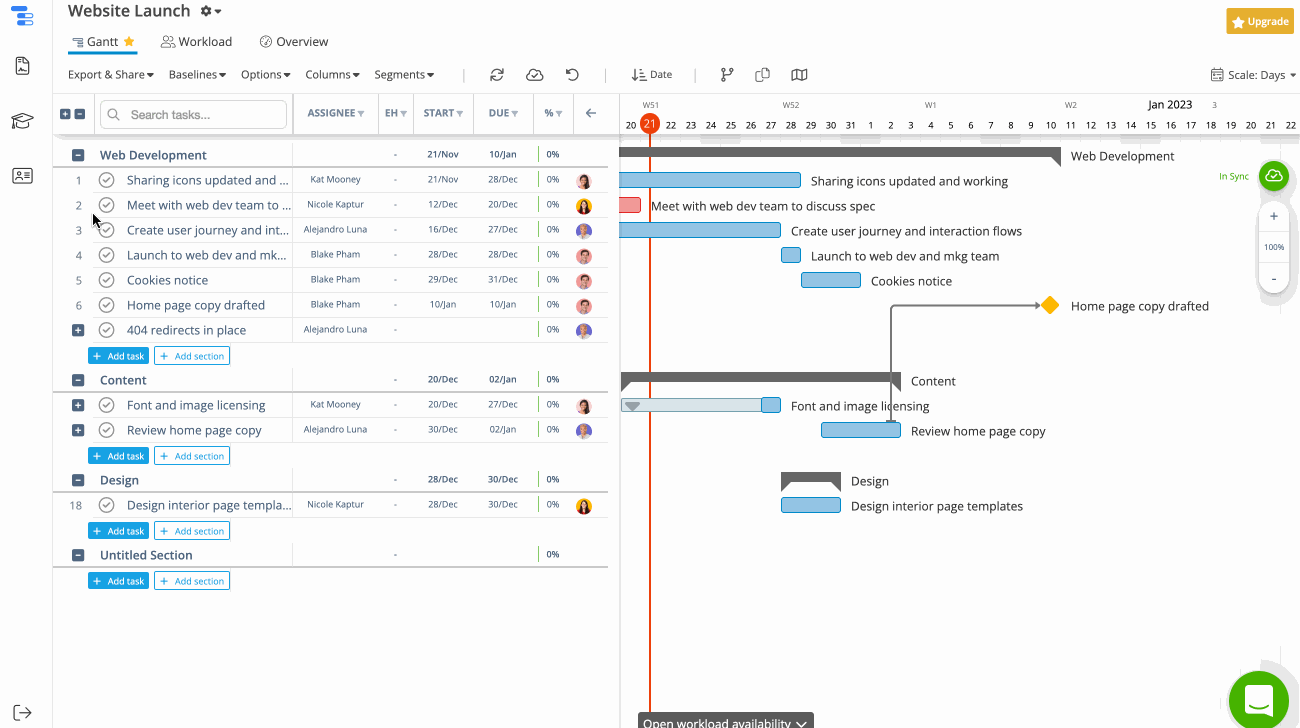 To mark a task complete:
Click the checkbox icon next to the task's name
The tasks you checked will be marked as complete in your project in Asana.
Create tasks from Instagantt
You can create tasks directly from Instagantt, and they will appear in your project in Asana.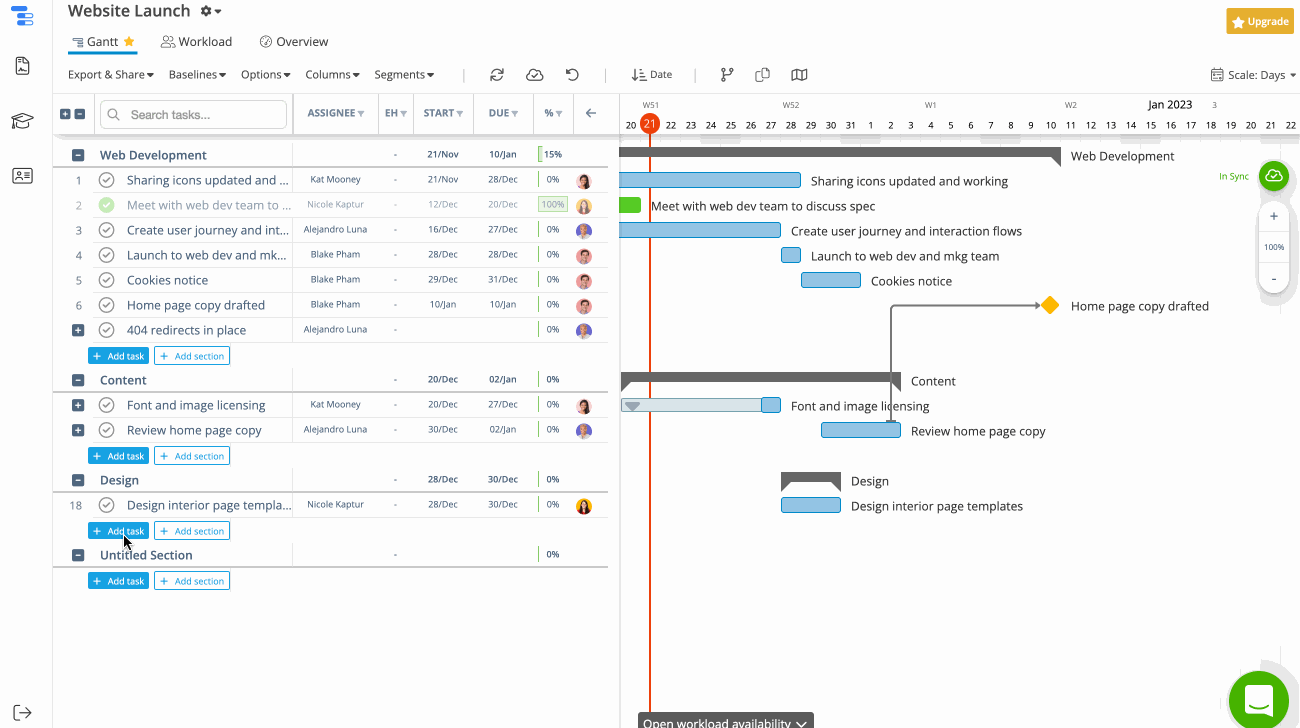 To create a task in Instagantt, click the + Add task button sign. Instagantt will let you to set a task name and assignee.
Task details in Instagantt
You can view and edit a task's details directly from Instagantt.
To view or edit a task's details, select a task and it will open up the task's details. Any details you change in Instagantt will reflect in Asana.
Instagantt allows you to:
Open the task in Asana
Change or view the task's assignee
Change or view the due date
Add or delete tags to the task
Change the task's progress percentage
Add or create subtasks
Edit the task description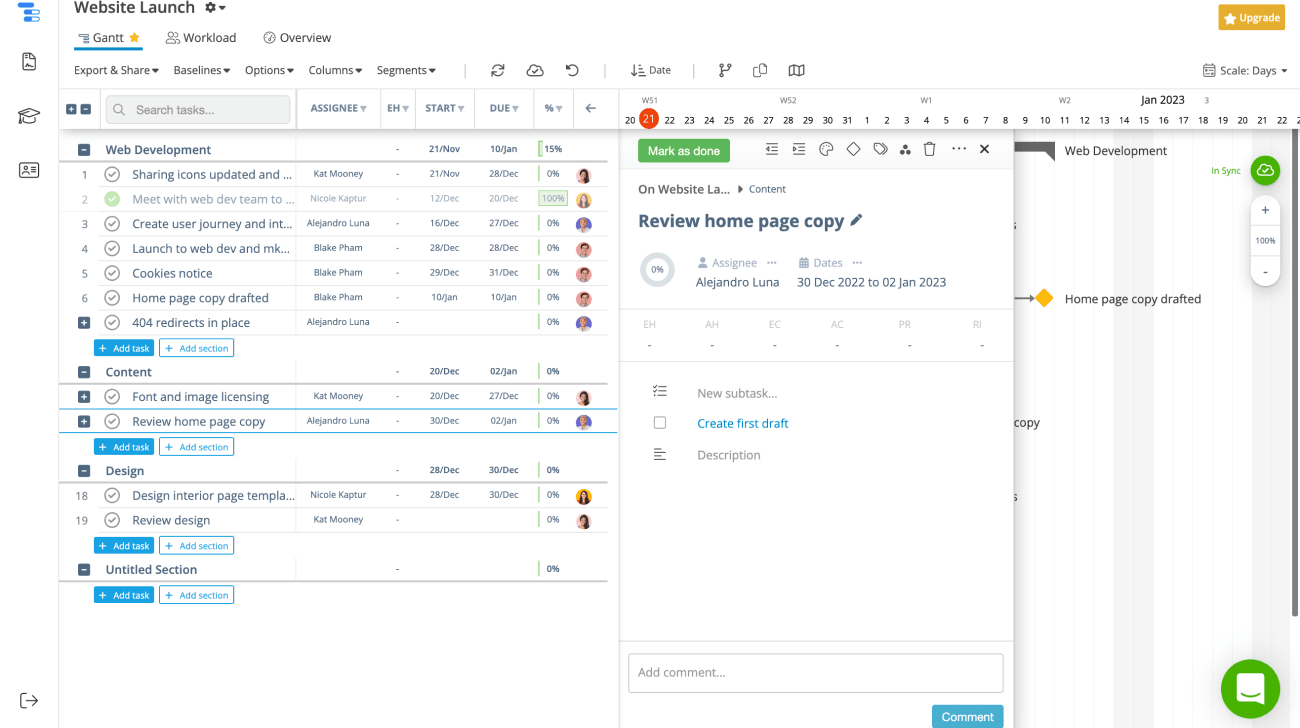 Beyond the basics
Create dependencies
You can link tasks together to show one task's dependency on another.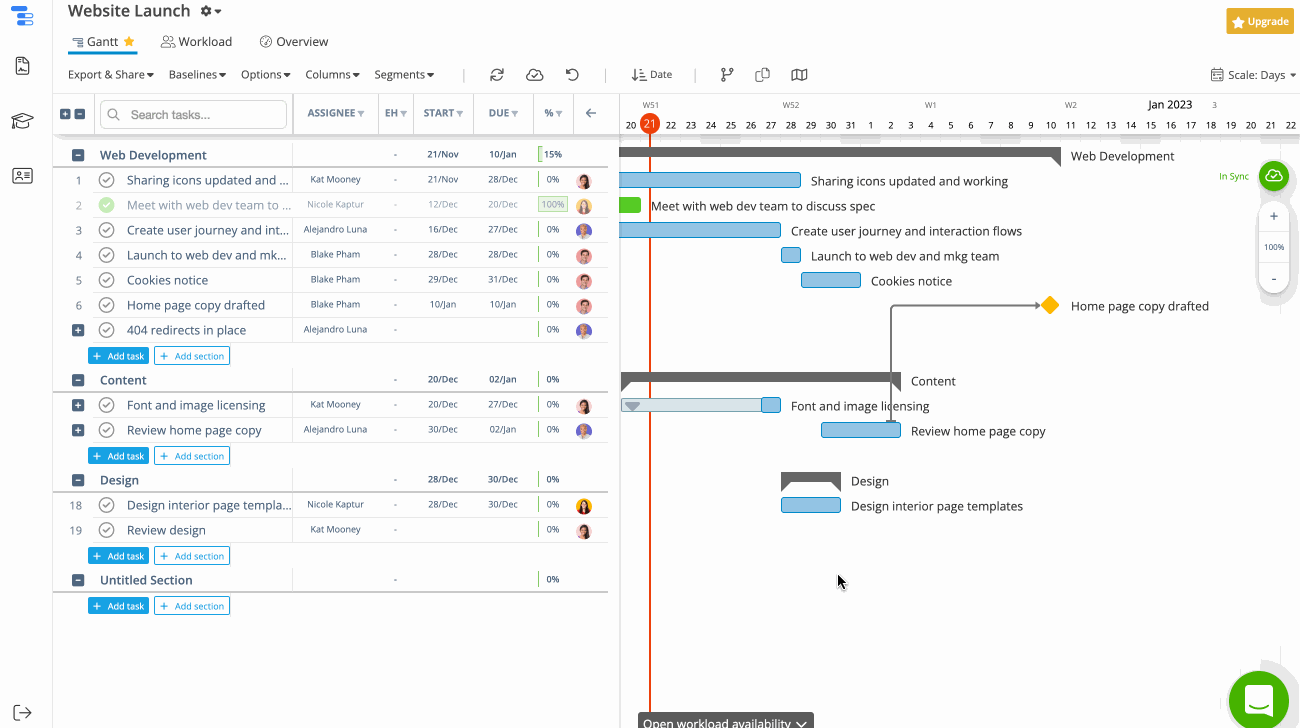 To create a dependency:
Hover over the task
Drag the dependency setter to the task it will be dependent on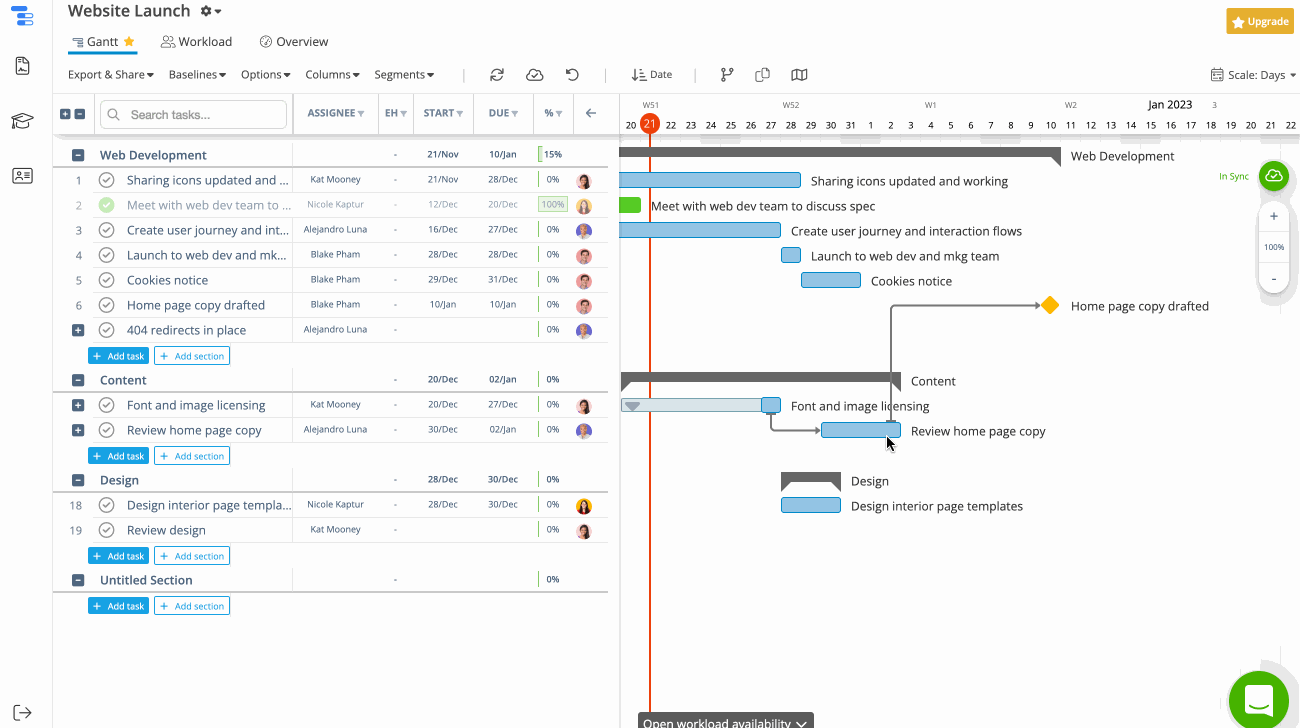 To remove a dependency:
Hover over the task and click the wrench icon
Select Unlink from...
Choose the task you want to unlink from
If the task has multiple dependencies, you can either unlink one dependency or all dependencies.
Task start and due dates
You can click and drag a task in Instagantt to change the start date and due date of any task. Learn more about start dates in Asana.
Drag the task to the left to change the start date, or drag the task to the right to change the due date.
Filter tasks
You can filter tasks in Instagantt by start and due dates, estimated hours, progress status, and assignee.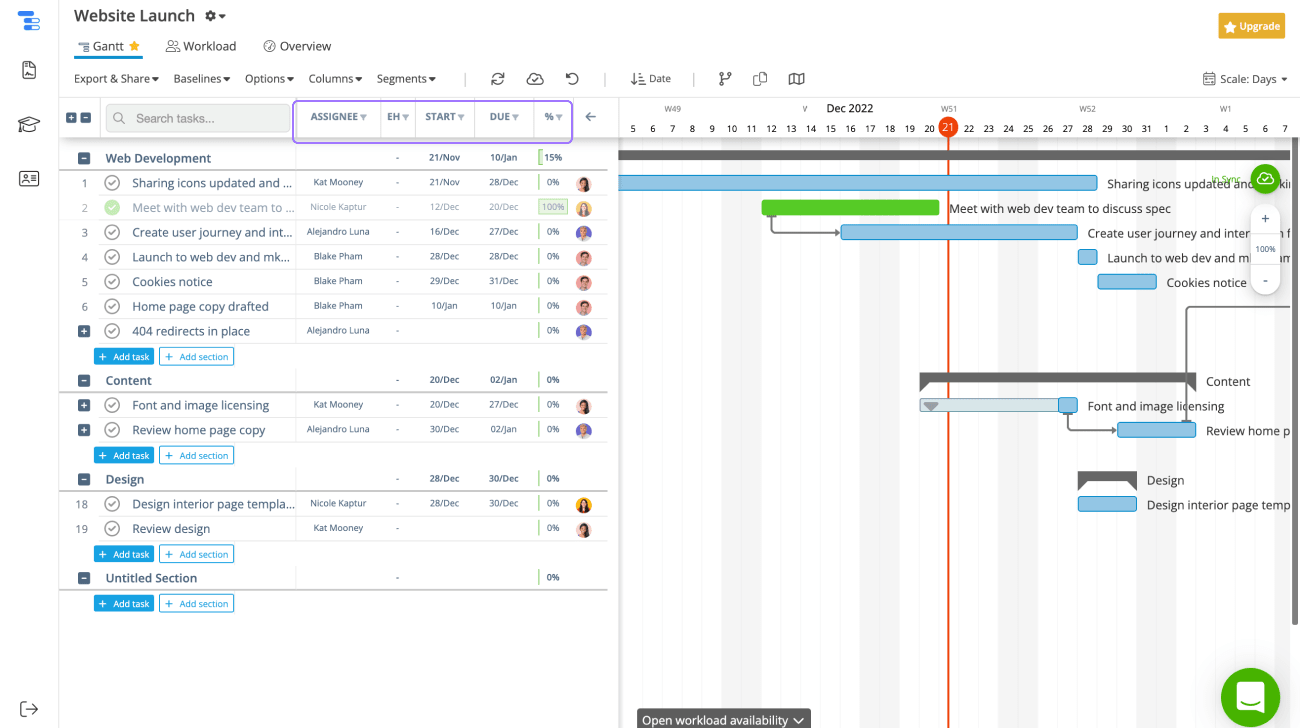 Show or hide completed tasks
You can show all tasks or hide completed tasks in Instagantt.
To change how tasks are displayed:
Click Options
Select Completed tasks since:
Select what tasks you want to display
Export Instagantt charts
If you want to print or include the Instagantt chart in a presentation, you can export it as an image and PDF.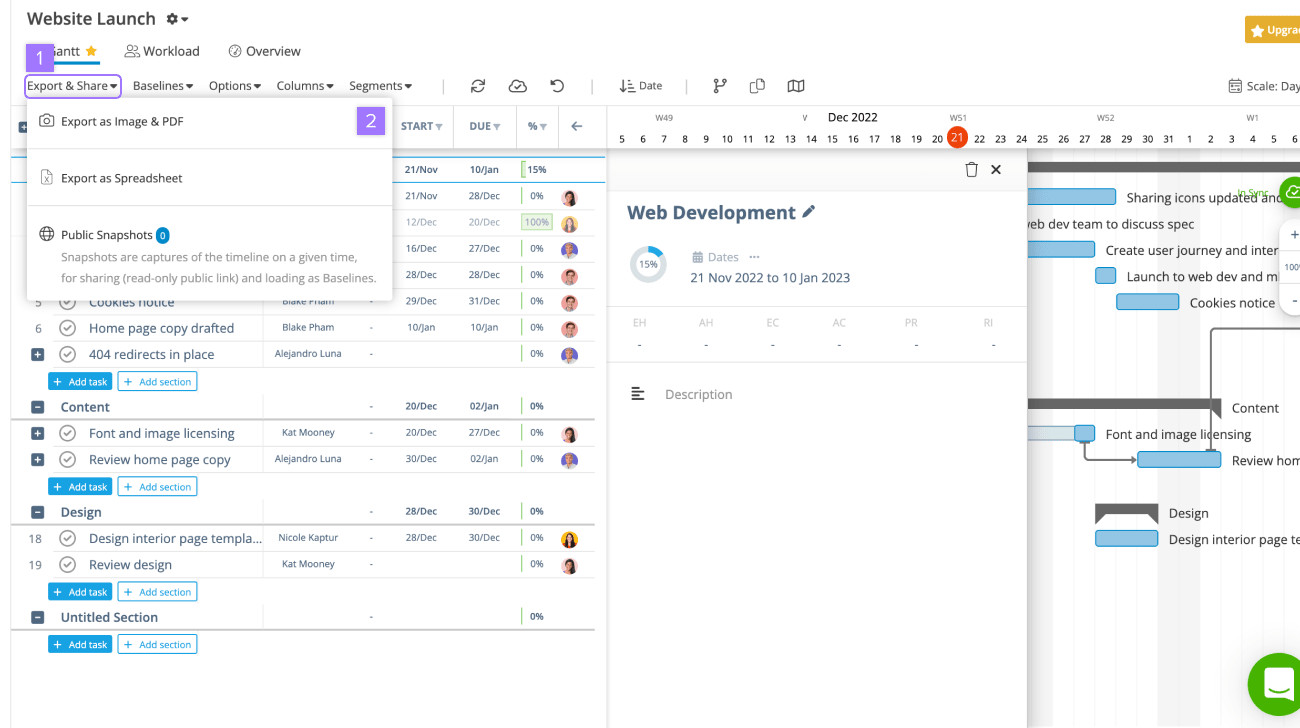 To export:
Click Export & Share
Select one of the options
Resync with Asana
If changes were made in Asana and you want them to reflect in Instagantt, click the sync cloud in the right corner to resync the projects.
Looking for a better way to manage your work? Get started with a free 30 day Asana trial. Try for free