What is timeline?
Timeline helps you craft project plans with realistic deadlines to spot any timing conflicts and make adjustments as work progresses. It's a more powerful Gantt chart because it's tied to underlying work in Asana and updates in real time.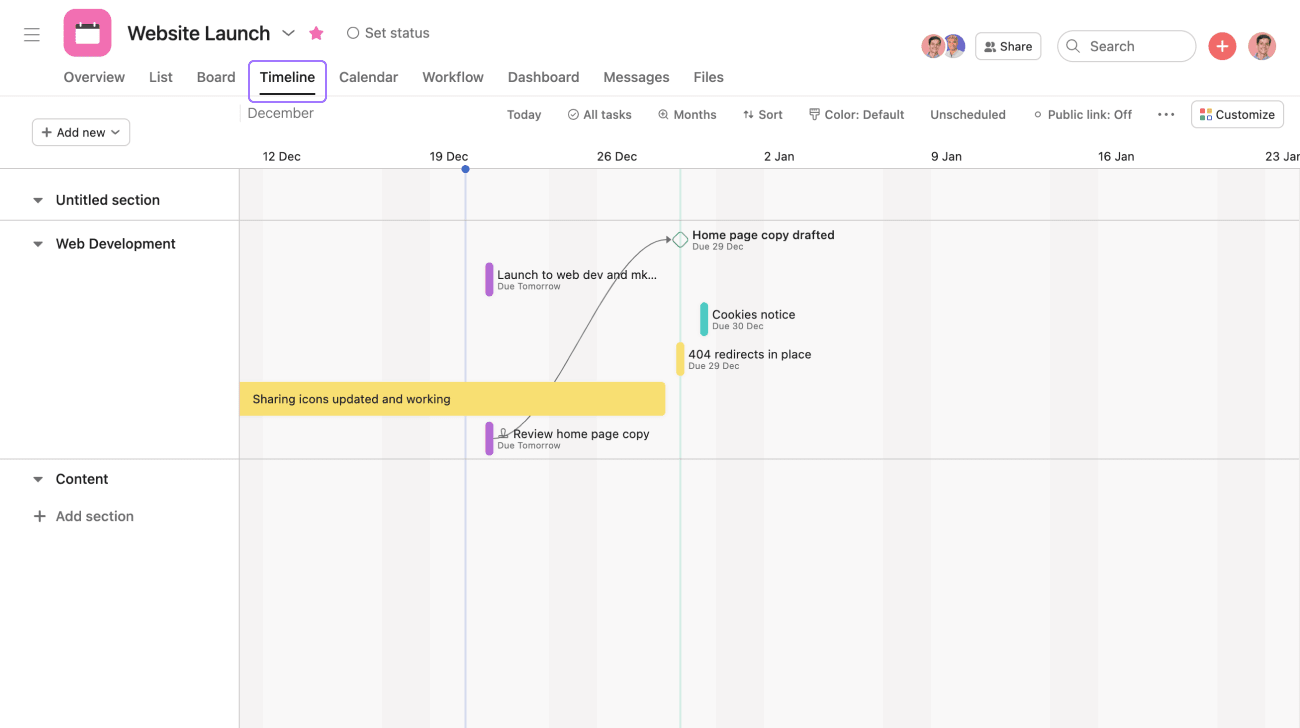 How to use Timeline
You can view timeline for a single project or a set of projects in Portfolios. It works best when you add start and due dates, and task dependencies to visualize a schedule. Get started by clicking the Timeline tab in a project or portfolio.
To create a single project plan, drag and drop tasks on your timeline. In a portfolio, you can use timeline to set out a product roadmap or build an annual campaign schedule.
Tips for planning your project with timeline
Timeline is great to help you plan your project before it begins, then monitor and update it as work progresses so you can hit your deadline. Here are tips for each stage of planning:
Create tasks in list or board view, then head to timeline to start mapping out deadlines and dependencies. Drag any unscheduled task onto timeline to schedule it.

For portfolios, projects with start and due dates will appear on timeline.

Use task dependencies. They show what work is waiting on another task so you can see how tasks connect or conflict on timeline. If there are timing conflicts, you'll see a red arrow in the timeline. Adjust them to ensure nobody is scrambling to hit their deadline.

Easily set dependencies directly on your timeline by clicking the connector icon that appears when hovering over a task and then dragging to another task.

Zoom in and out on your timeline to see your project schedule at various scales. For example, zoom in for a glimpse at what's on deck for the week; then, zoom out to see the whole plan if you're presenting it in a meeting.
Multi-select tasks to shift them all at once.
Use sorting to change how your timeline is organized. For example, you could view it by task status to home in on tasks at risk, or by assignee to check project bandwidth.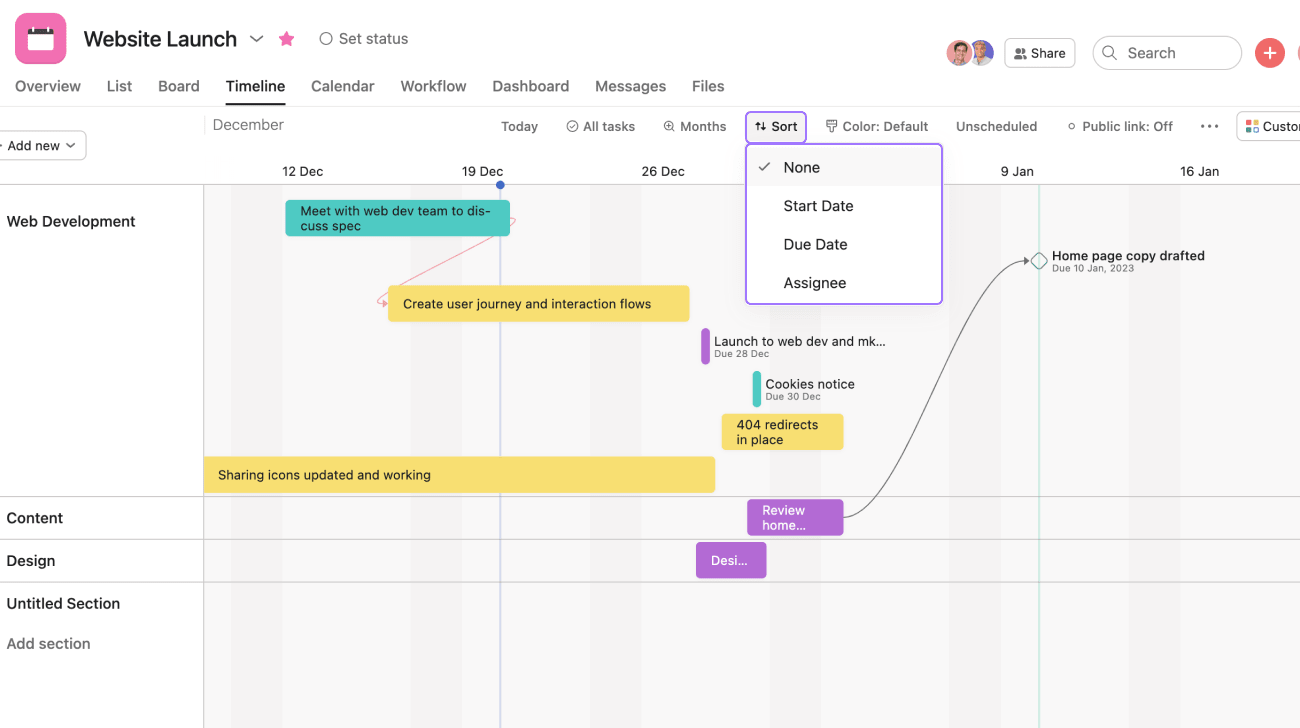 When to use Timeline vs. Calendar view
Timeline and calendar view give you different insights and should be used for different purposes. They're both project views, so you can always toggle between them, but here's what to consider:
| Consider | View timeline if... | View calendar if... |
| --- | --- | --- |
| Deadline | Your project has an end date | Your project is ongoing |
| Workflow | Your project has dependencies and work happens in a certain order | Tasks are more independent of each other |
| Schedule | You want to create a project's schedule, and see progress towards it | You want to get a glimpse of work happening this week or month |
| Audience | You want to share the plan with executives, other teams, stakeholders on the project | You're looking at your own schedule in My tasks, or your team's overall schedule |
Example projects to plan with timeline
Timeline works best with projects that are deadline-driven (versus ongoing.) Click any of the use cases below to get the template in Asana, and get started in a few clicks.
Initiatives to view on timeline in a portfolio
Company goals, objectives, and OKRs
Annual product roadmap
Annual marketing campaign calendar
It's no secret—Asana offers free 30 day trials. Start yours today.
Try for free
Want to learn more? Check out all the features of Asana Project Views.